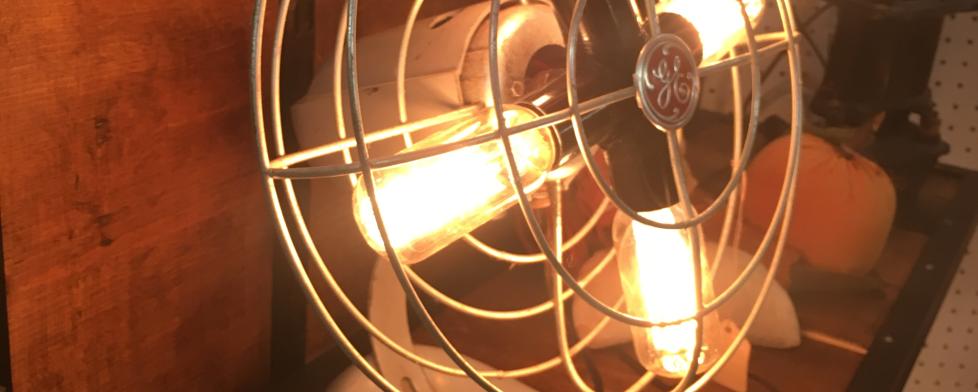 The Visit Hendricks County staff recently scoured our local shops looking for our 2017 edition of one-of-a-kind finds you can only get in Hendricks County or on our tri-county Rural Routes to Main Street Cultural Trail. In many cases, that means these gifts are handmade by local artists or simply are items you will only find locally.
If you want to view our weekly Facebook live videos highlighting all of our gifts, click here.
This installment focuses on gift ideas for men and has a little bit of everything. But even if the particular item we feature may not be exactly what you're looking for, we suggest visiting each of these small businesses as they just might have that gift idea you thought you would never find.
You can find our complete One-of-a-Kind Finds Holiday Gift Guide by clicking here
Light Fixtures from Repurposed Materials
I actually hate to admit this, but for the first time since we began doing a Holiday Gift Guide, our staff scoured Gilley's Antique & Decorator Mall for ideas, and we are so glad we did.
We found a treasure trove of items that you will learn more about throughout our One-of-a-Kind Finds promotion. If you think Gilley's located on the west side of Plainfield along U.S. 40 just has antiques, you haven't visited lately. You really need to explore this massive building. We guarantee you will find a gift for someone on your list.
But back to this featured gift for men, the first thing that caught our eye after entering the decorator side of the mall were these amazing light fixtures made by Hart's Primitives and More LLC.
All of these beautiful pieces started with some kind of antique or other household item like a soldering iron, mason jars, antique fan and many more that the Harts smartly repurposed into an amazing light fixture. Honestly, some of the pieces incorporated old equipment that I didn't even recognize, but each piece was unique and beautiful and gave a second life to old equipment.
Prices range from a night light at $20 up to bigger pieces that cost as much as $300.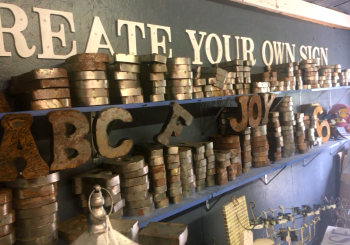 Metal Letters
Another store we hadn't visited until scouting for the Holiday Gift Guide can be found just inside Hendricks County off Raceway Road near Brownsburg. We wanted an excuse to explore the new Urban Rustic Farmhouse and found a variety of great gift ideas. 
But we decided to focus on these awesome letters handcrafted out of steel.
Offered in four different sizes from $5 for a small letter to $25 for the extra large letters, we could envision this being a great gift to make a word or simply use a letter for a last name as a decorator piece in a man cave or garage.
We highly recommend a visit to the Urban Rustic Farmhouse even if you don't think you would be interested in these metal letters. Featuring an eclectic mix of handcrafted items made by 12 different local artists, it is one of those places you must experience.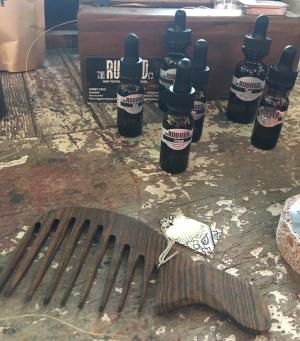 Beard Oil & Comb
Beards seem to be all the rage these days, and Younique Culture in Plainfield sells a line of products specifically for that loved one in your life sporting manly facial hair.
You can find beard oil (small bottle $10, large bottle $16). Unfortunately, we received word that the handmade, wooden beard comb has sold out at Younique Culture. Both products come from The Rugged Company based out of Noblesville.
Elevated Pet Bowls
Well, they say dogs are man's best friends, so with no other place to put this gift idea, we settled for here, and what a great story.
Evidently, the local maker of these bowls had a dog named Roscoe who was struggling to eat without choking. So, he handcrafted these elevated pet bowls, and it solved the problem.
So, these bowls, which come in three sizes -- small- $20, medium - $25 and large - $35 -- are truly Roscoe approved. You can buy them at a new store just off the Hendricks County Courthouse Square in Danville called Forget Me Nots.
Framed Racing Photography
Perfect for a man cave if your dad or husband loves the Indianapolis 500, we once again wanted to highlight these beautiful images at Old Bob's in Avon.
At first glance, the framed racing photos appear to be paintings. However, on closer inspection, they actually are photographs taken simultaneously at different exposures at the Indianapolis Motor Speedway giving the appearance of a painting.
These truly amazing pieces also show another aspect of that store, its quality framing. The already-framed pieces range in price from $35 to $500 though they do have unframed photographs as well. 
College Throw Pillows
Another find at the aforementioned Gilley's Antique & Decorator Mall were these fun, handmade pillows in the New Day Primitives booth featuring the names and colors of various Indiana colleges including IU, Purdue, Ball State and even Marian College. 
They not only include the name and mascot of the university but what made these pillows different were other details on them such as Kirkwood Avenue, Assembly Hall and Nick's English Hut on the IU pillow.
This would be another great item for any college sports lover to accent a couch or chair inside his man cave.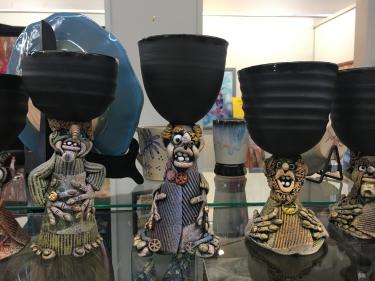 Whimsical Mugs & Goblets
This isn't the first time we've featured these interesting mugs with funny faces, as Gallery on the Square has sold them in the past, but this was the first year we found matching goblets and even lidded containers from the same artist. 
These ceramic mugs, goblets and containers remain so interesting and fun that they can't help but bring a smile to your face and perhaps become a keepsake for that coffee or tea drinker in your life.
They can be found at Gallery on the Square in Danville with the mugs and lidded containers selling for $35 and the goblets for $40 each.
Men's Stone Ring
We found our final one-of-a-kind find for men this year in Martinsville at The Sterling Butterfly, which is one of the stops on our Rural Routes to Main Street Cultural Trail.
We always try to feature at least one item in Pam Hurst's store because she sells so many unique creations and boasts a legendary background for fashion. Regardless of what you're looking for, The Sterling Butterfly needs to be on your list of places to shop during the holidays.
Because we usually feature something for women each year in The Sterling Butterfly, we wanted to make sure you were aware that you can shop for men there, too. We found these beautiful stone rings, all handmade with various semi precious stones set in sterling silver with 14-karat gold accents.  
Featured stones include turq, black onyx, jasper, tiger eye and natural meteorite, and each ring sells for $200.