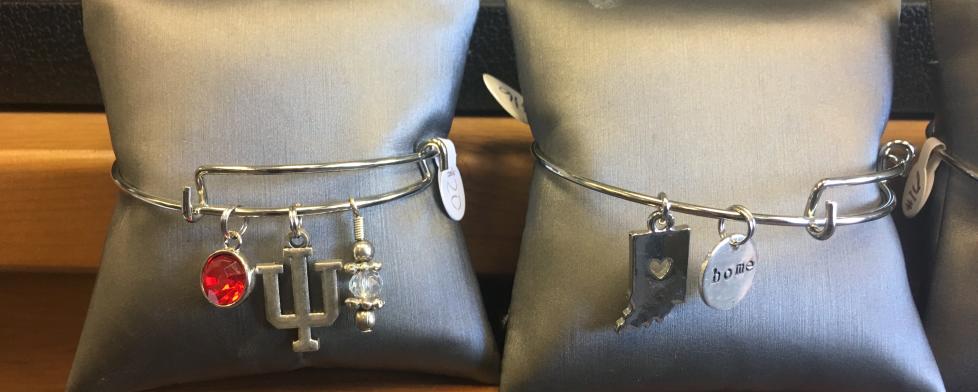 The Visit Hendricks County staff recently scoured our local shops looking to fill our 2017 edition of one-of-a-kind finds you can only get in Hendricks County or on our Rural Routes to Main Street Cultural Trail. In many cases, that means these gifts are handmade by local artists or simply are items you will only find locally.
If you want to view our weekly Facebook live videos highlighting all of our gifts, click here.
This installment focuses on gift ideas for stocking stuffers and has a little bit of everything. But even if the particular item we feature may not be exactly what you're looking for, we suggest visiting each of these small businesses as they just might have that gift idea you thought you would never find.
You can find our complete One-of-a-Kind Finds Holiday Gift Guide by clicking here.
Bangle Bracelets
Seize the Night Designs on the square in Danville always provides a great holiday shopping experience, and it is so hard to pick just one item that we highly recommend visiting the store to see their entire collection.
That said, for a stocking stuffer this year we decided to focus on their popular bangle bracelets. Sarah, the shop owner and creator, can customize these bracelets to suit that loved one or friend you are buying for. Some of the bracelet options we found when we visited included IU, lucky penny and Chicago Cubs inspired creations. But she can also personalize them by hand-stamping names, Bible verses or other sayings.
The bracelets cost $16 to $20.
Sugar Scrub
We found this unique locally made and sold product inside Suzy's Consign & Resale Shop in Avon. Sierra Seneriz, an employee at the store and a licensed esthetician, created this all natural product that removes dead skin cells and softens your skin.
The response since she began selling Sugar Scrub has been amazing. An 8-ounce jar sells for $15. Suzy's will stock her fall scents including Apple Orchard, Pumpkin Patch, Plum Cider and Fall through Thanksgiving and then will stock her new batch of holiday scents in December. 
Gift Card/Money Holders
Local artist Shirley Adams makes these fun holders that are made from fabric, come in different colors and designs and look like cute mice.
They can be found at Gallery on the Square in Danville and are $10 each. 
Loose Leaf Tea
If you have a tea drinker on your list, we recommend we found some local loose leaf tea you should consider stuffing in their stocking.
Our SpecialTEA in Danville has become a popular product around the county. We found it at The Beehive, Beasley's Orchard and the Bread Basket Cafe & Bakery in Danville and at the Garden Gate Gift & Flower Shop in North Salem in a variety of flavors. It sells for $6.95 a bag.
On Target Ornaments/Jewelry
Gallery on the Square carries this locally created line of jewelry and ornaments made from actual bullet casings and shells.
Ornaments sell for $15-$25; earrings cost $30-$40 and bracelets and necklaces can be as much as $60.
Honey Sticks
Shopping for this stocking stuffer could actually be more of a gift for the giver than the receiver. These sticks, which feature flavored honey in a straw in so many flavors that I can't list them all here, could be the perfect stocking stuffer for any sweet tooth on your list.
They cost $1.75 each, but picking up these sticks will be worth your effort. Hunter's Honey Farm in Martinsville, which makes and sells the sticks, also offers tours of their honey farm that are both interesting and educational.
You can tour their warehouse where they store and process the honey. You can experience a staff member inside a see-through, netted tent interacting with the hive and the bees, showing you the different stages of the process and if you're lucky you may get to see the queen.
And in addition to the honey sticks, they fill their small gift shop with every kind of honey-related item you can imagine.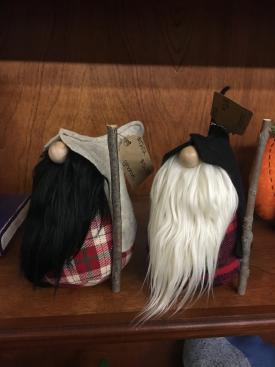 Gnomes
No stocking would truly be complete without a cute little gnome peaking his head out from the top, right? 
Even if you don't agree, you should check out the awesome little handmade stuffed gnomes that boast their own character. We found them on the decorator side of Gilley's Antique & Decorator Mall for $12 each.
Cunningham Gift Card
So, you just have that hard to buy-for friend or loved one and just don't know what to get them each year. We have good news. Everyone loves to eat, so why not go with a restaurant gift card?
Instead of going with a usual chain, we suggest purchasing one from the Cunningham Restaurant Group, which include Boulder Creek Dining Company in Brownsburg, Charbonos in Avon and Stone Creek Dining Company and Bru Burger in Plainfield. We see this as the best of both worlds. You are still supporting local establishments over chains, and the recipient still has many choices of where they want to use it.
More good news: When you buy a $50 Cunningham Restaurant gift card from Nov. 21 until the end of the year, you get a $10 "bounce back" gift card to use for yourself or include with your gift.