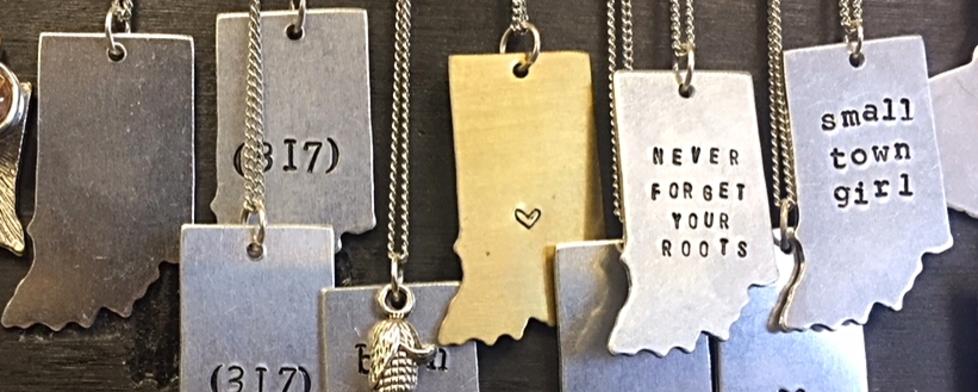 The Visit Hendricks County staff recently scoured our local shops looking to fill our 2017 edition of one-of-a-kind finds you can only get in Hendricks County or on our tri-county Rural Routes to Main Street Cultural Trail. In many cases, that means these gifts are handmade by local artists or simply are items you will only find locally.
If you want to view our weekly Facebook live videos highlighting all of our gifts, click here.
This installment focuses on gift ideas for women and features a variety of options. But even if the particular item we feature may not be exactly what you're looking for, we suggest visiting each of these small businesses as they just might have that gift idea you thought you would never find.
You can find our complete One-of-a-Kind Finds Holiday Gift Guide by clicking here.
Indiana Necklace
Seize the Night Designs never disappoints when it comes to great jewelry for that woman in your life. You can't go wrong with anything in the store, but their popular Indiana necklaces caught our eyes.
Made into the shape of our great state, each necklace comes in aluminum, copper or brass and can be personalized with a hand-stamped message. They also sell various other sizes and designs, so the cost varies from $10 to $18.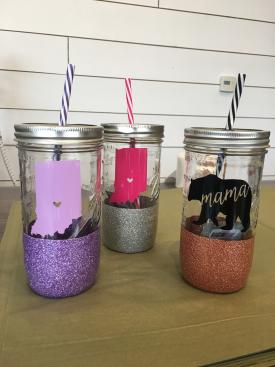 Hand Decorated Mason Jar Mugs
We found a great mix of booth trendy and nostalgia with these awesome Mason jar mugs at the new Sweet Olive and Company store in The Shops at Perry Crossing in Plainfield. We envision these as great drinkware for a mom on the go or a college student.
Each mug made from a Mason jar comes with a built-in plastic candy-cane striped straw, a stylish, glittery-painted base and designs on the side.
The mugs sell for $26. The store also carries similarly painted wine goblets and traditional coffee mugs with funny sayings on the side.
Hand-Blown Glass Snowmen
Local glass artist Lisa Pelo never disappoints with her amazing glass art from her backyard studio, Hot Blown Glass LLC. But for the first time ever, she will introduce glass snowmen to her ever-growing product list.
Each snowman is created through the art of glass blowing, so each is one of a kind. The snowmen sell for $25 and up and can be found at Bread Basket Cafe & Bakery and Gallery on the Square in Danville.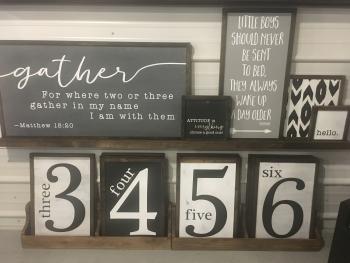 Personalized Signs
We traveled to Lizton to find our next gift. That woman in your life would love a sign from the new Norelu Handcrafted Signs & Gifts. Brooke Canada, the store's owner and designer, personally makes every sign by hand.
She can even customize a sign for you if you have a personal saying or Bible verse or can't find what you are looking for on display. Her signs come in all shapes and sizes and range in price from $18-$85.
Hand-Crocheted Throw Blankets
You can find our next featured gift on the south side of the Courthouse Square in Danville at Sage Home. This home design store boasts so many great gift ideas, but we found the hand-crocheted throw blankets locally made by the store owner's mom as something we needed to share.
We could just picture ourselves curled up under one of these beautiful handmade blankets while watching TV with a loved one on a cold, winter night.
Sage Home carries a variety of these blankets in different sizes, colors and patterns. They sell the regular-sized blankets for $65 and the "super-chunky" for $150.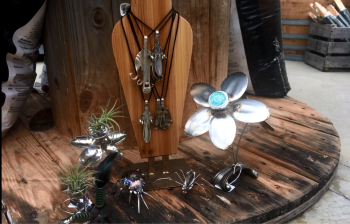 Silverware Necklace
After days of searching for handmade, unique gifts, we rarely think something will surprise us, but we all were astonished when we came across the silverware art in the local artisan section at Frazee Gardens in Brownsburg.
In this gift guide, we will highlight the necklaces made by Sheryl Penrod, in which she used regular silverware utensils that you will find in any home and repurposed them into stunning pieces of jewelry. I only wish I had that kind of creativity. The necklaces sell for $23-$35.
But Sheryl also had silverware spiders for $11 and a decorative flower made from drawer knobs, handles and spoons. In fact, it became like a treasure hunt trying to find all of her pieces in the store.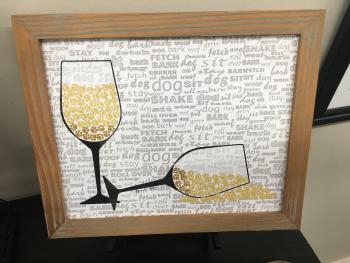 Paw Print Art
If you have a woman in your life who is a pet lover, we found just the gift for you at Gallery on the Square in Danville. The gallery sells these fun and creative art pieces made entirely using paw prints.
The artwork ranged in price from $20 to $75.
Wooden Snowmen & Trees
Created by local artist Montie Heath, we loved the wooden snowmen, Christmas trees and spindle ornaments made from various selections of wood including oak, cedar maple and cherry.
The pieces all sold for $8 at Garden Gate Gift & Flower Shop in North Salem.
While you're there, make sure to check out some of Heath's other handmade work including unique candle holders, an ice pick and bowls at various levels though we found it all to be very reasonably priced.