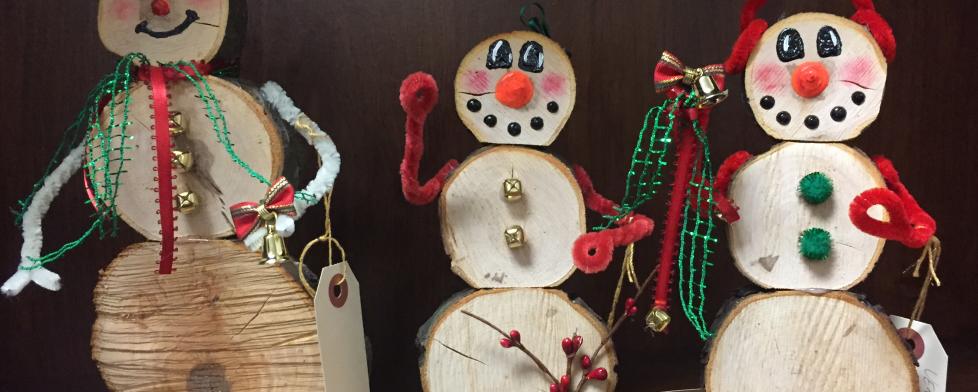 The Visit Hendricks County staff recently scoured our local shops looking to fill our 2017 edition of one-of-a-kind finds you can only get in Hendricks County or on our tri-county Rural Routes to Main Street Cultural Trail. In many cases, that means these gifts are handmade by local artists or can be found locally.
If you want to view our weekly Facebook live videos highlighting all of our gifts, click here.
This installment focuses on gift ideas under $10, which is a new category this year to the gift guide. But even if the particular item we feature may not be exactly what you're looking for, we suggest visiting each of these small businesses as they just might have that gift idea you thought you would never find.
You can find our complete One-of-a-Kind Finds Holiday Gift Guide by clicking here.
Wooden Snowmen
Our under $10 finds starts at Gizmo's Galleria in Brownsburg. Filled with booth after booth of collectibles, antiques and handmade items, you can truly find a little bit of everything while perusing the aisles at Gizmo's.
This year, we decided to feature these cute snowmen made by Brownsburg resident Jeff Shadday. He decided to do something fun with tree logs and with the help of his wife created these snowmen, which would add a natural element to complement any home holiday display.
The snowmen cost $5-$8 depending on the size.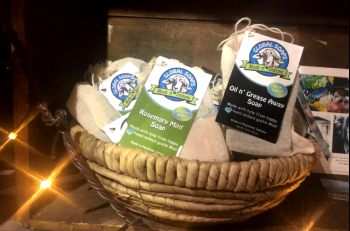 Goat Soap
Why in the world would you use or give goat soap as a gift you might ask? How about for the quality of the product including its moisturizing and gentle feel factors or that it is made locally in Plainfield by a wonderful family who own the goats and personally make each bar?
Global Soaps is actually made from the milk the Burgess family collects from their goats and has received rave reviews from anyone who has tried it. It comes in a variety of scents including unscented, and they even produce a line of Oil n' Grease Away soap that I'm told works really well for those who come home with grimy hands on a daily basis.
We found their soap at Frazee Gardens in Brownsburg and Big Tuck's Feed & More in Pittsboro for $6.50 a bar or $7 for the Oil n' Grease Away variety.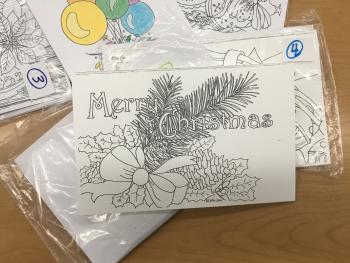 Christmas Coloring Cards
These prints produced from original drawings from a local artist provide a great way to personalize your gift this year. They come in a variety of patterns that you color to personalize.
You can purchase the cards invidually for $4 each at Gallery on the Square in Danville or by the packet, which includes two different cards and two envelopes for $6.
Homemade Jam - SOLD OUT
While purchasing jam or jelly as a gift might sound a little boring, wait until you hear the story behind the jams and jellies we found at Tina's Traditional Tearoom & Tavern on the square in Danville.
The restaurant owner Tina Jesson actually moved to the United States from England a few years ago and settled in Hendricks County. Her tearoom specializes in English teas and foods including scones, clotted creams and other English-inspired fare.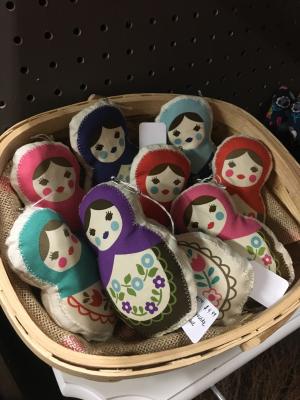 But her handmade jams and jellies have special meaning as each one remains very personal to Tina because they are her grandmother's personal recipes. She sells four varieties -- raspberry jam, vanilla chai jelly, lavender jelly and fig & ginger jam -- in 4-ounce jars for $9 each.
Knitted Matryoshka Doll
We found a gift with another great story from across the pond at Gilley's Antique & Decorator Mall in Plainfield with these knitted matryoshka dolls. Matryoshka is Russian for "little matron." You may more commonly know these dolls as Russian nesting dolls, which are typically wooden and decrease in size with one placed inside the other.
Anyway, these dolls are not the nesting variety and only come in one size, but they were made from a Russian-born local artist who now lives here. They sell for just $4.99 in the From Russia With Love booth on the decorator side of the mall.
Apple Butter
You may be familiar with Beasley's Orchard in Danville for their great apples and apple cider, corn maze or hayride to the pumpkin patch or other fun activities they offer on the farm, but did you know they sell their own line of apple butter?
They sell two varieties -- with sugar added or no sugar added -- in 18-ounce jars for $5.95. You can find it in their Civil War-era barn turned market on their farm. I can just taste it now. Yum!
Mini Bread Loaf
What better way to sample Beasley's apple butter than on a slice of bread handmade at the Bread Basket Cafe & Bakery in Danville. The restaurant usually has a variety of both sweet and savory varieties available. One of their most popular breads, Honey Oat, is almost always in stock, but you may want to call ahead to make sure or place an order for your favorite before stopping by.
Their mini loaves are very affordable at $4-$5 a loaf depending on the variety. They offer bigger loaves for purchase as well.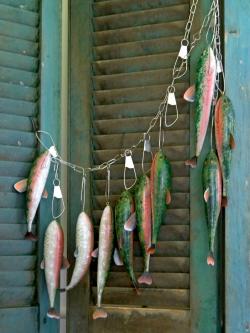 While you are there, you might as well plan your visit around breakfast or lunch and enjoy a meal and/or dessert. It doesn't get much better!
Rainbow Trout
Continuing the animal theme, these hand-painted gourds make a great gift for anyone interested in fishing or the great outdoors. They work really well with any decor, but would really spruce up a lodge or cabin. 
Each handmade fish measures 7- to 9-inches long and comes on a small stringer. We found them at Berries and Ivy Country Store, which is a stop on our Rural Routes to Main Street Cultural Trail, on the Morgan County Courthouse Square in Martinsville.
They sell for $9 each, though you may want to consider a group of 3 or more, which look nice together as a decorator piece.