Runners and walkers alike — both seasoned athletes and beginners — have more than a dozen opportunities to participate in organized fun runs and timed races through the rest of 2012. Check out this list highlighting some of the scheduled events throughout
Hendricks County, Indiana
— and bookmark it for future inspiration.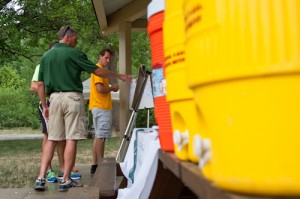 Weekly through September:
Each Wednesday, Hendricks County Parks & Recreation hosts its
Summer Fun Run Series
, which it extended through September this year. In its fourth year, the free Fun Run Series now hosts an average of 300 runners each week. The location changes each week, which Superintendent Bill Roche said is one of everyone's favorite parts of the program: "The No. 1 comment we hear from people is that they love discovering and seeing new parks in the county." A health specialist from sponsor Hendricks Regional Health is also on hand for participants each week. At each non-timed event, you have a choice between a 1-mile or 5K course. Just arrive between 6 and 7 p.m., and get ready to run! Dates and locations for the rest of the series this year are:
July 25: Plainfield Recreation & Aquatic Center
Aug. 1: McCloud Nature Park in North Salem
Aug. 8: Avon Town Hall Park
Aug. 15: Avon Hendricks Regional Health YMCA
Aug. 22: Williams Park in Brownsburg
Aug. 29: Hummel Park in Plainfield
Sept. 5: Vandalia Trail in Amo
Sept. 12: Plainfield Recreation & Aquatic Center
Sept. 19: Hendricks Regional Health YMCA Avon
Sept. 26: McCloud Nature Park in North Salem
Saturday, Aug. 11
: If you're up for more than a run, check out the
Tri for a Family Sprint Triathlon
at the Plainfield Recreation & Aquatic Center. This outdoor sprint triathlon consists of a 600-yard swim, 10-mile bike ride through the country around Plainfield and 5K run.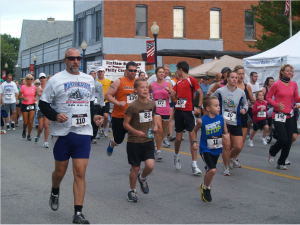 Monday, Sept. 3 (Labor Day)
: Kicking off the final morning of North Salem's 37
th
annual
Old Fashioned Days
festival, this 10K run, 5K run and 5K walk will take you through town and into the countryside. You can fuel up afterward at the Smorgasbord Breakfast at the Methodist Church near the finish line in town.
Saturday, Sept. 8
: Start your Saturday early for the
4th Annual B&O Express
in Avon. The 5K and 10K courses will allow you to see the B&O Trail — which is free of traffic — with a free community health fair hosted afterward by sponsor IU Health West Hospital.
Also on Sept. 8, you can run for a good cause in the
Harvest Hustle 5K run/walk
at the Plainfield Recreation & Aquatic Center. Kids can join, too, with a half-mile fun run at 10 a.m.
Saturday, Sept. 15
: Be among the first to participate in the new
Super Hero Trail Dash at Williams Park in Brownsburg
. This 5K obstacle course will have you tackling both natural and man-made obstacles. Go dressed as your favorite super hero for a mental boost and chance to be crowned the best-dressed super hero. Families can navigate a 1-mile portion of the course before the 5K in the Sidekick Walk.
Saturday, Sept. 22
: Ready for more than a 10K? Get warmed up for the
Hendricks County Half Marathon in Danville
. The course is very scenic and semi-flat. For those not quite up to a 13.1-miler, you can also participate in a 5K run or 1-mile fun run.
Saturday, Sept. 29
: Fight domestic violence by running or walking in the
Break a Sweat, Break the Cycle 5K walk and 10K run benefiting Sheltering Wings
at Plainfield's Hummel Park.
Saturday, Nov. 17
: Get a pre-holiday workout in the
Fall Fling 5K Trail Run
at the Plainfield Recreation & Aquatic Center.
Saturday, Dec. 1
: Get into the holiday spirit the healthy way in the
Winterland Walk/Run
. Choose from a half-mile walk or 1-mile run at Danville's Ellis Park. And forget your standard workout gear: a prize will be awarded to the Merriest-Dressed Runner/Walker.
Any time
: Looking for places to train for these events, or plan your own course?
These five sites
offer a great selection of both paved and unpaved trails. Hendricks County plays host to events like this throughout the year. What's your favorite? And is there one coming up that you love and isn't highlighted here? Let us know in the comments section.