I'm an auto sports fan, and a few years ago my dad and I attended the U.S. Nationals and had a blast. We still talk about how much fun we had. We spent a lot of time next to the track watching these awesome cars reach insane speeds.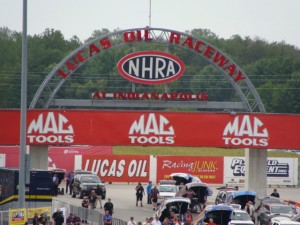 If you haven't attended the Chevrolet Performance U.S. Nationals before, it's a very big deal and one of the best races in the country. It's got it all, expert drivers, fast speeds, incredible cars and plenty of excitement over six days, Aug. 28-Sept. 2. Josh did a good job of providing
insider tips
earlier this month. But I wanted to speak to the novice drag race fan or someone who has never been. So, think of this as your U.S. Nationals cheat sheet preparing you for what those in the business call the "Big Go."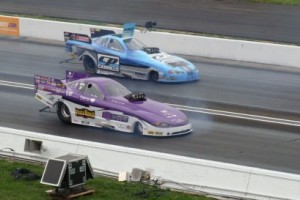 Study Up and Talk Like an Expert
Want to know all about the NHRA, including the history of the sport? Check out the
NHRA's website for NHRA 101
, where you can learn
The Basics of Drag Racing
and study up by reading the
Glossary on Drag Racing Terms
. This is your chance to learn the language of drag racing, such as "Burnout" or "Christmas Tree." Have some fun and play a bit of trivia with your kids or fellow fans in between races.
Tickets
Tickets available
, and you can check
here
for more information. If you want to save a few dollars, we have a special discount just by reading this blog by clicking on this 
link
 and choosing the day or days you would like to attend.
Parking/Coolers
Parking is available on site after you enter the main gate off U.S. 136. During U.S. Nationals, parking costs $10 a day. Coolers are allowed in during the event. However, they can be no larger than 14X14X14, and glass bottles and alcoholic beverages are not permitted.
What to Wear
It usually is warm, though you never know with the way this summer has gone. I would definitely recommend dressing casual with shorts, T-shirt, tennis shoes and a hat. Don't forget sunscreen as the only shade out there is underneath the grandstands. If you really want to be prepared, you may want to pack a light jacket and rain poncho as well.
Ear plugs/Headphones and Other Essentials
Josh covered some of this, but I wanted to take it a step further. Bring a few sets of ear plugs and head phones. I can't stress enough how loud these machines get. It is unlike any other racing experience. If you forget them, they are available for purchase at one of the many vendors. I also recommend bringing or purchasing a set of the noise-blocking headphones for children. Other essentials include: cash (though ATM's are available at the track), blanket, chair and cushion, phone, radio (dial in to Radio Frequency: 87.9-FM to listen to the races and details) and sunglasses.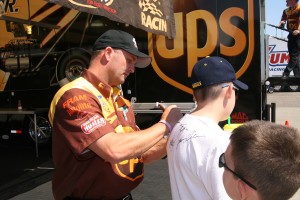 Finally, don't forget a good pen for scoring autographs, preferably a Sharpie. A ticket doubles as a pit pass after all, so you can get pretty close to the drivers and teams, and they're all about their fans. Buy a ball cap or a shirt and have a driver sign it.
See Both Sides
Most of the activity will be on the east side of the drag strip where you will find the pits of all the stars of the circuit. However, make sure you also stroll over to the west side by going past the grandstands to the far north end of the property and crossing over using a pedestrian bridge. The west side of the strip has plenty of other things to see and do including watching the motorcycle teams at work and much more.
Where to Stay
Hotel rooms are still available in Hendricks County. Call the Visit Hendricks County office, (800) 321-9666, for up-to-date hotel availability and recommendations on where to stay. Check
here
for a complete list of accommodations in Hendricks County. There are some pet-friendly accommodations available.
Great Eats
Although there will be plenty of food at the track, here are some recommendations for a night out when you aren't at Lucas Oil Raceway. A few of my personal favorites are
Dawson's Too
in nearby Brownsburg, which serves an excellent pork chop sandwich and fish and chips. They also offer happy hour on Wednesday evenings with drink specials and shrimp (grilled or fried) at 50 cents apiece.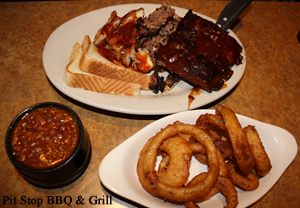 Pit Stop Barbeque & Grill in Brownsburg is another favorite of mine, and it even has a racing theme. This restaurant has everything barbecue in a fun, family-friendly environment. Here's a
complete list
 of dining options. Need a quick breakfast on the way to the track? Stop by
Hilligoss Bakery
in Brownsburg for donuts and coffee.
Attractions/Entertainment
Need something to do when you aren't at that track? 
Hendricks County
offers a variety of attractions and entertainment. Check out our Events Calendar and list of attractions for more information.
Need Any Additional Help?
Need some more tips or recommendations? Send us a
tweet @HendricksCounty
or leave us a question or comment on  
Visit Hendricks County's Facebook Page
. We're here to answer your questions and comments and make sure you have the best possible experience at the 59
th
Annual Chevrolet Performance U.S. Nationals.