It's been awhile since I attended the
NHRA
's Mac Tools U.S. Nationals at
Lucas Oil Raceway
in
Brownsburg, Indiana
, so when the opportunity arose to attend a testing session, I pounced on it. I wanted to get a little reminder of the sights, sounds, and smells of drag racing before the competition takes place from Aug. 29 through Sept. 3 -- kind of whet my appetite for the biggest event in drag racing.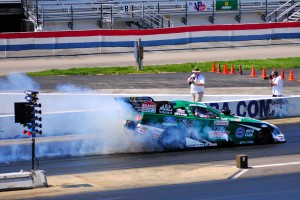 Sights
There are
more than 200 classes
of vehicles in 15 categories in the NHRA, but the two most common are Funny Cars and Top Fuel. In the reverse of what you might think, the Funny Cars are the category that loosely resemble a "normal" car.
John Force
drives a Funny Car. The funny-looking cars -- the ones with great big rear tires, a long nose, and tiny little front tires -- are the Top Fuel models.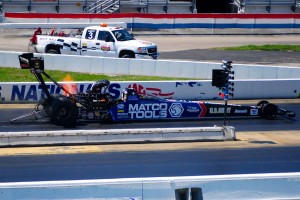 Top Fuel cars approach speeds of 330 mph on the track. Yes, 
three
hundred thirty miles per hour. Funny Cars "only" hit somewhere in the neighborhood of 315 mph. Slow pokes. During my time at the testing session on Wednesday, I saw plenty of Funny Cars and Top Fuel machines, and I also saw some Pro Stock Motorcycles and some Super Stock cars.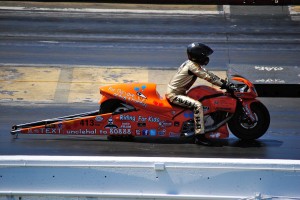 The motorcycles were hitting speeds of over 190 mph on the track, and the drivers acted like it was a nice leisurely Sunday ride in the country. Total insanity. The Super Stocks look like the old muscle cars of decades ago ... on steroids. When any of these vehicles fire those engines up ... well ... let's just move on to the next section.
Sounds
I've been to a lot of sprint car races over the years, and I'll admit that I'm pretty haphazard about ear protection at those races. The noise doesn't bother me anymore. I almost walked out the door without ear protection on my way to Lucas Oil Raceway when I decided at the last second to grab a set, just in case these dragsters are louder than I remember.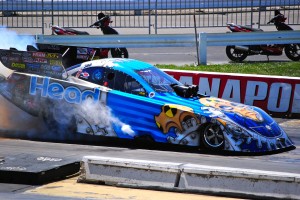 It's a darn good thing I had them. Even with ear protection on that I normally wear at a gun range, the sound of those engines is stupifying. To call it deafening would do injustice to the word "deafening." It's
stupifying
. You can feel the vibrations in your teeth, eyeballs, chest, and soul as the cars idle, and when the drivers punch the gas to go, it doesn't matter how much you prepare yourself for it -- you jump like someone just dropped a grenade right behind you.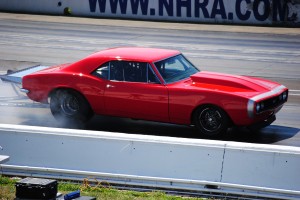 I arrived just in time to see John Force do some testing, and I absentmindedly left my ear protection around my neck as I started shooting photos. When Force took off, my knees literally buckled. I have blurry photos of a tree line, the sky, and everything in between as I involuntarily held the shutter button down while my arms flailed wildly. I was pretty certain that my ears were bleeding, and for a few seconds, I wasn't entirely sure whether or not I had lost control of any other bodily functions. Once I collected myself, the ear protection went on and stayed on. Though it doesn't nearly do it justice, you can get a sense of what I'm talking about in the video below shot on the track Wednesday during the testing session of Shawn Langdon of Al-Anabi Racing. [youtube]http://www.youtube.com/watch?v=niAunov2ZYw&list=UU8x_r855M4mdwKchMOG5J1w&index=1&feature=plcp[/youtube]
Smells
There's something pretty cool about the smell of nitro fuel, and when these cars add the odor of burning rubber to the mix, it'll make even the most passive race fan start grunting and pumping their fist. It is really indescribably awesome. You
have
to experience it. There was another smell wafting through the air, too:  the smell of really good food. But we'll cover that another day on this blog.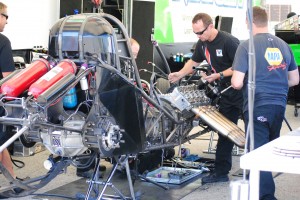 Specs
You want the lowdown on Nationals now, right? Okay! The 58th annual event starts Wed., Aug. 29 at 9 a.m. and runs through Monday, Sept. 3 -- a perfect way to spend your Labor Day weekend. This is a really big deal for drag racers and fans. This is the most prestigious event of its kind -- the crown jewel of the sport. To top it off, there's a lot on the line for the drivers. Following Nationals, the top 10 drivers in each pro category will be locked in to the six-race Full Throttle Countdown to the Championship, which is the NHRA's playoffs. There are a variety of ticket combos and packages for Nationals 
available online
with adult general admission tickets as cheap as $10 a piece. Kids 12 and under are free, so bring the whole family! It's a very family-friendly event and at a good price. We even have a special deal for readers of this blog. You can get special discounted tickets by clicking on this 
link
 and choosing the day or days you would like to attend. Make sure you bring ear protection, sunscreen, ear protection, a Sharpie (every ticket doubles as a pit pass, so get your favorite drivers' autographs!), an empty belly for all the great food there, ear protection, and ear protection. Did I mention ear protection? Say, does anyone else hear that constant high-pitched ringing sound?