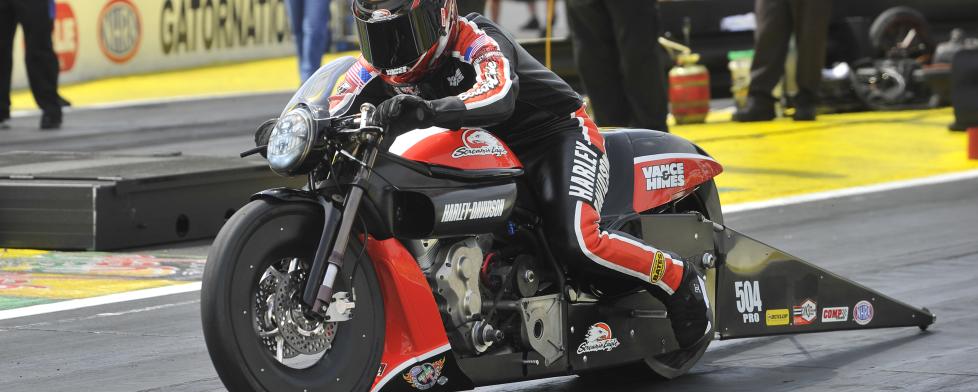 The 62nd Annual Chevrolet Performance NHRA U.S. Nationals roar into Lucas Oil Raceway in Brownsburg over Labor Day weekend, and as drag racing fans from all over the world prepare to visit Hendricks County for the crown jewel of the National Hot Rod Association season, we don't want you to miss a thing.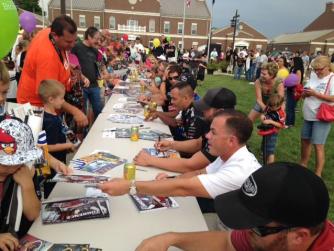 First off, drop everything you're planning for tonight and head to the Brownsburg Town Hall for the Big Go Block Party from 5 to 8 p.m. This free community event will whet your appetite for racing with Top Fuel dragsters, Funny Cars, and Pro Stock cars and motorcycles on display. Get autographs from your favorite NHRA drivers, let the kids enjoy bounce houses and games, and take in a live concert. Hungry or thirsty? No worries. Concession vendors will be there, too.
Then on Friday, Sept. 2, the gates open at Lucas Oil Raceway for the start of the most prestigious drag race in the world. Beginning at 1 p.m. Friday, the schedule will be filled with all sorts of qualifying sessions, including Nitro qualifications featuring 10,000-horsepower vehicles that routinely top 300 mph. 
Now, 300 mph is something of an abstract term to people like me. I've been to Lucas Oil Raceway plenty of times and watched the likes of John Force, Antron Brown, Tony Schumacher and others go rocketing down the dragstrip at speeds around 300 mph, and while a person can sit in the stands and admire how fast those men and women are traveling, you get a much different taste of what's going on inside that car when you're actually in it.
I was recently given the opportunity to do a ride along in a dragster at Lucas Oil Raceway, which was piloted by former NHRA Top Fuel driver Doug Foley through his company, Pure Speed Drag Racing Experience. I had never done anything like this before, but I love speed so I was super excited.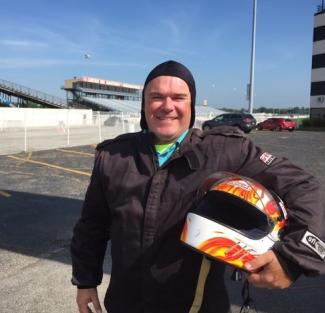 First, they stuffed me into a hot, heavy, restrictive fire suit, then squeezed my head into a racing helmet. I already felt like the Pillsbury Dough Boy as I waddled out to the two-seater dragster and crammed myself into the passenger side. Apparently, I demonstrated too much mobility when I got into the car because a Pure Speed employee then strapped me into the vehicle ten ways from Sunday.
I was starting to think that this was an elaborate ruse that my wife set up to finally have me fitted for a straitjacket and committed to the funny farm when Doug fired up the 800-horsepower engine. I could feel the vibrations pulsing through my soul, and being strapped in so securely suddenly made a whole lot of sense in my mind.
We crept up to the starting line and then did a full-throttle burnout that rattled my teeth with the thunderous power of the engine. We backed up to the tree, and I watched as the lights clicked from red to yellow to green. 
I'm not entirely certain what happened next.
Doug buried the gas pedal, and I'm pretty sure we traveled through time in one direction or the other. I yelled something out in excitement as we took off and the couple G's of force smashed through my body, but it took a few seconds for my voice to catch up to our car as we shot down the track. My heart and stomach were still somewhere back at the starting line when we crossed the finish line.
I remember thinking as we hurtled through space that if anything goes sideways, Doug has virtually no reaction time, and at this mind-numbing speed, the slightest tug on the steering wheel would probably send us into orbit.
But Doug is a professional. We didn't die, and as we returned to the starting point, he asked me how the ride was. I told him that I want him to drive me to work from now on.
I was dying to know how fast we had gone. Had we hit 300 mph? It sure felt like it! I bet we even caused a sonic boom! I couldn't wait until Doug handed me the printout from our trip down the drag strip together.
146.72 mph. Here's video evidence of that ride:
We topped out at 146.72 mph and covered the quarter-mile strip in 9.133 seconds. Holy Mother of Pearl, I was only beginning to regain feeling in my legs when they unstrapped me and hoisted me out of the vehicle, and we didn't even reach 150 mph?!
As a point of reference, two-time Funny Car world champion Matt Hagan just hit 333.82 mph this past weekend in a competition, covering the strip in 3.822 seconds. It took him less time to finish his race than it took you to read this paragraph.
Doug and I only went 44 percent as fast as Hagan did, and I was on an adrenaline high for the rest of the day. This was probably like a drive to the grocery store for Doug, but I was totally pumped, and I had a whole new perspective of what the NHRA drivers are experiencing at U.S. Nationals.
Back on the subject of U.S. Nationals, gates open again at Lucas Oil Raceway at 1 p.m. on Saturday, Sept. 3, with qualifications continuing throughout the day in a variety of vehicle classes. The Traxxas FC Shootout will take place throughout the day with the finals starting at 4:45 p.m.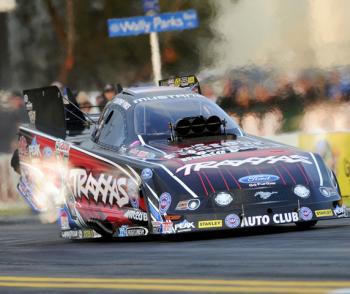 The track will also host a number of autograph sessions, Nitro School, Manufacturers Midway, a presentation on the 50th Anniversary of the Funny Car and more throughout the day to engage and show appreciation for racing fans. In fact, unlike most racing events you could attend, at U.S. Nationals a ticket is also a pit pass. They sure like to treat their fans well.
Racers get an early start on Sunday, Sept. 4, with the gates opening at 10 a.m. The Traxxas FC Shootout takes place on this Sunday, along with more Nitro qualifications, Top Alcohol eliminations, and Comp eliminations. There will be more autograph sessions, displays, and fan appreciation events throughout Sunday, too.
Then get out to the track at 9 a.m. on Monday, Sept. 5 for the final day of U.S. Nationals because Pro Stock, Top Alcohol, Nitro, Pro Mod and Sportsman class dragsters are flying down the strip all day for eliminations, semi-finals and finals.
I have merely highlighted one snowflake of the iceberg of fun, family-friendly events surrounding the 62nd Annual Chevrolet Performance NHRA U.S. Nationals at Lucas Oil Raceway. For a much more detailed calendar of events, a discount on tickets, answers to frequently asked questions, and all sorts of additional information that visitors will want, click here.
I hope to see you at Lucas Oil Raceway!