We all know the saying, "If it ain't broke, don't fix it."
That could be the motto for The Coachman Restaurant and Lounge in Plainfield. Not much has changed since the owners opened this location after noticing a need for dining options in Hendricks County.
And why would they?
The Coachman's prime location near I-70 coupled with a steady stream of regulars, keep this restaurant on the top go-to list for dining and cocktails.
Here's what you'll find...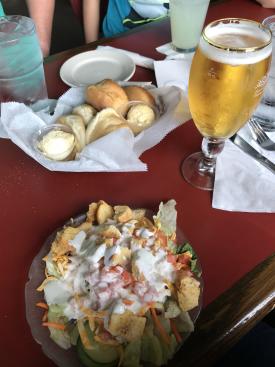 Food and Drinks
Peruse the extensive menu and you'll find quite the variety. Appetizers, salads, sandwiches, burgers, pasta and an impressive selection of dinner options - including steak, chicken and seafood. I love a menu that can satisfy a large group with different tastes in food. With a variety of types of cuisine, there is truly something for everyone.
You'll also find, perhaps surprisingly, house specialties including their chimichanga, Mexican chili and fish and chips. Like I said, something for everyone.
When we stopped in recently, with our youngest teen in tow, we were looking for a quick bite in the middle of a busy week. The husband and I both ordered salads and a variety of appetizers. The teen, per his usual, always looks for hot wings on the menu. The hotter, the better. He also happens to be quite the critic when it comes to wings.
Our awesome server was super patient as he asked 50 questions about the wing options and sauces. She got a five-star rating after suggesting that he might want them doubled basted.
All our orders yielded far more food than we could eat. The teen happily boxed our leftovers to take for lunch the next day.
If we had visited on a less hectic evening when we could be a bit more leisurely, I definitely would have ordered their popular shrimp cocktail and any of their delicious pasta dishes.
The Atmosphere
Almost vintage, you'll find an eclectic variety of classic memorabilia throughout The Coachman. The atmosphere is casual enough for the whole family -- even during the hectic week -- but also is inviting enough for your next date night. It calls for a relaxed evening out with a cocktail and friends.
Summer is the perfect time to introduce yourself to The Coachman, as they have one of the nicest outdoor dining areas in the county. Throughout the season, you can enjoy live music on the deck most weekends.
The Service
Although we were there on a week night, and it wasn't too busy, I found the number of hosts and servers very impressive. As soon as we walked in, we were greeted by several staff members. We were seated immediately and every staff member we passed on our way to our table was super friendly.
As I mentioned above, our server was beyond patient and kind. She took the time to talk to us about different menu options and told us about popular choices.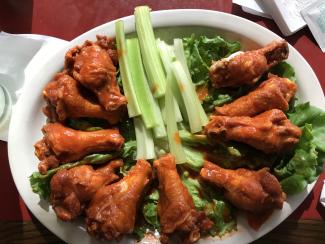 When servers were not waiting on tables, they helped greet patrons and helped other servers. Our food was brought out quickly and was just as we had ordered. Our server was sure to stop back by to ensure that our little man was happy with the heat of his wing order.
We'll definitely be back.
The Coachman is located at 6112 Cambridge Way, Plainfield. Their hours are Monday -Thursday 11 a.m. - midnight; Friday - Saturday 11 a.m. - 1 a.m. and Sunday 11 a.m. - midnight.
Thursday nights are Ladies Night with $1 off appetizers, $5 martinis and $1 off all glasses of wine. Yep, that's my kind of Ladies Night.
Whether you are a visitor or local, I highly recommend The Coachman - where there is something for everyone.