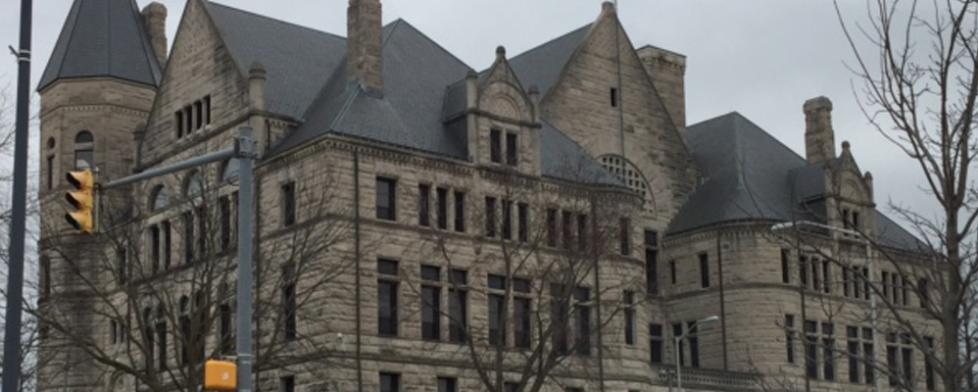 Wandering this month has been pretty interesting. As you might remember, I am attempting to travel to all of the county seats in Indiana as my way to celebrate the bicentennial.
While at these locations, I will explore not only the courthouse grounds but other locations within the community and county that interest me.
After my latest adventures that you can read about below and my initial experiences that you can catch up on by clicking here, I have now visited 28 of the 92 counties.
This experience already has taught me how many times you go to a community but never really notice the courthouse or really much about the community itself. So as I slow down to take it all in, a whole new world has opened up to me in my own home state.
I began this month's journey where it all began for me in Wayne County and its county seat, Richmond. This stop was so special to me because I also got to enjoy some time with my mother. While I was there, I visited the Whitewater River Gorge, the Veterans Memorial Park, which is a special place for honoring the military and is definitely a worthwhile visit, and the Starr-Gennett Memorial and Cardinal Greenways Trail.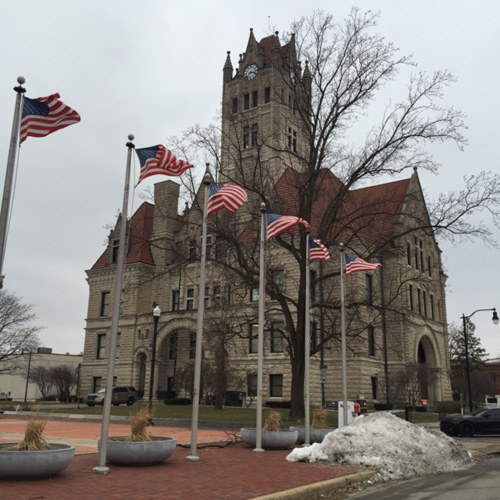 Places I still hope to visit there the next time I return include the Wayne County Historical Museum(I always remember the mummy), Earlham College and the Joseph Moore Museum, which boasts a mastodon.
I would be remiss if I did not mention Centerville, where I went to high school and the former county seat. Apparently there was a little skirmish back in the day and the citizens of Richmond took the records from Centerville and created the current county seat.
My next stop brought me to Greenfield (Hancock County), which I was able to enjoy with my father who joined me. James Whitcomb Riley is the namesake of many of the attractions there. I enjoyed Riley Park, and Brandywine Creek is supposedly a great small mouth bass fishing hot bed.
The historic National Road passes through Greenfield and the Courthouse Square has many interesting buildings. I also highly recommend checking out the Pennsy Trail while you are there.
Other communities I visited this past month included:
Bedford (Lawrence County) - Known for its limestone quarries, it also has a great downtown with an interesting courthouse square. It has become one of my favorite counties to wander.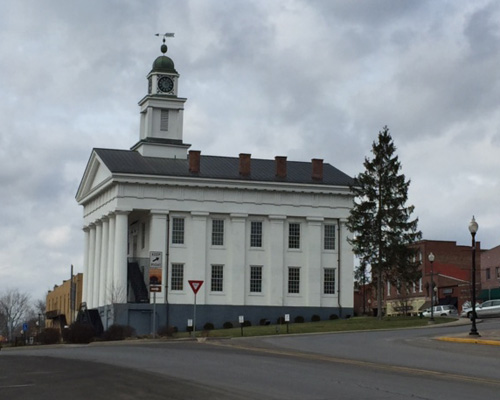 Paoli (Orange County) - This county has a lot for visitors to experience such as Paoli Peaks, the Lost River and of course French Lick/West Baden Springs. I also was struck by the courthouse heading into Paoli. What an amazing view!
English (Crawford County) - The courthouse was really hard to find. We happened to just get lucky. It made me wonder if there was another courthouse there besides the acting one. I bet there was though I haven't done the research. Isn't wandering fun?
Tell City (Perry County) - Don't confuse the Tell City City Hall with the Perry County Courthouse. The Ohio River and Hoosier National Forest definitely influence this county.
Rockport (Spencer County) - Santa Claus, Holiday World and all things Abraham Lincoln define Spencer County. A beautiful backdrop in an old square makes the courthouse in Rockport something to experience. Near the courthouse, you can take in a scenic drive in a small park along the Ohio River.
Boonville (Warrick County) - This courthouse square is surrounded by an interesting historic district, and Scales Lake is quite the park to visit. You can also find many areas between Boonville and Newburgh that have been transformed by coal mining over the years. Newburgh also boasts a quaint downtown district with a walking trail along the Ohio River.
Evansville (Vanderburgh County) - This city has really transformed itself over the years. The downtown area along the Ohio River has continued to grow and change providing many opportunities for visitors including museums, trails and other attractions.
Here's hoping my little musings help inspire you to wander Indiana in 2016.