When I was a child, my grandma took me to the cemetery often to place flowers on my grandfather's grave. So when asked to visit cemeteries in Hendricks County, I looked forward to discovering the history that cemeteries reveal about an area.
Before heading out to local cemeteries, I stopped at the Plainfield-Guilford Township Library to do research. At first, I was looking for famous graves, but then I began reading about the history of Hendricks County. While reading the book A Pictorial History of Hendricks County Indiana, I learned about a tragedy in Stilesville.
So, this is where my journey would begin.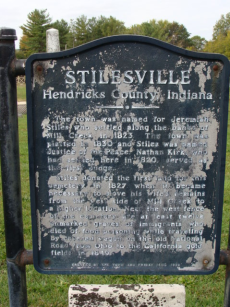 Stilesville Cemetery
At the Stilesville Cemetery, just north of U.S. 40 at 3944 W. County Road 900 South in Stilesville, there is a marker in remembrance of the tragic death of 19 people.
In 1849, a group of travelers from Ohio stopped in Stilesville on their way to California in search of gold. While in Indiana, 19 of the travelers became ill with food poisoning and died. They were then laid to rest in unmarked graves.
While walking through Stilesville Cemetery, I also came across a grave for Joel Garrison, who served in the Revolutionary War. Garrison lived from 1760-1835. I was fascinated to find this grave.
Interestingly, this cemetery has also become known as the IOOF Cemetery, which stands for the International Order of Odd Fellows.
Clayton Cemetery
My next stop was the Clayton Cemetery. I discovered several graves from the 1800s. One thing that I found interesting at all the cemeteries that I visited is the difference in tombstones.
Most from the 1800s are simple and almost hard to read after years of erosion. On the other hand, I found some were ornate.
Bethesda Cemetery
Another interesting cemetery I visited is one I have driven by several times. The Bethesda Cemetery is visible from Ind. 267 north of I-74 in Brownsburg.
I was surprised to find graves from the 1800s at one end, with new graves at the other end of this small cemetery along the side of the road.
Danville South Cemetery
My final stop was Danville South at 515 S. Cross St. in Danville. This is a beautiful, peaceful place to walk around. I found beautiful stones from today all the way back to the early 1800s.
I loved one I found featuring the figure of a life-sized woman. It really can be so interesting to just go on an adventure through some of these old cemeteries, and I hardly even scratched the surface of what we have here in Hendricks County.
So, head on out to these cemeteries, learn about history, pay tribute to those who lived before us and enjoy the peacefulness and artwork of some of the beautiful gravestones.