Like many others, I find it challenging to stay active when my routine has been scrambled. These days, we are all having to adjust and take on more roles than ever before. Sometimes it's hard to find the time or energy to fit in physical activity, especially when the gyms are closed.
All In, Hendricks County: Active Living
So, I was so excited when my organization decided to add an Active Living section to our new All In, Hendricks County Community website. It is full of everything you need to help your body and mind feel better during this time.
Lately I realized that setting aside time for physical or mental activity can help get back some normalcy in the day. That can include anything from morning cardio to lunchtime yoga to an afternoon walk outside. It doesn't have to take long to be effective. 
The important thing is setting aside some time for your body and mind to take a break from the stress. One of the added benefits of exercise is that it can boost your energy and your mood!
Online Fitness Classes & Activities
Looking to stay active at home? You're in luck! Many local organizations in Hendricks County host online fitness classes and other activities to help keep you active and positive while staying home. Below are just some of the options you can try.
You can find all of these and more on our Active Living site.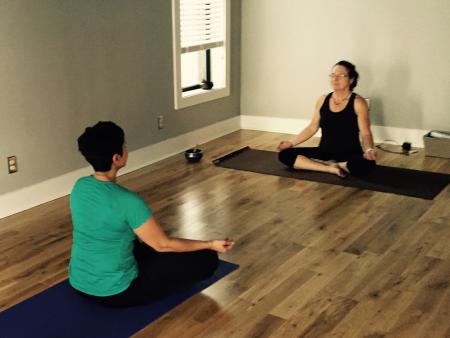 YMCA Facebook Wellness Classes
Hendricks Regional Health YMCA in Avon has added online exercise programs to keep people active without leaving their homes. No matter what your fitness level, you are sure to find fun and challenging workouts. They even have programs designed for kids and families! 
Some of their fitness classes include:
LIFE (Low Impact for Everyone)
HITT (High Intensity Interval Training)
Floor, Core, & More
Total Body Training
Yoga
Sports Drills

Brownsburg Parks Virtual Recreation
Brownsburg Parks offers online fitness classes that include live yoga classes and fun dance workouts. They also have nature activities and simple cooking videos to enjoy with your family. 
Visit their Virtual Recreation page or follow them on Facebook for weekly updates and new classes!

TRACKSback Virtual Track Season
For the runners out there, or anyone who needs some fresh air, RaceMaker Productions has a great option for you. TRACKSback provides a virtual track season perfect for runners or anyone looking for good competition. 
The best part is that by competing you will help these causes:
During this 10-week season, you can compete in up to four events every week. Your scores will be tallied for the entire season and compared to local and national participants. 
If you don't consider yourself an avid runner, like me, you'll be happy to find out the distances are totally doable! I see some quarter- and half-mile events in my future. The events you can compete in include:
400 Meter (1/4 or .25 Mile)
800 Meter (1/2 or .5 Mile)
1,600 Meter (1 Mile)
3,200 Meter (2 Mile)

Virtual Programming from Hendricks County Parks & Recreation
Being active isn't always about movement. Sometimes it helps to activate your mind and learn something new about nature or science.
Hendricks County Parks has created multiple ways to give your mind a break. These are also a great way to engage your kids in something educational outside of their e-learning.
Follow their Facebook page for updates to their virtual programming, including Nature's Myth Busters videos, scenic video tours and fun stories about their turtle takeover.