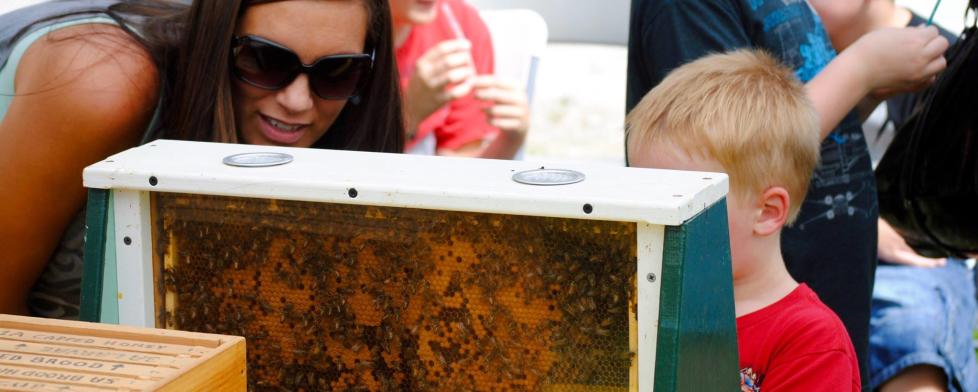 This weekend in Hendricks County, Indiana, we have quite a buzz brewing about pollinators, we're putting our dancing shoes on for an evening in the park, our best canine buddies are going for a swim and a young pipe organist is showing us her incredible musical talents.
Here's your upcoming weekend roundup...
McCloud Honeybee Festival
The fourth annual McCloud Honeybee Festival takes place Saturday from 1 to 4 p.m. at McCloud Nature Park, just outside of North Salem, celebrating the importance of our pollinators!
If you like food such as apples, blueberries, cherries, melons, broccoli, and almonds, then you appreciate the work of honeybees whether you realize it or not. These little yellow and black pollinators contribute close to $20 billion to the value of U.S. crop production.
So come on out to McCloud and check out the honeybees in the live observation hives at the Bee House. Learn the basics of backyard beekeeping from master beekeepers, buzz around the vendor booths to browse some great honey products and support our wonderful bees!
The event will include yard games, crafts, activities, face-painting, wildflower walks, a scavenger hunt and more. Orange Leaf and Kiki Concessions will be there, too, with frozen yogurt and food and drinks available for purchase.
This festival is free to attend! For more information, check out Jamie Hergott's recent blog post about the Honeybee Festival by clicking here.
Summer Concert Series at Hummel Park
On Saturday at 7 p.m., don't miss out on the Summer Concert Series at Hummel Park in Plainfield, featuring a real crowd pleaser and local favorite, Big Rosco & the Hammers. 
Bring your family, your best dancing moves, blankets and picnics, but leave the alcohol at home as it is prohibited in the park. Food trucks will be available for food purchases. It'll be lots of fun for everyone, and the music will be a sensation!
This concert is free to attend. For more information, click here.
Doggie Dip at Hendricks Regional Health YMCA
Keep your pets cool during the dog days of summer! Before the Hendricks Regional Health YMCA in Avon drains their pool for its annual cleaning, they invite you to bring Fido and Spot in for a swim during the Doggie Dip on Sunday from 2:30 to 6 p.m.
Your favorite canine must be non-aggressive and up-to-date on vaccinations to participate, of course, and Heath Department regulations prevent humans from joining the dogs in the pool. So relax at poolside while your four-legged friend takes a refreshing dip.
This event costs $10 per dog, and registration can be completed by clicking here.
Pipe Organ Concert at Plainfield UMC
The Plainfield United Methodist Church Concert Series presents the Young Artist Organ Concert, sponsored by the Hendricks Symphony under the direction of Benjamin G. Del Vecchio, on Sunday at 4 p.m. in the PUMC Sanctuary. The concert features Jihye Choi.
Choi is an organist originally from South Korea who currently finished a Performer Diploma at Indiana University with Dr. Janette Fishell. Choi received her Master of Music degree in Organ Performance from the University of Cincinnati (College-Conservatory of Music), and her Bachelor of Arts in Church Music from the Seoul Theological University. 
She has won multiple prizes in various organ competitions throughout the world and has performed as an active concert organist in South Korea, the U.S. and Germany.
This is a free concert with a freewill offering collected during this event. For more information, click here.
More Weekend Activities
For even more weekend activities around Hendricks County, be sure to visit our Events Calendar!
See you this weekend!