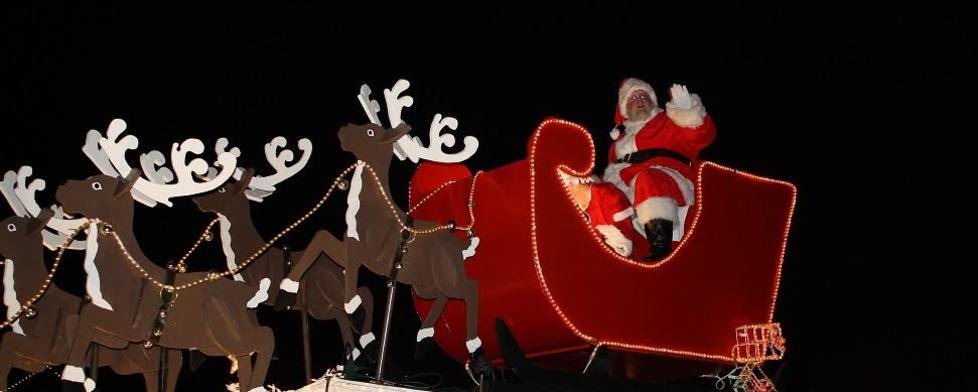 As we enter December, it's full-on Christmas time here in Hendricks County, and this weekend especially is packed with all sorts of ways to embrace jolly old St. Nick or any other holiday that you celebrate this month.
Here's some of what we have on tap this weekend around the county:
Winterland Holiday Light Show
The Winterland Holiday Light Show is now officially open in Danville's Ellis Park! It's open every day of the week in December (except Christmas Day), beginning at 6 p.m. and closing at 10 p.m. on Fridays and Saturdays and at 9 p.m. on Sundays through Thursdays.
Now in its 20th year, the Winterland Holiday Light Show is the king of light shows in Hendricks County, featuring thousands of holiday lights coordinated with Christmas music that you can enjoy on as many trips around the park as you'd like to take. The lights can also be viewed through 3-D glasses for a special treat!
Admission is $10 per carload, which you can knock down to $5 per carload by clicking here for a coupon. Every vehicle gets one complimentary pair of 3-D glasses, and additional glasses are available for purchase at the gate.
In addition to the magical lights, you can bring the kids to see Santa Claus in the Train Station on Fridays, Saturdays and Sundays through Dec. 23. You don't want to miss the Winterland Holiday Light Show!
Avon Ice Rink Grand Opening
A new "iceless" skating rink opens in Avon's Washington Township Park on Friday at 6 p.m.! The new Avon Ice Rink will operate through the month of February, offering families the opportunity to skate regardless of the temperature outside.
Admission is $10 a person, and you must call (317) 567-2144 to reserve your spot at the Grand Opening. This event will feature food trucks, a visit from Santa Claus and lots of outdoor skating fun.
The Grand Opening is Friday from 6 to 10 p.m., and then the rink is open again on Saturday 
Visit the Avon Ice Rink's website for more information.
Plainfield Tri Kappa Gingerbread Christmas
Plainfield Tri Kappa's Gingerbread Christmas will be held at Plainfield High School on Saturday from 9 a.m. to 3 p.m.
This monstrous juried craft fair features more than 130 booths filled with unique hand-crafted items that will surely take a huge chunk out of your holiday shopping list.
Home decor, crafts, one-of-a-kind gifts, jewelry, toys, clothing, artwork -- it's all there, and more!
Admission is $5 a person.
Cookies & Cocoa at Natural Valley Ranch
Natural Valley Ranch in Brownsburg will host its annual Cookies & Cocoa on Saturday, offering two opportunities to ride a pony, visit a petting zoo, take a photo with Santa by the fireplace, enjoy story time and a craft and savor some holiday snacks that include, of course, cookies and cocoa.
Admission is $10 per adult and $5 per child, and you must pre-order tickets to attend. Choose between the 10 a.m. to noon session or the 1 to 3 p.m. session, then click here to order your tickets for the session of your choice.
Avon Tree Lighting
On Saturday at 6 p.m., Avon Town Hall Park hosts the Avon Tree Lighting, where you'll enjoy live music and entertainment, crafts, hot cocoa, train rides, a visit from Santa, the lighting of the Town of Avon's Christmas tree and then fireworks!
This event is free to attend and will take place mostly outdoors, so make sure you dress for the weather.
Christmas Under the Stars
Also on Saturday at 6 p.m., the Christmas Under the Stars parade winds its way through Brownsburg with lots of beautiful floats, candy flying everywhere and a grand entrance by Santa Claus himself at the end of the parade.
Then make your way to Brownsburg Town Hall for the lighting of the Town of Brownsburg's Christmas tree and free photos with Santa.
This event is free to attend and will take place outdoors, so make sure you dress for the weather.
Looking for More?
This list isn't even close to the complete itinerary of weekend events in Hendricks County.
Make sure you check out our Events Calendar for even more things to do, and our list of unique gift ideas to take care of your holiday shopping!