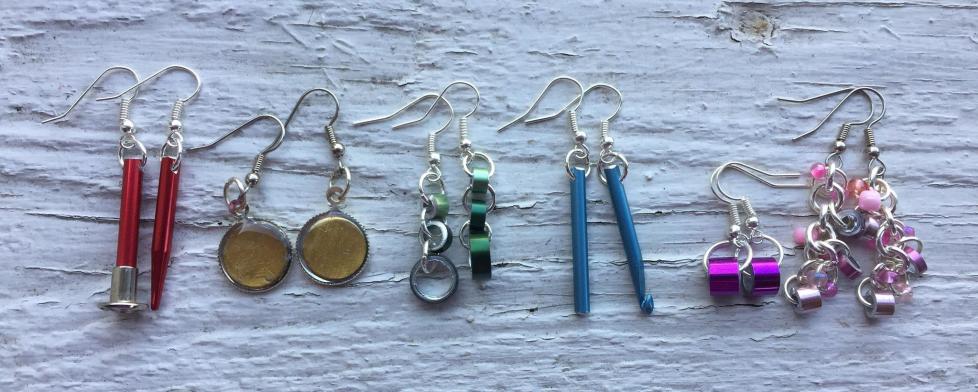 We're in the heart of the holiday season here in Hendricks County, Indiana, and as we look ahead to the weekend, you'll find a number of ways to celebrate Christmas with us. Bundle up the family and bring them out for sights and sounds of the season, live entertainment, pictures with Santa and an opportunity to create a unique gift for yourself or someone else.
Winterland Holiday Light Display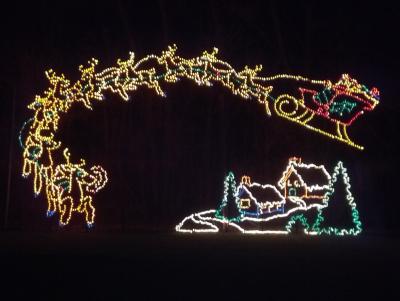 Just a few precious weekends remain for the annual Winterland Holiday Light Display at Ellis Park in Danville. This can't-miss opportunity allows you to soak in some wonderful Christmas light displays from the warmth and comfort of your vehicle. I just worked the front gate this past weekend with several of my coworkers, so I've still got all of the information fresh in my brain.
For $10 a carload on Fridays, Saturdays and Sundays, you can make as many laps around Ellis Park as you'd like to fully absorb more than a million holiday lights. Turn your radio to 93.3 FM, and you can watch many of the lights synchronized to the Christmas music coming out of your car speakers. There are some new displays around the park, too, this year. Can you find them all?
The Winterland Holiday Light Display is open from 6 to 10 p.m. on Fridays and Saturdays, and from 6 to 9 p.m. on the other days of the week. Admission on Mondays through Thursdays is only $5.
As an added bonus, Santa Claus is at the Ellis Park Train Station on Fridays, Saturdays and Sundays through Dec. 23, so the kiddos can visit with him, and you can snap a photo or two on your camera -- all at no additional charge beyond the front gate!
To learn more about the Winterland Holiday Light Display, click here. To learn where else around Hendricks County you can find some holiday lights to enjoy, click here.
A Christmas Story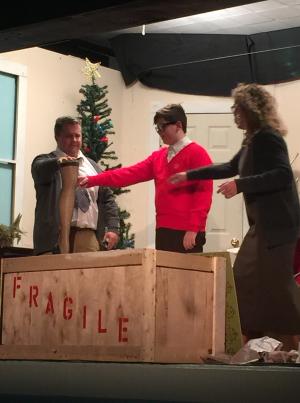 How about some live entertainment this holiday season? And what better story to tell than the classic that's set in the 1940s right here in Indiana -- A Christmas Story?
The Hendricks Civic Theatre brings the story of young Ralphie Parker and his quest for Santa to bring him a Red Ryder BB gun for Christmas to Longstreet Playhouse, north of Danville, on Friday, Saturday and Sunday. All the elements from the beloved motion picture are here, including the family's temperamental exploding furnace, the school bully Scut Farkas, the boys' experiment with a wet tongue on a cold lamppost, the Little Orphan Annie decoder pin, Ralphie's father winning a lamp shaped like a woman's leg in a net stocking, Ralphie's fantasy scenarios and more!
Show times include Friday and Saturday at 7:30 p.m. and on Saturday and Sunday at 2:30 p.m. Tickets are $16 for adults, $14 for kids and seniors and children ages 3 and under are free.
For more information, and to purchase your tickets in advance, click here.
Hendricks Symphony Presents 'Sounds of the Season'
If you're looking for holiday music to fill your soul, the Hendricks Symphony and Chorus has a treat for you with their "Sounds of the Season" concert on Friday at 7:30 p.m. and again on Sunday at 3 p.m. at the Calvary United Methodist Church located at 575 W. Northfield Drive in Brownsburg. 
You'll enjoy traditional and classical Christmas music. Don't miss this special holiday concert, as there may be a special appearance by Santa.
Tickets can be purchased in advance for $15 for adults, $12 for seniors and $5 for students. Tickets are also available for purchase at the box office for $18 for adults, $15 for seniors and $7 for students.
To learn more, including how to purchase tickets in advance, click here.
Upcycled Knitting Needles to Earrings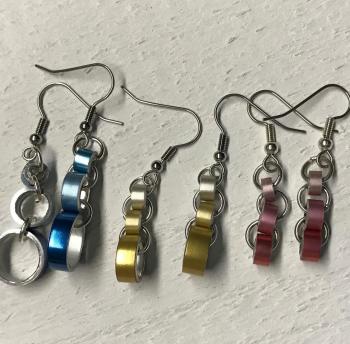 Earrings upcycled from knitting needles...how's that for a unique, handmade holiday gift? You can create your own earrings in the Upcycled Knitting Needles to Earrings program on Saturday at 11 a.m. at McCloud Nature Park near North Salem.
You'll take cut up 'beads' from aluminum knitting needles and use the wonderful palette of colors to make three pairs of bright and unique recycled material earrings to keep or to give as gifts!
The instructor for this program is Jennifer Davies, who owns and operates Bur Oak Studio (that's her photo and her work at the top of this blog post). She's turned old metal knitting needles and crochet hooks into whimsical jewelry and accessories for eight years. You can check out her designs at her website by clicking here.
But don't worry -- you don't need any jewelry-making experience to enjoy this program, nor do you need any materials or tools because Jennifer will provide that. Just bring yourself and have a great time! And if I know the park naturalists out there -- which I do, because I work with them -- they'll contribute to the holiday festivities in the warmth of the Nature Center at beautiful McCloud Nature Park.
For $35 per person, you get two hours of fun, three pairs of earrings, and a unique experience that you're unlikely to forget. Advance registration is required, though, by Thursday at midnight, so make sure you register by clicking here.
Pictures with Santa
Plainfield Parks & Recreation's annual Pictures with Santa event will take place on Saturday at the Richard A. Carlucci Recreation and Aquatic Center in Plainfield with plenty of fun, games, activities and of course, Santa! The fun starts at 11 a.m. in multiple areas of the recreation center and lasts until 1 p.m.
Santa will be stationed in his workshop for pictures. You are welcome to take a photograph yourself, or they'll have a photographer who will take your photo for free. All photos will be uploaded within a few days to the Plainfield Parks & Recreation Facebook page. 
In addition to getting a photo taken with Jolly Ol' Saint Nick, there will be other things to keep kids busy and help them get into the holiday spirit. There will be cookies to decorate, crafts to make and snacks to eat, all while supplies last. There will also be bounce houses and train rides around the gymnasium.
You do not have to be a member of the Richard A. Carlucci Recreation and Aquatic Center or a resident of the Town of Plainfield to attend "Pictures with Santa," and this event is free to attend.
For additional places to find Santa Claus in Hendricks County, click here.
Drive-Thru Live Nativity
With all this talk of holiday lights, Santa Claus, gift giving, Christmas music and lamps in the shape of a lady's leg, let us not forget the reason for the season. On Sunday evening from 6 to 8:30 p.m., the good folks at the Danville United Methodist Church are eager to remind you of why we celebrate Christmas during their Drive-Thru Live Nativity event.
Every year for 26 years, men, women and children from Danville United Methodist Church, located at 820 W. Mill St. in Danville, retell the story of the birth of Christ in 10 different scenes involving live people and animals. You turn your car radio to a specified radio station and listen to the music and the story as you drive through the church's parking lot to view all of the scenes. More than 1,100 people enjoyed this event last year, so don't miss out!
This live nativity is free to attend, and guests will receive a small token of appreciation at the end of the experience.
More Weekend Events
For even more weekend fun in Hendricks County, be sure to check out our Events Calendar. Hope to see you this weekend!