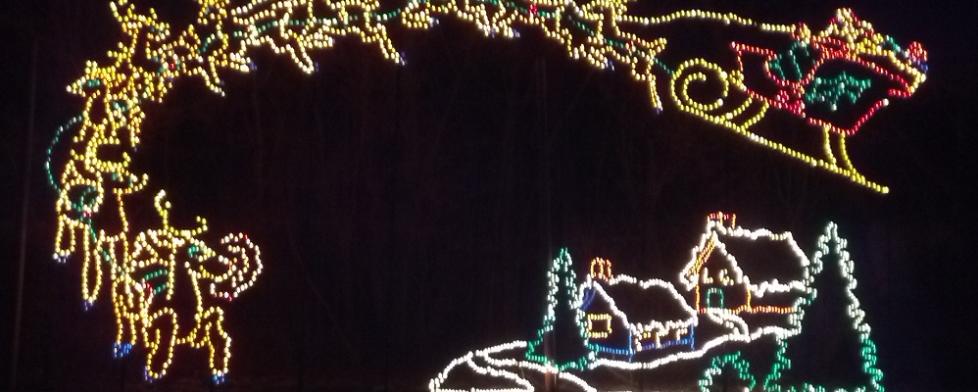 The upcoming weekend offers a lot of holiday activities for families to enjoy in Hendricks County, filling you with Christmas spirit all over the place.
Winterland Holiday Light Show
We've discussed the Winterland Holiday Light Show a few times in previous blog posts, so I'll keep it short and sweet: it's still open every evening in Danville's Ellis Park. Don't miss it!
Tons of lights. Lights are synchronized to Christmas music. Open 6 to 10 p.m. on Fridays and Saturdays. Open 6 to 9 p.m. on Sundays through Thursdays. Santa Claus is at the Train Station on Friday, Saturday and Sunday. $10 per carload. Only $5 per carload if you click here for a coupon.
Plainfield Kiwanis Pictures with Santa
The Kiwanis Club of Plainfield does a cool activity every year at the Plainfield Plaza located at 1700 E. Main St. in Plainfield. They offer Pictures with Santa, where you can use your own camera, or for $7 per child, you can have a member of the Plainfield High School Key Club take a photo and print it out for you. All proceeds from this event benefit Riley Hospital for Children.
This year's event continues on Thursday and Friday from 4 to 7:30 p.m., on Saturday from 11 a.m. to 5 p.m. and on Sunday from noon to 3 p.m.
Christmas with Santa and the Ponies
Strides to Success in Plainfield hosts a popular annual event called Christmas with Santa and the Ponies, and this year, it will be held on Friday and Saturday from 4 to 9 p.m. each day.
For a $25 donation per family, you can visit the Strides Facility at 1350 Terry Drive in Plainfield and enjoy family photos taken with Santa Claus and a Christmas pony, make a frame for your photo, and enjoy reindeer games and holiday refreshments inside a heated and decorated barn.
North Salem Old Fashion Christmas
One of my favorite towns in Hendricks County -- North Salem -- hosts its annual Old Fashion Christmas on Friday and Saturday.
The Town of North Salem lights its Christmas tree on Friday at 6 p.m., and then stick around for a couple hours to do some holiday shopping and celebrating.
Beginning at 8 a.m. on Saturday, enjoy breakfast with Santa Claus, followed by a day full of shopping and holiday fun.
Candy Cane Hunt
Oh no! When Santa Claus was at Natural Valley Ranch in Brownsburg last weekend for Cookies & Cocoa, it seems that he had a hole in his coat pocket, and he dropped candy canes all over the place! Who's going to clean up this big mess?
How about your kids? For $7 per person (children under the age of 2 are free), you can come out to Natural Valley Ranch on Saturday from either 10 to 11:30 a.m. or 1 to 2:30 p.m. and help find all the candy canes during the Candy Cane Hunt. Kids can also visit with Santa, see the animals in the petting zoo and enjoy a treat from the popcorn bar.
Save yourself $2 per person by clicking here to purchase tickets in advance.
Olaf and Elsa Meet and Greet
The brand-new Avon Ice Rink is hosting an Olaf and Elsa Meet and Greet at Washington Township Park in Avon on Saturday from 4:30 to 6 p.m., where kids can meet their favorite snowman and princess while skating on Hendricks County's new ice-less outdoor skating rink!
Admission is $15 per child, and advance registration is required by clicking here. Parents skate for free.
Find Even More to Do!
These are but a few of the events and activities taking place in Hendricks County this weekend, so make sure you check out our Events Calendar for even more ideas!
See you this weekend!