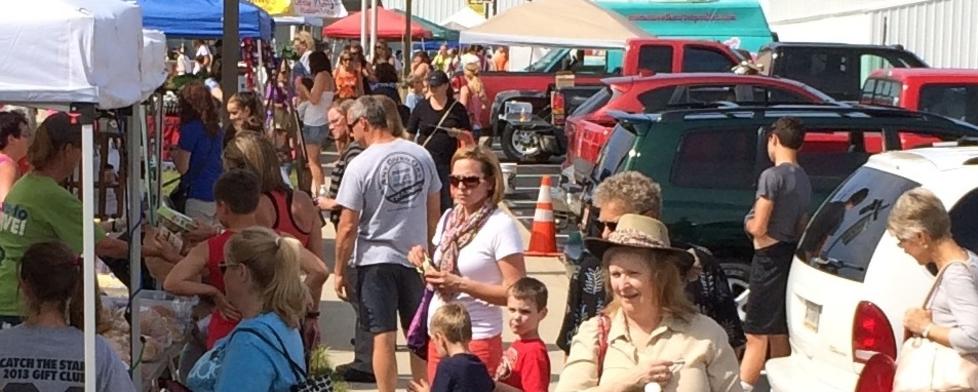 The farmer is harvesting the wheat behind my house as I write this, and I'm wondering where the month of June went? That's right, folks, this Indiana summer is in full swing and other than the relentless heat, I haven't really had that "ahh... sweet summer" feeling, yet.
With the summer solstice and all the festivities offered in Hendricks County this weekend it is prime time to soak up all the summer sweetness.
Food Truck Friday
Who doesn't love good eats?  You'll find your fill at the Brownsburg Food Truck Friday hosted and organized by The Kickstand - a local caterer. This family-friendly summer event offers a variety of the finest food truck fare, games and giveaways. The first 10 families or patrons will win a basket full of summer fun.
Where: Ace Hardware - 800 E. Main St., Brownsburg
When: Friday from 4:30-8 p.m.
Danville Farmers Market
Nothing says summer like a top-notch farmers market, and Danville's happens to be one of my favorites.  While I love a good vendor fair, I so appreciate the farmers market in Danville with producer only vendors (no resell or direct sale vendors) hosted on the gorgeous, historic town square that is lined with awesome local businesses.  
Perfect produce, delicious treats, and handmade gifts are just a few of the reasons to visit the Danville Farmers Market.  Take your time and enjoy a leisurely walk around the square -- it's simple summer joy.
Where: Hendricks County Courthouse Square, Danville
When: Saturday from 8 a.m.-noon
You can make the most of the longest day of the year with a hike at McCloud Nature Park for their Summer Solstice Sunset Saunter. Enjoy the sights and sounds of nature as you learn about the solstice and hike the beautiful trails at McCloud. This two-mile hike will follow an easy-to-moderate trail that's perfect for a leisurely saunter, but not conducive to strollers.
This event is free. This event is recommended for ages 6 and over. Make sure to wear comfortable, supportive hiking shoes and bring plenty of water.
Where: McCloud Nature Park, 8518 Hughes Road, North Salem
When: Saturday from 8-10 p.m.
Live, outdoor music is a sure-fire way to get all the summer feels. Make your way to Brownsburg this Saturday for a concert with The Hootz and Jai Baker - as part of their summer concert series.  
As if enjoying live music from these two great performers wasn't enough, you'll also find the yum-o food and treats from a variety of local food trucks - including Dizzy Izzy's, Kona Ice and Hometown Mini Donuts. An outdoor evening event, great live music and good eats...need I say more?
Where: Brownsburg Town Hall - 61 N. Green St., Brownsburg
When: Saturday from 5-9 p.m.
This Indiana summer heat, coupled with the solstice may seem like an extra long weekend of heat, but it's just an extended weekend of summer fun in Hendricks County. Make the most of it!