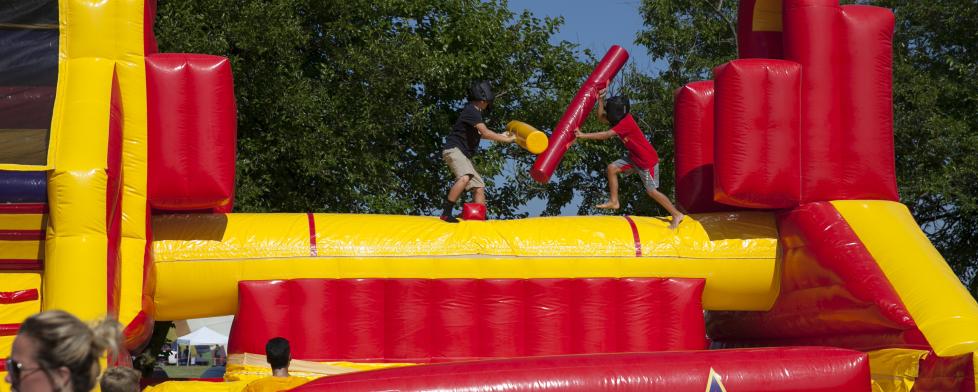 A variety of fun outdoor events are happening this weekend. From fireworks to crafts to live music, you can find an activity for everyone to enjoy.
This is the first weekend in awhile that my family's calendar is finally clear. We are going to attend the first concert in the Hummel Park Summer Concert Series. We love live music, and my sister-in-law will perform with her band, so that is where I will start this edition of the Weekend Primer.
Hummel Park Summer Concert Series
The only military band in Indiana, The 38th Infantry Division Band, will perform patriotic numbers, jazz, rock and other styles of music. Only lawn seating is available, so grab blankets or lawn chairs. Food vendors will be on site. However, feel free to bring your own picnic. 
My family will go early so the kiddos can play on the playground equipment and utilize the trails for cool views of the creek. If you miss this concert, there are three more to see in this free, family-friendly series. Check here for future dates. 
When: 7-9:30 p.m. Saturday
Where: Hummel Park, 5373 S. County Road 700 East, Plainfield
Hendricks County Rib-Fest and Avon Balloon Glow
Thousands of people attend this very popular Hendricks County annual event. The delicious BBQ alone is a great reason to attend. However, there are many other fun activities as well.
This festival features games, balloon glow, Rib Run, live entertainment and a phenomenal fireworks display. Check out Jamie Hergott's blog post for more detailed information.
There are a few changes this year, such as the Rib Run now taking place at 8 am though the rest of the festival doesn't kick off until 4 p.m. and the expanded kids area. 
When: 4 p.m. Saturday
Where: Kingsway Christian Church, 7981 E. County Road 100 North, Avon
All Things Handmade Craft Show
WHO North America (WHONA) will host its annual craft show that features more than 20 vendors selling their
handmade creations. Jewelry, quilts, home decor, baby-related items and bags are just a few of the wares showcased. Click here for a list of all the vendors.
The WHONA store will remain open throughout the day. This one-of-a-kind store is a must see for Doctor Who fans! Also, there will be an in-store autograph signing with some of the authors of Red, White and Who.
When: 11 a.m.-8 p.m. Saturday
Where: WHO North America, 8901 S. Ind. 67, Camby
Creek Critters and Bugs
Does your family enjoy exploring creeks and observing aquatic creatures? This free event provides the perfect opportunity to enjoy Big Walnut Creek's ecosystem. Kids of all ages can enjoy this adventure! No registration is required. If you still have energy afterward, take time to explore the beautiful trails within McCloud Nature Park.
When: 1-3 p.m. Saturday
Where: McCloud Nature Park, 8518 Hughes Road, North Salem
Be A Bat Biologist For A Day
Sodalis Nature Park is named after the federally endangered Indiana bat, Myotis Sodalis. Interested in observing these creatures up close? This free event allows this opportunity by letting the public monitor bats with the same equipment used by Indiana State University scientists.
No advance registration is required and "biologists" of all ages are welcome to join in this fun learning experience.
When: 1-3 p.m. Saturday
Where: Sodalis Nature Park, 7700 S. County Road 975 East, Plainfield
Enjoy your weekend festivities in Hendricks County!