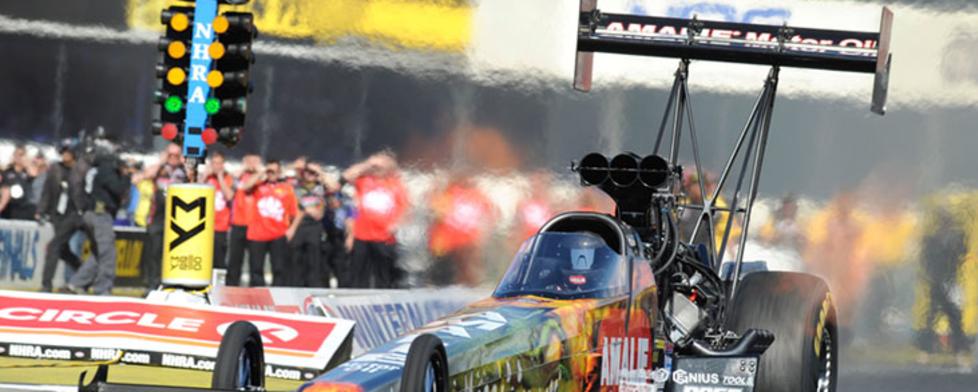 Labor Day weekend is fast approaching, and we have several exceptional reasons for you and your family to spend the holiday weekend in Hendricks County.
This weekend, we're home to the mother of all drag racing events, the largest parade in the county, some spectacular hot rods and classic cars, a chance to show off your best ping pong skills and one gigantic bird.
Chevrolet Performance U.S. Nationals
If you're a die-hard drag racing fan or just enjoy watching stuff rocket down the drag strip at well over 300 mph, this weekend's Chevrolet Performance U.S. Nationals at Lucas Oil Raceway in Brownsburg has become a destination event. This is the Super Bowl, the World Series, the Stanley Cup Finals and the total solar eclipse of the National Hot Rod Association's (NHRA) season, all rolled into one.
The Chevrolet Performance U.S. Nationals takes place daily from Wednesday through Monday and features opportunities to meet and greet drivers, get some autographs, get up close to some classic hot rods and, of course, witness many different classes of vehicles travel down the drag strip at mind-blowing speeds.
For 10 tips on how to get the full U.S. Nationals experience, click here.
First Friday Cruise-In
Car enthusiasts who are in town for U.S. Nationals will be interested in coming to the historic Hendricks County Courthouse Square in Danville on Friday from 5 to 9 p.m. for the final First Friday Cruise-In of the year.
During First Friday Cruise-Ins -- held on the first Friday of each month from May through September -- the Courthouse Square is lined with all sorts of really cool classic cars, hot rods, muscle cars, and antique cars. The owners of the vehicles sit behind their prized possessions in lawn chairs and love chatting with people about how their particular car came to be.
The whole thing is free to attend and very family-friendly. Friday will be your last chance to enjoy it until May 2018, so don't miss out!
North Salem Old Fashion Days
Nitro fuel, insane speeds, and the latest in motorsports technology rule the northeast corner of Hendricks County over Labor Day weekend during U.S. Nationals. But in the northwest corner of the county, it's all about "the way things used to be" during the 42nd annual North Salem Old Fashion Days on Saturday, Sunday and Monday.
Old Fashion Days remains a Labor Day tradition in North Salem, and showcases the largest parade in Hendricks County on Saturday at 11 a.m. But North Salem Old Fashion Days boasts more than just a parade. It includes three days of live music, games, shopping, food, bounce houses, pony rides, 50/50 raffles and more.
There's a kiddie tractor pull, truck pulls, tractor pulls, horse pulls, a bed race, a 5K run/walk, a 10K run, an 11-mile or 34-mile bicycle tour, a pet parade, a car show, a quilt show, a pie auction, a pizza-eating contest, and all sorts of other fun family-friendly activities to enjoy over the long weekend.
To learn more about North Salem Old Fashion Days, click here.
McCloud Prairie Maze
While you're in North Salem for Old Fashion Days, take a quick trip down Ind. 75 to McCloud Nature Park to explore this year's prairie maze, which opens at dawn on Saturday.
McCloud Nature Park is a beautiful 232-acre park that boasts a Nature Center with interactive exhibits inside, an observable live honeybee habitat, a historic truss bridge that is more than 100 years old, 6.5 miles of trails, Big Walnut Creek, a pavilion, and beginning Saturday, a great big bird carved into the prairie there.
Can you find your way through this year's heron-themed prairie maze? If you do it correctly, it will be about a half-mile of walking. (There are maps outside the Nature Center and at the entrance to the maze to help you navigate.)
(Insider tip: Wear closed-toe shoes while exploring the McCloud Prairie Maze. As the mowed portions of the prairie dry up, the stiff plant stalks can be rather unfriendly to exposed toes and soles in flip-flops and sandals.)
McCloud Nature Park and the Prairie Maze are open daily from dawn to dusk, and admission to both is absolutely free. To learn more about the Prairie Maze, click here.
Outdoor Table Tennis Tournament
How are you at table tennis (ping pong)? Think you're pretty good?
How about in the wind?
A person can be good at table tennis indoors, but Avon Parks & Recreation wants to see how well you can control a ping pong ball in a breeze, with the sun in your eyes, with herons flying by and everything else that the great outdoors throws at you during their annual Outdoor Table Tennis Tournament at Avon Town Hall Park.
This is a fun, free, relaxed tournament that is recommended for ages 12 and older. Everyone is guaranteed two games.
Space is limited, so click here to pre-register. Even if you're not playing in the tournament, stop by and watch. There should be some good laughs going around when ping pong balls don't land where they were supposed to after a gust of wind catches them!
(Insider tip: In addition to a 9-acre lake, paved trails, two playgrounds, an 18-hole disc golf course, an outdoor RC race track and more, Avon Town Hall Park is also home to two great pieces of public outdoor art. To learn more about outdoor works of art around Hendricks County, click here. To learn more about Avon Town Hall Park, click here.)
Happy Labor Day Weekend!
If all of this stuff doesn't provide enough entertainment to fill up your Labor Day weekend, be sure to check our Events Calendar for even more things to do in Hendricks County.