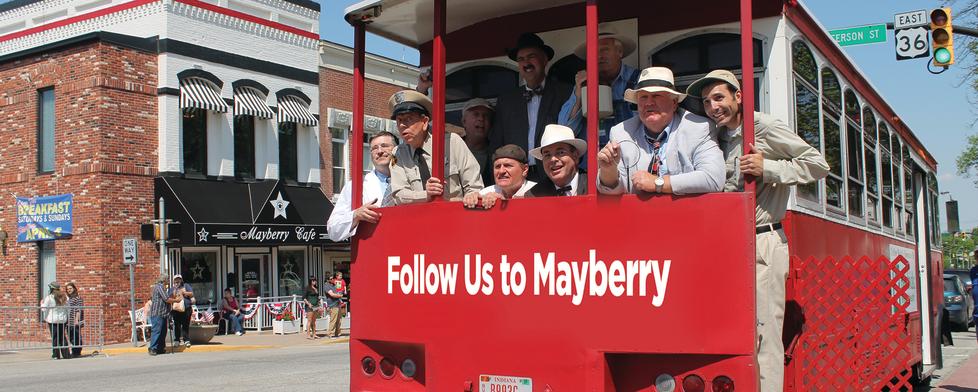 Need a break from the hustle, bustle and pressures of everyday life? If you need a timeout from reality, a trip to Hendricks County, Indiana, this weekend is what your heart, mind and soul needs. Over the weekend of May 17-19, treat yourself to a trip to Mayberry, an adventure in a fantasy world, soak up some peace and quiet in nature or simply enjoy a movie with the family for free.
All of those things are happening this weekend, right here in Hendricks County. Let's check it out.
Mayberry in the Midwest
Your first opportunity to escape the real world is on Friday through Sunday. Take a trip back in time to Andy Griffith's Mayberry during the 6th Annual Mayberry in the Midwest on the historic Hendricks County Courthouse Square in Danville.
This festival based on The Andy Griffith Show begins on Friday night with a chance to meet actual actors from the show as well as the tribute artists who highlight the weekend events by doing great impressions of Barney Fife, Aunt Bee, Ernest T. Bass, Gomer, Otis, Floyd and other favorite characters. Enjoy a dinner catered by the Mayberry Cafe and an evening of fun and laughter.
Unlike many of the free festival activities on Saturday and Sunday, the Friday night Meet & Greet requires tickets.
On Saturday and Sunday, enjoy a parade, an Opie Look-A-Like Contest, Squad Car Nationals, live entertainment, food, shopping, contests, Opie's World Kids' Zone and all sorts of family fun.
For more information or to purchase tickets to the Meet & Greet, check out the Mayberry in the Midwest Festival Guide.
Central Indiana Enchanted Fairy Festival
Another opportunity to escape reality is to enter the fantasy world of the Central Indiana Enchanted Fairy Festival on Saturday from 10 a.m. to 5 p.m. at the Hendricks County 4-H Fairgrounds and Conference Complex in Danville.
This family-friendly festival features fairies, fantasy, food, face painting, photo opportunities and a full foray into fantastical fun. There will be unicorns, mermaids, pirates and fairies to interact with at tea parties, games, demonstrations, story-telling and live music and entertainment throughout the day.
You can bring the four-legged family members, too, because the entire event is pet-friendly, with a percentage of the proceeds benefiting the Hendricks County Humane Society.
For more information, check out the Central Indiana Enchanted Fairy Festival Insider Guide.
Central Indiana Enchanted Ball
After the family-friendly fairy festival concludes, those who are 21 years of age and up are invited to attend the Central Indiana Enchanted Ball at the Hendricks County Fairgrounds in Danville on Saturday, beginning at 7:30 p.m.
Experience the wonder of the fae world as the Unseelie Fae pull back the veil to their world for one night. Get a glimpse of elves, fairies, giants, pixies, trolls and goblins that never left when the humans poured the concrete. They invite you to swirl together on the dance floor!
Doors open at 7:30 p.m. with enchanting music and dance performances to entertain your eyes and ears. Don't miss the costume contest, with prizes for Best Original Costume, Best Cosplay, Best Group and Best Overall. There will be a Fairy Court presided over by our Unseelie Queen/King and her fantastical court. 
Fill your goblets at the cash bar or partake in one of the ethereal food trucks. This will be a fantastical night to remember.
For more information, including how to secure your tickets, click here.
Indiana's Classified Forests
How about escaping everyday life with a trip out to McCloud Nature Park, near North Salem, to learn about forests? Hendricks County Parks & Recreation naturalists host a guest speaker on Saturday at 2 p.m. to talk about Indiana's Classified Forest and Wildlands Program.
Donna Rogler will present an overview of the program, what is required to enroll and the benefits of the program to private forest landowners. Donna is a forester and the Education Specialist for the Indiana Division of Forestry, and she was a part-time District Forester in Hancock and Shelby counties for five years. This program is recommended for adults, free to attend and no advance registration is required.
Before or after the program, enjoy 6.5 miles of trails throughout the 232-acre park that features Big Walnut Creek, a historic iron truss bridge, a Nature Center and plenty of wide-open space away from civilization to help you clear your mind.
To learn more about McCloud Nature Park, click here.
Movie in the Park
We could all use a break from the internet every once in awhile to preserve our sanity. On Saturday night beginning at 7 p.m., Pittsboro Parks & Recreation welcomes families to Scamahorn Park in Pittsboro for a Movie in the Park. The feature is, appropriately, the animated hit movie Ralph Breaks the Internet.
There will be games, a bounce house and food vendors at the event at 7 p.m., and then the movie will start at dusk (about 9 p.m.). And best of all, the entire event is free to attend!
For more information, follow the Facebook event by clicking here.
For more information about these events, other weekend events or to find things to do in Hendricks County anytime, click here for the Visit Hendricks County Events Calendar.