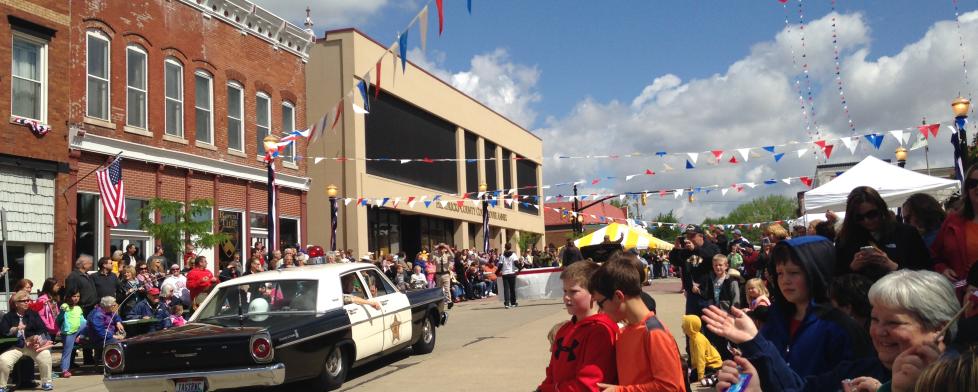 We are rapidly heading toward a big weekend in Hendricks County, headlined by the 2017 Mayberry in the Midwest Festival. This annual celebration of The Andy Griffith Show brings a weekend filled with family-friendly fun to our own little Mayberry-esque town of Danville. While you're visiting Hendricks County for Mayberry in the Midwest, you can also enjoy some outdoor guided painting and do some shopping in honor of two women who are battling breast cancer.
Mayberry in the Midwest
Danville is the place to be this weekend if you enjoy The Andy Griffith Show and are looking a great way to spend time with the family, have some laughs, enjoy live music, rub elbows with celebrities and experience a unique car show.
Mayberry in the Midwest starts on Friday evening with a Meet & Greet Dinner at the Hendricks County 4-H Fairgrounds & Conference Complex, where ticket-holders will devour a delicious meal catered by Mayberry Cafe while enjoying the company of Maggie Peterson Mancuso, Dixie Griffith, Ronnie Schell and the Mayberry Tribute Artists.
Festivities continue on Saturday with a pancake breakfast, a parade, lots of live music, contests, games, a Tribute Artist show, Squad Car Nationals, a celebrity basketball game and an evening of comedy with Ronnie Schell at the Royal Theater.
Start your Sunday with a biscuits and gravy breakfast, even more live music, another Tribute Artist show, another Ronnie Schell performance, and some corn hole.
We can't wait to "Say Hey" to you at Mayberry in the Midwest!
For more information, visit these resources before planning your visit:
Plein Air Painting
A new outdoor guided painting program arrives at McCloud Nature Park this Saturday at 10 a.m. as Hendricks County Parks & Recreation and local artist Rachel Davis of The Purple Palette unveil their new Plein Air Painting experience.
The term "plein air" comes from the French phrase en plein air, meaning "in open air." Immerse yourself in the therapeutic benefits of fresh air and natural beauty of McCloud Nature Park while you create a masterpiece on canvas in the great outdoors!
Rachel brings all of the necessary art supplies to the parks, she guides participants of all (or no) experience as you paint, a Park Naturalist gives you some insight into what you're painting while you work, and you take home a unique conversation piece and work of art! 
All you have to do is register in advance ($30 per person) and then bring yourself to the park!
Register by midnight on Thursday by clicking here.
Traveling Tricycle Vintage Pop-Up Market
If you're in the market for some home decor, jewelry, clothing, vintage treasures, repurposed items, gardening items and guidance, baby bedding and accessories and other unique, creative and fun items, you'll want to head to the Hendricks County 4-H Fairgrounds on Saturday from 10 a.m. to 4 p.m. for the Traveling Tricycle Vintage Pop-Up Market.
All sorts of neat vendors will be bringing their wares to this market, which will also include fashion shows by several local boutiques and a demonstration by Frazee Gardens on making planters for your spring flowers.
The Traveling Tricycle Vintage Pop-Up Market has an added wrinkle to it in that it is in honor of two local women who are long-time best friends and who now find themselves battling breast cancer together.
Tickets to this market are just $3 each and can be purchased at the door or in advance at Caroline's Mobile Boutique, Frazee Gardens, Michele's Boutique and Sweet M's Boutique. Advance ticket purchases will enter you in a drawing for a swag bag!
To learn more about the Traveling Tricycle Vintage Pop-Up Market, click here.
Spend Your Weekend in Hendricks County!
Visit Hendricks County this weekend to "say hey" at the 2017 Mayberry in the Midwest Festival, watch some soap box car racing, paint a landscape and do some shopping! To find even more stuff to do, be sure to visit the Visit Hendricks County Events Calendar.
See you this weekend!