It's finally fall in Indiana! Goodbye sweltering heat, hello hoodies, bonfires and cool mornings!
Hendricks County, Indiana, has you covered with the perfect fall events for the family. We have pumpkins, s'mores, hayrides, scarecrows and other fall stuff coming out of our ears this weekend!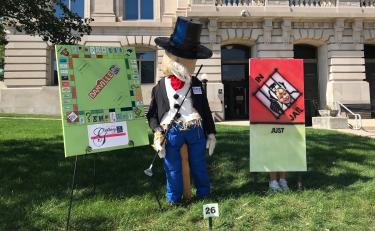 You may have already noticed, but this past weekend some creative folks in Danville have constructed some amazing scarecrow displays around the historic Hendricks County Courthouse Square in Danville. We will have more details about this year's display in a post later this week.
But this weekend would be a perfect time to grab a cup of coffee at Court House Grounds or meander over after brunch at the Bread Basket Cafe & Bakery to get yourself in the fall mood! These scarecrows will disappear before Halloween so don't put it off too long.
This family-friendly event features all the staples of fall: a pumpkin patch, hot dogs, s'mores, live music, and hayrides!
This event takes place this Saturday and the following Saturday from 6 to 10 p.m. at Nehemiah Ranch,1420 N. County Road 600 East in Avon. Admission is free with a donation.
This is one of Hendricks County's most beloved annual fall traditions! This event spans both Saturday and Sunday and is open each day from 9 a.m. to 6 p.m at Beasley's Orchard in Danville. The price is $5 to park and the weekend has so much to offer.
Some of the activities include hayrides to the u-pick pumpkin patch, an 8-acre corn maze, the Barnyard Bonanza Family Activity Area, live music, face painting, the popular Straw Mountain and even wine tastings from local wineries and delicious food as well as an Arts & Crafts Vendor Marketplace.
It's literally all your fun fall favorites in one location! Get all the details about the festival by clicking here.
If you like cars (specifically Volkswagens) or just like to try fun events, don't miss this unique show! Volktoberfest 2019 will feature displays of new Volkswagens provided by Andy Mohr Volkswagen.
There will be live bands performing throughout the event, a Kid Fun Zone and food vendors (including craft beer). A wide range of vendors will be available in addition to a swap meet area for VW treasure hunters.
This event will take place at the Hendricks County 4-H Fairgrounds and Conference Complex, 1900 E. Main St. in Danville, from 9 a.m. to 4 p.m. on both Saturday and Sunday.
Come out to Avon Town Hall Park, 6570 E. U.S. 36 in Avon, for free hayrides through the park! While you're waiting, try some pumpkin carving, a campfire with smores, hot dogs, apple cider, fall arts & crafts and mini-pumpkin launching. This event will take place from 4 to 8 p.m. Saturday.
This Saturday, the Hendricks County Historical Museum will host its 4th Annual Road Rally! The cost is $10 per car, and participants will navigate through the beautiful Indiana countryside, see amazing old homes and pockets of Hendricks County they haven't seen before.
Participants should meet in the museum's parking lot, just south of the museum. Plan to visit the museum, 170 S. Washington St., Danville, and meet for lunch following the rally. Prizes will be given for first, second and third place finishers.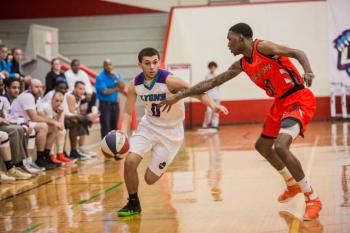 It's always a good time for basketball in Indiana! Come watch the minor leagues this weekend in Danville as the Indiana Lyons kick off their second ABA season hosting the Kentucky Enforcers this Saturday at Bosstick Gymnasium, 49 N. Wayne St. in Danville from 5 to 8 p.m.
The cost is $10 for adults, $5 for children ages 5 to 12, $5 for seniors and veterans are free. You can learn more about the team and why you should attend by reading this fun story by local insider Eric Ivie.
This Saturday, MRC Wood Products in Brownsburg will host their annual fall sale and open house from 8 a.m. to 4 p.m. at their location, 8945 Motorsports Way.
Known for their unique and beautiful wood signs, cutting boards and other personalized wood gifts, this MRC event will include tours showing off their amazing new equipment and processes, catered food, crafts for adults and children, games and free gifts! All products and personalized orders will also be 25% off!
As you can see, we have all your fall bases covered. You can find even more events anytime on the Visit Hendricks County Events Calendar.
Have a great weekend!