If you are looking for something a
maze
ing to do this weekend, Hendricks County has you covered both figuratively and literally. I know I spelled
amazing
wrong in the previous sentence, but it is for good reason as
Beasley Orchard's Corn Maze
begins this weekend joining
McCloud's Prairie Maze
, which I told you about in this space last week. In case, you missed what I said about the prairie maze, you can click
here
to read about it.

Beasley's Corn Maze
has become a fall favorite in Hendricks County. In its 11
th
season, this four-mile puzzle that is carved into an 8-acre cornfield in rural Danville changes annually with this year's theme bringing awareness to animal rescue and adoption. Beasley's "Corn Dog Maze" will take families anywhere from 30 minutes to an hour to complete as participants answer questions along the way to maneuver through its twists and turns. Correct answers take you one step closer to the finish while wrong answers either send you to a dead end or the long way around. The world's leading designer of corn mazes helps Beasley's create their masterpiece each year, so it is not only legit, but quite the challenge and a must-see fall attraction. As is the case with McCloud's Prairie Maze, you don't necessarily have to fit it into your schedule this first weekend though as it remains open until the last weekend of October, but I wouldn't wait too long. It typically gets busier in October. If mazes don't interest your family, I have another recommendation this weekend: the
Quaker Day Festival
in Plainfield.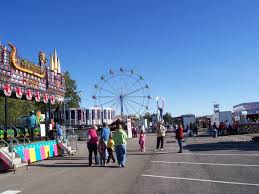 Plainfield is proud of its rich, Quaker heritage and it shows with this annual celebration. Some of the activities begin Friday evening including carnival rides at the Al & Jan Barker Sports Complex, but Saturday is the day you want to attend as the parade begins at 10 a.m. and the rest of the festival starts at noon. In addition to the carnival rides, plenty of great food, wonderful music, 5K Walk/Run, arts and crafts fair, car show and so much more make it easy for visitors to help the town celebrate its heritage while raising money for the community's Miracle Field. For more information, click
here
. Finally, on the northeast side of the county in rural Brownsburg, St. Malachy Church, 9833 E. County Road 750 North, will host its annual
Country Fair
Friday and Saturday with a hog roast, games, carnival rides, live entertainment and more. The fall season is finally here. Get out there and enjoy it.