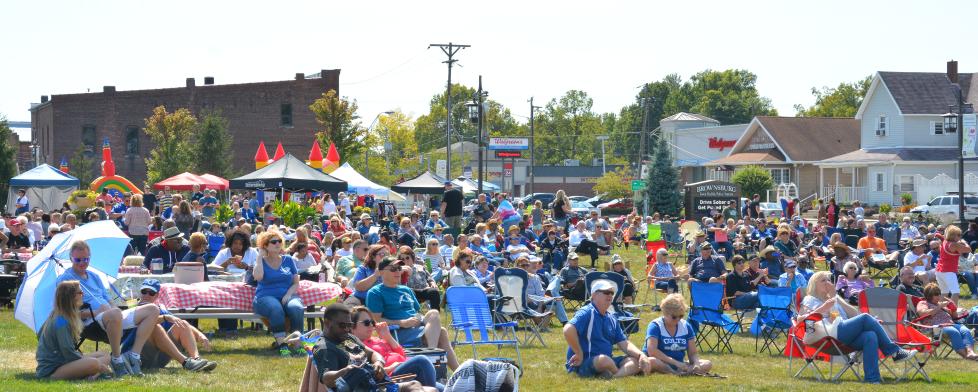 Happy Labor Day! I realize you may still be recovering or enjoying your long weekend, but it is never too early to begin planning for the next one.
What follows are some of the events that caught my eye for this coming weekend. Don't forget that you can find things to do anytime by going to the Visit Hendricks County Events Calendar.
So, let's get to the Primer!
Fair on the Square
This popular, two-day event on the historic Hendricks County Courthouse Square includes more than 100 vendor booths, live bands, food and more. A half marathon kicks off the festivities at 8:30 a.m. Saturday. The 5K begins at 8:45 a.m. Proceeds from the fair support Danville Tri Kappa's philanthropic efforts. 
Where: Hendricks County Courthouse Square, Danville
When: Saturday and Sunday
Cost: Free to attend
Puppy Pool Party at Splash Island
Plainfield Parks and Recreation will host a Puppy Pool Party at Splash Island for your favorite furry pals! Canine activities include a photo booth, dog vendors, treat station, doggy swimsuit contest and raffles.
The pool is for dogs only and lifeguards will be on duty. Be sure to bring current vaccination records. All proceeds go to the Hendricks County Humane Society. 
Where: Splash Island Family Waterpark, 651 Vestal Road, Plainfield
When: 11:30 a.m.-2:30 p.m. Saturday
Cost: $10 per dog
HEAT Country Splash Benefit Concert
Hendricks Elite Aquatics Team (HEAT) is hosting a family-friendly country concert at the Hendricks County 4-H Fairgrounds Horse Pavilion. Lance Simon will headline with the Main Street Band at this third annual Country Splash Benefit Concert. Indy Beer Taps, pulled pork, hot dogs and more are available for purchase. A silent auction will be held.
Where: Hendricks County 4-H Horse Pavilion, 1900 E. Main St., Danville
When: 6-10 p.m. Saturday
Cost: Pre-sale tickets: $10/adult, $5/child (ages 4-14); tickets at gate: $15/adult, $7/child, $25 picnic table VIP seating
McCloud Nature Park Activities
Several fun family activities take place on Saturday at McCloud Nature Park, 8515 Hughes Road.
Would your family enjoy star gazing through a telescope? This Astronomy activity is the perfect opportunity for just that.
Expert sky watchers explain which planets and constellations are visible that night. Then, they guide you through the outdoor sky-viewing.
Telescopes will be set up, or you can bring your own. Start time is 8 p.m. and the event lasts about two hours. It's free to attend. No advanced registration is required. 
Fall-Themed Experiments is fun and educational activity for all ages. Practice your observational skills and conduct experiments related to natural science! This activity is from 2-3:30 p.m. Saturday and costs $5 a person. Advance registration is required. 
The annual McCloud Prairie Maze begins Saturday and runs through Oct. 31. Grab a map at the kiosk at the Nature Center to find your way through the Monarch Butterfly maze! It's approximately a half-mile walk, so bring water and wear close-toed shoes. The maze is open from dusk to dawn and is free. 
2019 Blues and BBQ
This family-friendly event boasts award-winning blues bands and the best BBQ smokers in the area! Enjoy a leisurely Sunday afternoon listening to the sounds of talented blues bands and tasting melt-in-your-mouth BBQ and delicious food from other vendors. Yard games and inflatables will be available for the kids. Beer and wine will also be available for purchase. Click here to see the musical lineup.  
Where: Arbuckle Acres Park, 200 N. Green St., Brownsburg
When: Noon-7 p.m. Sunday
Cost: Free to attend