Brownsburg, Indiana, brings in the holiday season in a very special way. Since 2007, the town has held a special evening starting with a parade under the stars of the winter sky. It isn't the usual ordinary start to the holiday season seen in most communities, but makes for a wonderful change.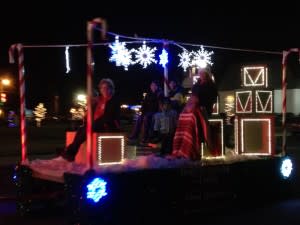 The Christmas Under the Stars Parade and Light Show event will be held on Dec. 1 beginning at 6 p.m. U.S. 136, known locally as Main Street, leading up to the Town Hall will be lined with families, friends and visitors ready to herald the season, sing along with music and light up the night with the holiday display on the Town Hall lawn. Junior grand marshals are chosen based on decorated ornaments submitted at the Brownsburg Library. The community selects their favorites narrowing it to one boy and one girl. Winners are a surprise announcement on Nov. 25. Community members and groups participate with decorated floats in the parade. Even though registration is not closed, there are already 34 floats on the list including several Brownsburg businesses and local not-for-profit organizations. After the parade, all eyes will turn to Town Hall Lawn where Delaware Trail Elementary School students will be performing holiday carols punctuating the lighting of the Christmas tree. To add to the festive lawn display this year, residents, groups and businesses have been invited to participate in a tree decorating contest. Circle City Coffee Company will be on hand offering steamy coffee and hot chocolate and tasty sweet pastries.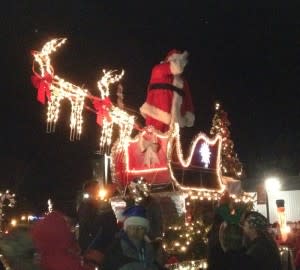 Of course, what would the holiday festivities be without Santa? After arriving to Town Hall on one of the featured floats in the parade, Santa will be available for pictures from 7 to 9 p.m. inside the doors of Eaton Hall. The wait won't seem too long because there will be a holiday movie showing and children will have the opportunity to compose a letter to present to Santa at the end of the line. Plan for your family to welcome the excitement and magic of the holidays in Brownsburg this year! It will definitely become one of those "remember when…" memories or even an annual family outing.
Christmas Under the Stars
Parade Route: The parade begins at Brown Elementary School and goes down Eastern to Main Street to S.R. 267 ending up at Arbuckle Acres Park.
Parking: The parade route will be closed, so plan to go early to find parking.
Visit Christmas Under the Stars on Facebook for event information. 
Tree decorating contest information: Registration is $45 for a 5' x 6' space on the lawn, a tree and stand. Electricity will be available. Registration is open until Nov. 28. Call 317-858-4172 for more information.