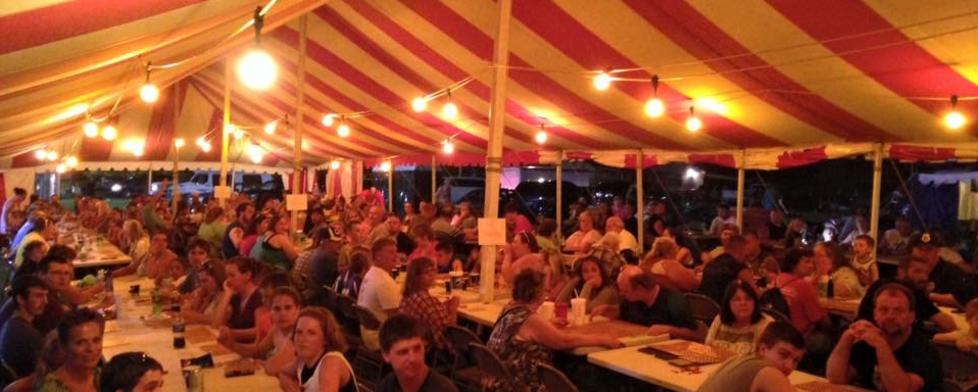 A long-standing tradition here in Hendricks County, the 67th Annual Amo Fish Fry Festival will be held Thursday through Saturday, June 8-10, in the quaint town of Amo, just a bit west of Danville. The festival takes place at the Amo Ball Fields, right next door to Mill Creek West Elementary School.
This isn't your average fish fry. No, this is a fish fry on steroids, and it's a fantastic way to have a ton of family fun while also supporting two great organizations.
The Amo Fish Fry Festival is a joint venture between the Amo Volunteer Fire Department and the Cascade Youth League, which provides baseball, softball, volleyball, football and wrestling to kids in the Mill Creek area of Hendricks County. The funds raised at the festival play a substantial role in each not-for-profit organization's annual operating budget.
Mention anything involving youth sports, and you immediately have my attention, so I was quick to contact Amo Fire Chief Dustin Strahl to get the lowdown on this year's festivities. 
Food
Chief Strahl told me that the Amo Fish Fry Festival is truly a community effort throughout this tiny town of roughly 400 people. Members of the Amo Fire Department and their families, coaches and parents and kids in the Cascade Youth League and all sorts of additional community members come together to host this festival. As a third-generation firefighter, Chief Strahl has been involved with this event his entire life.
One of the most visible indicators of this community togetherness is in the food.
Firefighters will spend the better part of the three-day festival cooking up fish, tenderloin, chicken, and pulled pork BBQ sandwiches, along with chicken tenders, hot dogs, French fries, onion chips and fried mushrooms. There will also be cold sides, such as potato salad, cole slaw and cottage cheese. Elephant ears are available for purchase from the Cascade Youth League, too.
Then for dessert, community members donate their best dishes to be sold. Chief Strahl's eyes lit up as he described the apple pies, cakes and other delicious desserts that Amo families have been donating to the festival for years.
Fitness
Do you enjoy getting outdoors and stretching your legs through running or walking? Then you'll be interested in the Amo Fish Fry 5K that's hosted on Saturday, June 10 by the Cascade Youth League.
Check-in begins at 8 a.m. on Diamond 1 of the Amo Ball Diamonds, and the race begins at 9 a.m. Registration is dirt cheap: $25 per person, $20 per student and $12 for the Kid Dash.
Register on the day of the event or in advance by clicking here.
Festivities
"Festival" is a key word in the name of this event because the Amo Fish Fry Festival is much more than just a fish fry. 
Do you enjoy bingo? Every night beginning at 6 p.m., there will be bingo games taking place that culminate in a nightly "big money" game. You could win $100 on Thursday night, $250 on Friday night and a whopping $500 on Saturday night!
Southern Bridges -- a popular local band whose members have many ties to the Amo and Mill Creek communities -- will take the stage every night between 6 and 7 p.m. and play until about 10 p.m.
On Friday from 5 to 9 p.m., a classic car cruise-in will be held in the Mill Creek West Elementary School parking lot.
A vendor tent will house between 20 and 30 vendors who will have a wide variety of items available for purchase, including handmade crafts, hats, sunglasses, ice cream, kettle corn and more.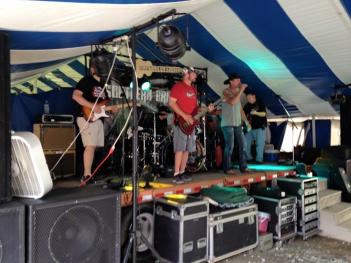 Hendricks Power Cooperative will conduct live demonstrations on Friday and Saturday at 6:30 p.m. regarding live power line safety.
On Saturday at 2 p.m., a parade will pass through town in what is basically two waves. First, youth athletes from the Cascade Youth League will march through town flinging candy to bystanders. Then, to give the athletes a chance to get some candy of their own, a second wave of the parade comes through featuring fire trucks, police vehicles, antique tractors and more.
A kiddie tractor pull takes place after the parade on Saturday, and there are games and young kids' carnival rides throughout the festival.
Then on Saturday night comes the main event: the fireworks.
Fireworks
The Amo Fish Fry Festival finishes up with a stupendous fireworks show on Saturday night at 10 p.m. The display lasts about 30 minutes and features around 2,000 fireworks. Chief Strahl said that about half of the fireworks are part of the breath-taking grand finale that is sure to delight viewers of all ages.
This is no small-town fireworks show. Chief Strahl reports that they use about $5,000 worth of fireworks each year. WOW! Besides, where else are you going to enjoy fireworks on June 10? Come on out!
Immediately after the fireworks show, head back to the bingo tent for the $500 "big money" game. You could find yourself with a big wad of cash in your pocket at the end of the night!
Insider Tips
I asked Chief Strahl if he had any tips for people who had never been to the Amo Fish Fry Festival before. He gave me some great ideas to pass along to you.
All food items are cash-only, and most vendors only accept cash, so be sure to make an ATM run before you head out to Amo.
Hit the food line in "off hours" -- not in the middle of the lunch and dinner rushes -- to spend less time waiting in line for your meal.
Exercise patience when it comes to parking. Literally, thousands of people descend on this tiny town over the course of three days. Mill Creek West Elementary School and the Amo Ball Fields can only hold so many vehicles, so people will need to park along streets throughout the town. (My own insider tip: There is a lot of space to park a half-mile south of the school at the Vandalia Trail's Amo Trailhead. It's super easy to walk from one end of Amo to the other -- it won't take long to walk the four or five blocks up to the school.)
The fireworks show on Saturday night is crazy popular, and Chief Strahl says that the place is packed by 8 p.m. in anticipation of the 10 p.m. show. So he suggests getting to Amo before 8 p.m. to avoid the congestion.
Chief Strahl's wife, Michelle, organizes the parade, and he says that people who are interested in being a part of the parade are welcome to contact her at (317) 286-8372. There is no charge to be in the parade.
Amo is the place to be next weekend for the 2017 Amo Fish Fry Festival! Eat some delicious food, run or walk a 5K, have a weekend full of family fun, grab some candy at the parade, do some shopping, enjoy some live music, win some money at bingo and look up in awe at the fireworks display.
And do it all knowing that you're helping the Amo Volunteer Fire Department and Cascade Youth League in a big way, too. What could be better?
Thursday, June 8, 5:30 to 10 p.m.
Friday, June 9, 5:30 to 10 p.m.
Saturday, June 10, noon to 10 p.m.-ish
Cash only