Like most people, I'm sure you have been to your share of weddings, but do you really know how to be a great attendee or member of the bridal party at a wedding? Someone who helps the day flow well and takes stress away from the couple? 
As a wedding photographer who attends nearly 40 weddings a year, I wanted to share a few tips to help you help your friend or loved one who's getting married. 
Before I do, I want to remind you about the amazing, free wedding services offered by Visit Hendricks County. My contributions as a blogger for this organization shows how serious they are about the wedding industry in their county.
If you are planning or helping plan a wedding, I highly recommend checking out the wedding portion of their website and picking up one of their Wedding Guides. You can also pick up the phone or send an email to Kara Harlan who can help with hotel room blocks for your guests, venue options and much more.
Family and Friends
I imagine most of the weddings you will attend are for friends or family members. You are there to support them and celebrate their new marriage. The bride and groom are thrilled you are there and want so much to have quality conversation with each and every attendee. More often than not though, that just isn't possible.
They have dreamed of their wedding day for a very long time, and they are so glad you are there to share it with them. However, there are a few things that they wish you knew.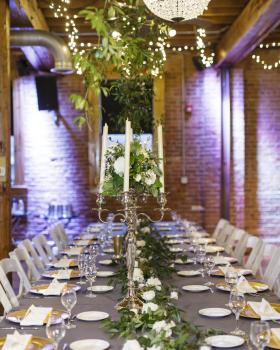 1. Arrival Time
Unless you have been asked to arrive at a specific time, arriving too early will cause potential stress. The bride usually does not want to be seen before the ceremony by arriving guests.
Guests are excited and don't want to be late, but I know they also would never want to cause stress, especially before the wedding has begun.
Each photographer structures their timelines differently, but around a half hour before the beginning of the ceremony is typically a great time to arrive. That ensures the bride will not be seen if she so chooses, and leaves you plenty of time to park, find your seat, talk to a few people, etc. 
Of course, you shouldn't arrive late either. No one intends to be late, but if it can't be helped, just slip in as quietly as possible. No one is going to care if you are a friend of the bride and you slip into an empty seat in the back row on the groom's side. 
If it is an outdoor ceremony and you driving in might cause a major distraction, you may consider waiting until the ceremony is over and arriving at cocktail hour. Most outdoor ceremonies last 30 minutes or less. They won't remember if you were there for the ceremony, but they will remember if you drove in right in the middle of the vows. 
2. Family Picture Time
Typically family picture time occurs right after the ceremony and is an important time. Most families rarely find themselves together and dressed up, so it's the perfect time to capture those full family pictures. As attendees, this is one of the times when you can be the most helpful. 
If you are part of the family and have been asked to stay for pictures, please stay. If everyone is present and accounted for, those pictures can be taken quickly and efficiently, allowing everyone to get to the cocktail hour remarkably fast.
If you are a guest and not in the pictures, you can help in two ways. First, don't linger in the room or area where the photographer is taking these pictures. Everyone is excited to see each other and wants to chat, but there is typically an area designated for the cocktail hour that is exactly for this purpose. Secondly, it is especially important not to distract and chat with family members who are getting their pictures taken.
3. Have Fun
You were invited to the wedding to have fun. So, enjoy the food, drinks and company and take a spin on the dance floor. The bride and groom want you to enjoy your time at their wedding. 
It should be a fun day for everyone. With a little help and awareness from the guests, everything can run smoothly, and everyone can have a blast! 
Bridal Party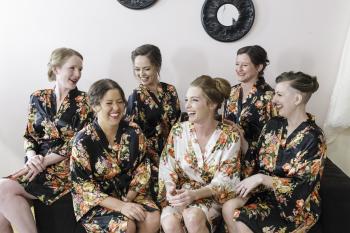 If you were asked to be part of the bridal party, it is because you are some of the couple's dearest friends.
Be ready to help where needed, and they will be so grateful.
Here are a few things you can do to help: 
1. Logistics
Every wedding party boasts at least one type A personality. This person is the organizer and knows where everyone and everything needs to be and when and how they are getting there.
If this is you, familiarize yourself with the schedule for the day as well as important contacts so that you can be the go-to person throughout the day. The bride and groom don't need to be bothered by the inevitable occasional hiccup, so if you could handle those situations, they will be so appreciative. 
2. Communications
While it's always best to not call or text the bride and groom on their wedding day, sometimes it happens. If a bridesmaid and groomsmen can just take control of their phones and monitor them for important calls and messages, it frees the couple up to enjoy their wedding and not get distracted by little things that come up throughout the day. 
3. Be There For Them
If you are in a bridal party, just having an attitude that the day is all about the couple will go a long way in making it a great day. 
Arrive on time, triple check before the wedding that you have all of your clothes, shoes, etc, and just be there for them for whatever they need. Keep in mind that on the most special day of their lives they have chosen you to share it with them. Just being there will mean so much. 
Wedding days are special, crazy days, and if everyone plays their role well, it will be a fantastic day for everyone.