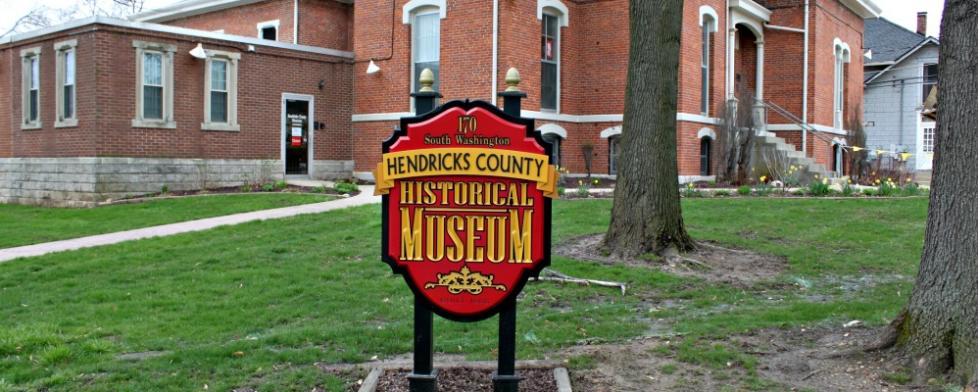 One of my favorite recommendations for Hendricks County locals and visitors alike is to take a tour of the Hendricks County Historical Museum. We made our first visit last year, and my sons and I had a great time exploring the building that was once the sheriff's residence and local jail.
The museum opened for the spring season this month, and we stopped by to check out some of the new exhibits and learn more about how the museum is participating in both the state bicentennial and the upcoming Mayberry in the Midwest celebration.
My favorite new addition to the museum is an exhibit that focuses on family entertainment of the past. The highlight was seeing promotional posters that originally hung in Danville's historic Royal Theater in the 1930s.
The posters were curled up tight when they were originally found, but the museum was able to gently open them to reveal these vibrant colors and images. What an amazing thing to be able to preserve and display! 
Another new exhibit is Through the Years With Children's Literature, a gorgeous display of old children's books and toys, with a focus on Raggedy Ann and Andy. The collection is on loan from a local teacher, and it's a must-see for any book lover.
While we were visiting, we were lucky enough to see the museum's contribution to the state's Bicentennial celebration.
Local quilter Jo Terrell created a lovely quilt that features historic churches found throughout Hendricks County. Many hours of work went into creating this quilt, and the finished result is truly amazing. There's so much detail; I highly recommend seeing it in person.
Some other new additions to the Hendricks County Historical Museum include:
Two new beautifully-restored dolls, including a pre-Civil War era doll that has been made to look brand new.
A collection of Danville Gazette newspapers ranging over 50 years.
Restored portraits of Sheriff Calvert and his wife, painted by the Sheriff himself.
A painting of the museum building by local artist Tom Himsel.
The museum is also gearing up for 
Mayberry in the Midwest,
 coming to Danville in May. Aunt Bea will be in the kitchen again this year, greeting visitors with a smile. There will also be several demonstrations and make it/take it activities, including: 
Craft and needle art demonstrations, such as quilting, basket-making and embroidery.
Historical storytelling and role plays.
Make and take dolls, paper flowers, finger knitting and more!
The Hendricks County Historical Museum is open every Saturday from 11 a.m. to 3 p.m. It is located at 170 S. Washington St. in historic downtown Danville. Admission is free, but I highly recommend making a small donation while you are there to support the work the museum does to preserve Hendricks County history.
If you've never been to the museum before, there is so much more to see and do than I listed above. You will want to check out 
my story from last year
 to get a sense for everything the museum has to offer including that spooky old jail that my boys loved.