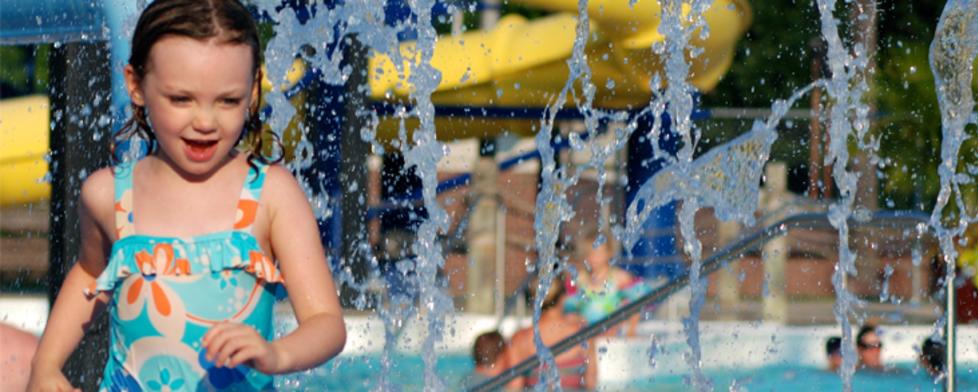 Memorial Day Weekend is almost here, and the sun has finally decided to shine upon us. You know what that means? WATER FUN! Thankfully we have many options in Hendricks County to cool off including a new one opening this year!
Splash Island Family Waterpark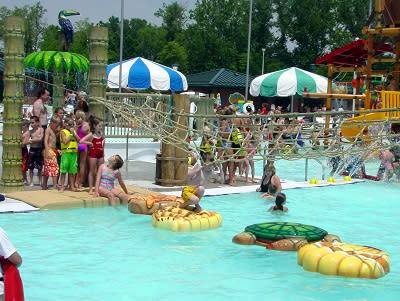 Looking for a water park that every age will enjoy? Splash Island in Plainfield is your answer! For the little ones, this Caribbean-themed water playland boasts a zero-depth entry area and small playground with slide. Older kids will enjoy the basketball pool and balancing amenities, because even when you fall it is fun!
My favorite that every age will love is the lazy river. This water park also has the classic big slides and diving board area. But don't short change this water playground by trying to make your visit a quick trip, allow for many hours of fun!

Insider tip: You can bring your own cooler with food and drink. See the guidelines here.
Opening day: Friday May 27, 10 a.m.-6 p.m. with a special bonus: a Blake Shelton Tickets Giveaway!
Hours: Open every day through Aug. 2. Monday through Saturday 10 a.m.-6 p.m. and Sunday noon-6 p.m. Wet Wednesday Nights 7-10 p.m. with discounted rate and entertainment.
Gill Family Aquatic Center
Another great pool option can be found in Danville's Ellis Park. The Gill Family Aquatic Center is like a community pool with a kick.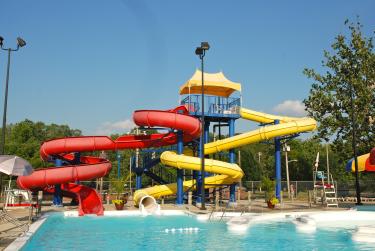 It hosts a zero-depth area, two water slides, splash pad, lazy river and diving board. If you are looking for a pool with various amenities at a great price, check this one out!
Insider Tip: Looking to host a group? You can rent out this aquatic center for just your use!
Opening day: Saturday May 28, 11 a.m.-7 p.m.
Hours: Monday through Saturday 11 a.m.-7 p.m. and Sunday noon-7 p.m.
Shops at Perry Crossing Pop-Jet
This is our new option this year! When The Shops at Perry Crossing in Plainfield remodeled they turned the playground into a pop-jet fountain for kids to play and cool off. Talk about the best of both worlds -- shopping and water fun for the kids? I must be dreaming.
Insider tip: Definitely check out their opening day celebration this weekend with music, games, giveaways and more.
Opening day: Saturday May 28 from noon-5 p.m. Opening day celebration from noon-2 p.m.
Hours: Everyday 11 a.m.-5 p.m.
Watermill Splash Pad
Brownsburg Parks and Recreation surprised us all when they opened up their splash pad before anyone else this season. Located in the back of Williams Park, this splash pad features amenities for all ages. Along the outside are small features for any water-loving tot.
As you head to the inside of the circle, the amenities get bigger..and wetter. The most unique water contraption, the Superwave, brings in the bravest of kids to get doused in a 32-gallon downpour.
Insider Tip: This park has great space surrounding it to lay out a blanket and watch the kids have a blast.
Opening day: Already running
Hours: Everyday 10 a.m.-7 p.m.
Washington Township Park Splash Pad
When you get to Washington Township Park in Avon, head down the hill to the reach the splash pad. We love that this one has a nice playground right next to splash pad. My kids like to go back and forth and I like that I don't have to watch the weather that closely to determine if we should go. If it is slightly cooler, they can play on the playground.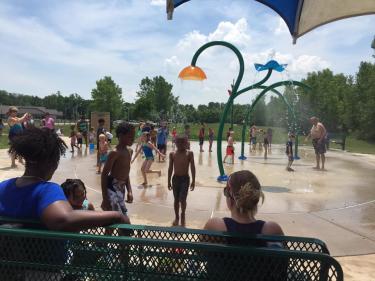 Typically during the summer, they get chilled a little in the water, then warm up on the playground, then cool off on the splash pad. It is also located right next to a double pavilion making it easy to bring all that you need to enjoy a couple of hours at the park.
Insider tip: This splash pad hours are open the latest during the week and earliest on the weekend!
Opening day: Saturday May 28
Hours: The 2016 season runs May 28-Sept. 5, and the splash pad is open Monday- Friday; noon-8 p.m., Saturday & Sunday 10:30 a.m.-6:30 p.m.
Hummel Park Splash Pad
Although this splash pad is the smallest of our local ones, the fact that it is inside Hummel Park makes it a wonderful way to spend your time. Enjoy the shaded trails, two playgrounds, toss rocks in the creek and then cool off at the splash pad afterward.
Insider tip: The maximum capacity of this splash pad is only 45 people. If you can, go early.
Hours: May- August, Everyday 11 a.m.-7 p.m.
So as the days heat up, grab those swimsuits and sunscreen and head out to the many water play options in Hendricks County!