It's not too much longer until Thanksgiving! Are you excited? I am. I can't wait to eat turkey with all the fixings. That got me to thinking about the best places in Hendricks County to satisfy that turkey craving year round, and I came up with six of my favorites. So, let's talk turkey. 1.
The Beehive
, 55 E. Main St., Danville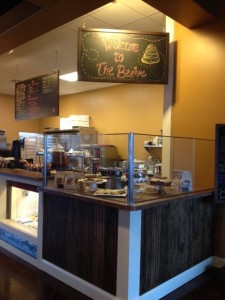 This Danville favorite offering fresh and local food, posts daily specials on their
Facebook page
. A special that currently is served every Thursday includes roasted turkey, stuffing and green beans. Take a seat by the fire and dig in. It's easy to understand why they have a slew of regulars coming back for more of their fine food.
Insider Tip:
Don't miss out on one of their coffee drinks and homemade desserts, like apple turnovers. Keep up with specials on their
Facebook page
.
2. Black Swan Brewpub
, 2067 E. Hadley Road, Plainfield This well-liked and independently owned brewpub, does comfort food right. Try their
Brewpub BLT
, with bacon, sliced turkey, tomatoes, spring mix and basil aioli on multi-grain bread. Pair it with one of their homemade beers, and you've got the makings for an ideal lunch or dinner.
Insider Tip: 
Don't forget a side of fries with a dipping sauce. Check Black Swan Brewpub's 
Facebook page
 for drink specials and other updates. 3.
Bread Basket Cafe & Bakery,
46 S. Tennessee St., Danville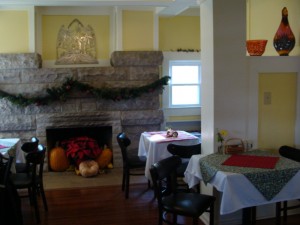 This cozy bakery and cafe, which reminds me of  a tea room, is one of my go-tos when I'm visiting Danville. Try the
Dilly Turkey Sandwich,
with sliced turkey breast, dill cream cheese, cucumbers and sweet peppers on Honey Oat bread.
Insider Tip:
Don't leave without buying one of their famous cookies, loaf of bread or a slice or two of homemade pie. Keep up with the latest news on their
Facebook page
. 4.
The Coachman Restaurant
, 6112 Cambridge Way, Plainfield.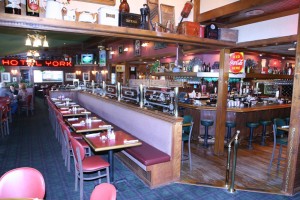 "Everybody knows your name" as
Ericka wrote
about this popular and independently owned restaurant, located close to the airport and hotels. They serve a 
"Big Bird"
 with smoked turkey, bacon, tomato and Swiss cheese on sourdough bread.
Insider Tip:
Check their
website
for a list of specials and entertainment calendar, with updates on upcoming bands and musicians performing at the restaurant. 5.
Dawson's Too Sticks & Stones
, 773 E. Main St., Brownsburg You can't go wrong at this independently owned and operated Brownsburg restaurant with a loyal following. Try the
Smoked Turkey Panini
, with apple, cherry, and hickory smoked turkey on sourdough topped with house bacon, Swiss and American cheeses, lettuce, tomato and red pepper aioli served on Bianca loaf.
Insider Tip: 
Need a place to watch the game? Try Dawson's bar with seating and plenty of TVs. Check Dawson's Too Sticks & Stones' 
Facebook page
 for daily specials and other information. 6. 
Green Street Pub and Eatery
, 911 N. Green St., Brownsburg This crowd-pleasing, family-friendly eatery specializes in classic pub fare with a full menu to tempt anyone in your family. Try the classic
Turkey Burger
 served with fries, chips, potato salad, coleslaw or cottage cheese.
Insider Tip:
 Check their 
website
 for daily specials, including trivia night in the bar, live music and more.
Where to find your turkey meal on Thanksgiving
There have been a few years where I've been traveling and needed to find a place that was open on Thanksgiving. If you're in the same situation, traveling during Thanksgiving, unable to cook or are just looking for an alternative to a home for your gathering, here are three restaurants in 
Hendricks County
 open on Thanksgiving. 1. 
Bob Evans
, three Hendricks County locations, 7649 E. U.S. 36, 
Avon
, 6102 Cambridge Way, 
Plainfield
 and 1076 N. Green St., Brownsburg. Open limited hours on Thanksgiving, 7 a.m.-2 p.m., dine in or carry out. 2. 
Claddagh Irish Pub
, 2539 Futura Park Way, Suite 150, 
Plainfield
Open for a Thanksgiving buffet and dessert bar from 11 a.m.–8 p.m. Cocktails and appetizers available from 8 p.m. until midnight on Thanksgiving. 3. 
Cracker Barrel
, 6256 Cambridge Way, 
Plainfield
Open on Thanksgiving from 6 a.m.–10 p.m. Breakfast available all day and Thanksgiving dinner available after 11 a.m., dine in or carry out.