If you are like my wife and love coupons, then I have some good news for you just in time for the holidays.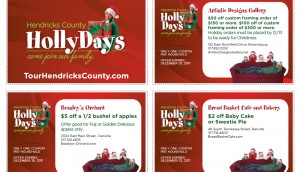 The
Hendricks County Convention and Visitors Bureau
is once again offering special Hendricks County coupons during its
HollyDays campaign
. But for you coupon fanatics, this offer represents more than just saving a few bucks. Our partners who agreed to offer these fantastic deals largely represent small, locally owned Hendricks County businesses. I've personally been in virtually all of these places, and believe me they have so much to offer in their shops, whether it's for that hard-to-buy-for loved one or simply yourself. There really is something for everyone from baked goods to good times and popcorn to pop guns. The 15 businesses who have offered these Hendricks County coupons include:
In these tough economic times, I can't stress enough the sacrifice some of these small businesses are making to offer these discounts during the holidays. I'm so grateful they were willing to be a part of our HollyDays campaign. So, please shop local and check them out.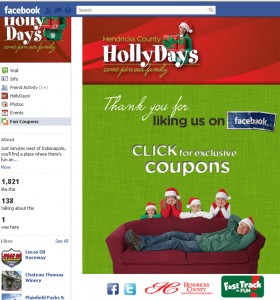 To get these Hendricks County coupons, you must have a Facebook account or know someone who does. The coupons can be found by going to the
Hendricks County Convention and Visitors Bureau Facebook page
and clicking on "Fan Coupons" in the left-hand column. If you aren't already a fan of our Facebook page, you will have to "like" our page to get access to the exclusive coupons. Let me tell you, I can't wait to use some of these coupons myself. My wife will be so proud.