Guilford Township's Hummel Park -- located in Plainfield, Indiana --  is one of my favorite Hendricks County parks to run in. But please don't tell the other parks; I don't want their feelings to get hurt.
The eastern-most portion of the park has a 1.1-mile "track" around it, and each tenth of a mile is marked. This is especially great for new runners working on increasing their stamina and running distance. New runners will often find it advantageous to run a tenth, walk a tenth, run a tenth, etc., until they can work their way up to taking fewer walking breaks and eventually no breaks at all.
Since the track is marked, a runner can focus on their stride and breathing and not have to keep glancing down at a watch to know their distance. Having these markers can also help seasoned runners work on Repeats or Fartleks.
Runner-Friendly Amenities
Right by the START marker there is a StretchHorse and guide for what stretches to do
At the 1/4-mile mark, there is a restroom facility and water fountains. After completing one lap around, you would be back at the water fountains at approximately 1.3 miles into your run. This makes it a good stopping distance for a hydration break.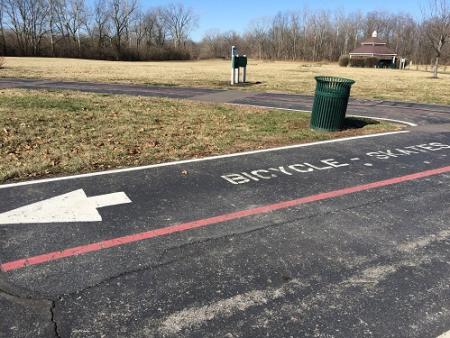 This path/course is divided with a red line down the middle. Runners and walkers should stay on the inner lane and go clockwise; cyclists and skaters should stay in the outer most lane and go counterclockwise. Thankfully the path is marked with these directions. Please be courteous and stay in the appropriate lane.
Extending Your Run
For runners that don't want to keep making a single loop around the park, you can cross the Red Maple Path bridge and head into the more wooded area.
Here you have the choice of two running paths: Cottonwood Path or Blue Heron Path. There is also another StretchHorse here to help with warm-up and cool-down stretches.
Cottonwood is a much shorter distance - approximately a 1/2-mile loop - and is not marked.
Blue Heron Path will have you running south, parallel to White Lick Creek initially, past several small lakes until you reach the one-mile marker at the southern most portion of the park (just north of Hadley Road) where you will arrive at Blue Heron Lake.
This path is also marked every tenth of a mile. It is not as flat as running the outer park loops but adds a slight challenge with a couple of "rollers" or very small inclines. 
Take in Nature
The views along this path can be spectacular. You will see all sorts of birds; robins, blue jays and cardinals. Rabbits, squirrels and ducks are in abundance as well.
I've seen turtles sunning themselves on a branch protruding from the lake and on rare occasion you may even spot a Blue Heron. I got lucky and saw one there last week.
You never know, you might even see some goats practicing for their performance in the North Salem Old Fashion Days parade.
Longer Routes
When I need to do a longer run, I'll start out by making two laps around the outer loop and then and out and back on the Blue Heron path. This is just under 4.5 miles. I'll run over to the water fountain for a quick "splash and dash", repeat what I'd just done and I've got a nice 9-mile run in. Once you get used to the park, there are other little nook and crannies where you can add on distance; a 1/4 mile here, a 1/4 mile there.
This park is so beautiful in the spring when the grass is starting to turn green and the trees are starting to bud. The rose bushes around the Guilford Community Center will start to bloom in early summer and pansies are planted by the park staff. 
But my favorite time to run here is in the fall when all the leaves are starting to change colors. It is truly breathtaking. The maintenance staff at the park does a great job of keeping the paths cleared of fallen branches and leaves. It is even cleared of snow in the winter so you really have no excuse not to get out there and enjoy this Hendricks County gem.