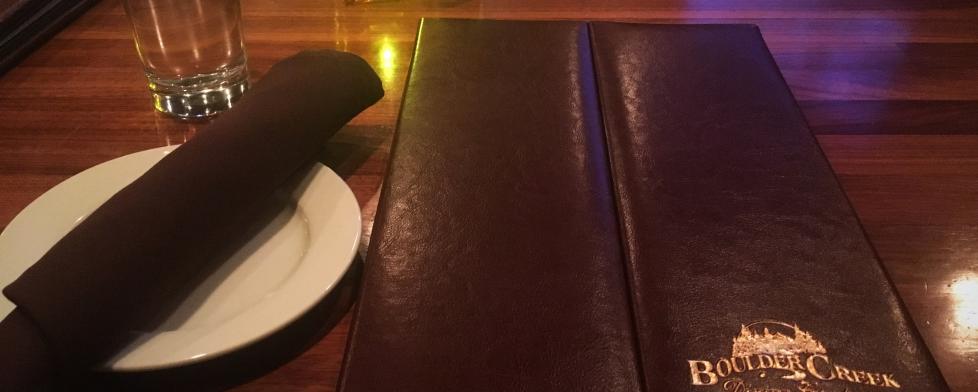 Are you looking for a restaurant that has delicious food, stellar service, and a beautiful atmosphere? Boulder Creek Dining Company in Brownsburg has everything you need.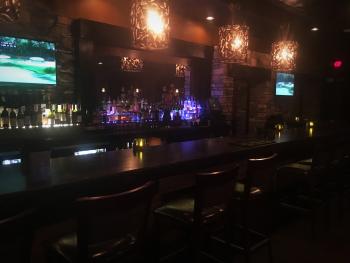 I made my first ever visit to Boulder Creek, 1551 N. Green St. (just north of I-74 at the Brownsburg exit), alone on a weeknight, a busy mom in search of a quiet and relaxing meal. I was immediately drawn in by Boulder Creek's calm and serene setting. I was seated in the bar area and was impressed by how spacious it was. There were several televisions along the walls, making it a great place to enjoy a nice meal during March Madness or football season. 
The menu is full of tasty options that will appeal to a wide variety of palates. Boulder Creek is well-known for their pizzas, which are cooked in a woodfire oven. Their steaks are also known for being exceptionally delicious. My fantastic server Brooke shared that her favorite dish is the crab-crusted walleye. 
It was a hard choice, but I decided on a cup of chicken tortilla soup and a beer-battered cod sandwich with a side of cheddar au gratin potatoes. The soup was chunky and full of flavor with just the right amount of spice. My sandwich was nothing short of amazing -- it might even be the best fried fish sandwich I've had!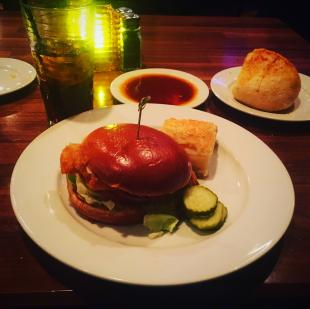 Boulder Creek is committed to using fresh and local ingredients, and it shows in the tastiness of their food. 
By the end of my meal I was stuffed, but I can't say no to dessert, so I ordered mine to go! I chose the cookie dough cheesecake, which came with an amazing chocolate sauce. It was so good I hid it from my family so I wouldn't have to share it! Brooke also recommended the carrot cake as another tasty option. 
Boulder Creek Dining Company is a staple of the Brownsburg community, and it's easy to see why they've been open for almost 20 years. It's the perfect setting for a date night or a night out with friends, but there's also a solid kid's menu if you want to enjoy a family meal.
Boulder Creek is open seven days a week, and you can make a reservation right from their website -- which is highly recommended if you're dining during a busy time. 
Take it from me: if you choose Boulder Creek Dining Company for an evening out, you won't be disappointed! And don't forget to bring me back a slice of cheesecake!