Prior to arriving at the
Hendricks County Convention and Visitors Bureau
, I had heard of the Wings of Golf before but never participated.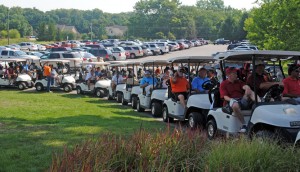 From afar, it seemed like such a fun event. I mean for somebody like me, how can you beat 18 holes of golf, lunch, dinner and prizes with all the proceeds going to
Hendricks County United Way agencies
? I'm not a great golfer. OK, I stink at golf, but what do you expect from someone who plays once a year and owns clubs older than he is? Still, I'm looking forward to this year's Wings of Golf event on Aug. 15 at West Chase Golf Club in Brownsburg, and here's why:
Regardless of your golfing skill, it is a fun day for everyone involved. And if you don't think we have fun at this event, then you haven't seen this year's marketing poster. Let's just say the organizers decided to go with a patriotic theme, and I'll leave it at that.
I consider it a privilege to participate in a local event benefiting so many worthwhile organizations that aid local youth, seniors, disaster victims, domestic violence victims and so many more.
I was also relieved to learn that the Hendricks County Convention and Visitors Bureau team is the current reigning losers of the tournament. So, I should fit right in.
The prizes…oh the prizes…the Wings of Golf is known for all of the raffle prizes that are awarded. In addition to a 50/50 cash prize raffle, about 50 prizes are raffled off annually. This year, the haul includes iPads, TVs and other goodies.
Though this will be my first event, it is a milestone year for the Wings of Golf as it celebrates its 10
th
anniversary. In addition to all the fun and memories that every participant has taken away, the event has raised $583,000 for the United Way Agencies of Hendricks County. I would encourage anyone, even if you don't live in Hendricks County, to form a team or come as an individual. Considering the $100 entry fee goes to such a worthy cause and includes green fees, cart, lunch and dinner, it really is nominal. To reserve your spot or for more information, visit this
website
. I hope to see everyone there on Aug. 15. If you see me, say hello. I should be easy to find searching for a lost ball in the weeds or water.