Many people don't even think about going to an outdoor recreation area like Sodalis Nature Park during the winter months, and believe me, I'm as guilty as anyone. But according to Joe Reagin, a naturalist for the
Hendricks County Parks Department
, people with that preconceived notion might just be missing out.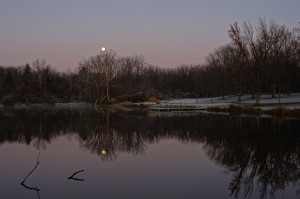 I talked to him this week about what there is to see and do during the winter months in
Sodalis Nature Park
, which opened last May near Plainfield, Ind. Here's a snippet of what he told me:
"It really is a nice time to be out there because the leaves are off the trees, so the birds can be spotted easily. We've had a lot of large hawk sightings out there lately."
Reagin also told me this is the time of year when deer shed their antlers, so a stroll through their 210 acres, including more than three miles of nature trails and a quarter mile of paved trails, could provide a family with a souvenir to bring home. Close to many population centers at 7700 S. County Road 975 East, the park also provides a great option for walking that dog that has been cooped up in a house or backyard all winter. The parks department does have programs through the winter months at Sodalis. The next one will be at 11 a.m. this Saturday, Feb. 18, when a naturalist leads a group on a Whitetail Shed Hike in search of the antlers of the state's biggest mammal, the whitetail deer. The naturalist will cover strategies in finding those discarded antlers. Naturalists also will host a bird hike in Sodalis on March 24. Unlike McCloud Nature Park, Sodalis doesn't have a nature center yet, so if you visit the park on a day other than when they are hosting a program, you likely won't find anyone who can help you. But don't fret. Reagin provided some tips if you decide to make a winter trip to Sodalis:
"Get a trail map at the kiosk and take a look at the various trails. Our most popular and probably most scenic this time of year is Beaver Ridge Trail. It raps around the back edge of the pond and has numerous scenic overlooks. "If you want to get away from it all, head to trails at the back of the park to potentially get some good views of the wildlife, such as a beaver. Also, be sure to check out our bat boxes and reforestation areas."
One of the reasons I contacted Joe was because of a recent award recognizing Sodalis for "Outstanding Park Development." The park beat out hundreds of other projects for the Indiana Park and Recreation Association award. This impressive honor is something
Hendricks County
should be proud of as three agencies, the Hendricks County Parks Department, Indianapolis Airport Authority and the U.S. Fish and Wildlife Service worked together to make this protected nature sanctuary a public park that everyone could enjoy.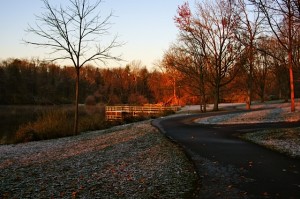 In fact, the park's unique name came from its inhabitants, the federally endangered Indiana bat, Myotis sodalis, which lives in wooded areas in and around the park. So, get out this winter and enjoy this protected treasure we have right here in Hendricks County!