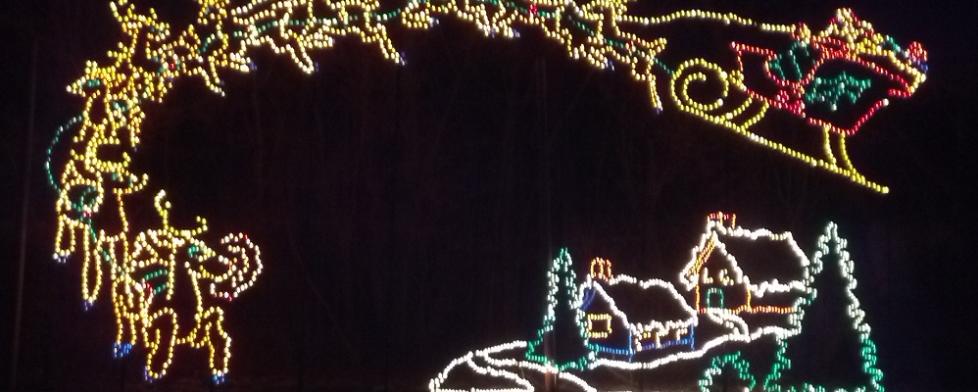 The holiday season is heating up in Hendricks County! Those who enjoy celebrating Christmas early will undoubtedly love Christmas in Coatesville, the Danville Train Show and Christmas at the Orchard this weekend, but on the day after Thanksgiving, it'll be difficult not to be in the Christmas spirit once you've experienced Christmas on the Square and the Winterland Light Show in Danville.
Since 1996, the Winterland Light Show has been brought to us by Danville Parks & Recreation and the Danville Chamber of Commerce, and it is one of the most popular Christmas events in Hendricks County.
Winterland takes up the vast majority of Ellis Park every year, and if you enter Danville from the east (from Avon) on U.S. 36, you can't miss it on your right. Over 1 million lights twinkle every evening (except for Christmas night) from the day after Thanksgiving until Dec. 30.
Make sure not to miss the 30-foot Christmas tree featuring lights synchronized to music with snowflakes added this year. 
For those who haven't experienced Winterland yet, here's how my family does it:
We start by going to Danville Parks & Recreation's website for a $3-off coupon to Winterland. Admission is $8 per vehicle, but you can find a coupon on the website (or in local newspapers and magazines) that knocks it down to $5.
On the day after Thanksgiving, which is Nov. 28 this year, we head to Christmas on the Square. My girls love taking train rides, finding Santa and Mrs. Claus wandering around the historic Courthouse Square and participating in all of the kids' activities. My wife loves the shopping. I love the community togetherness.
This year is extra exciting because my daughters will be a part of Christmas caroling around the Square, as well as a theatrical presentation of A Christmas Carol inside the Royal Theater. They're also all revved up for SNOWZILLA!
So my family enjoys Christmas on the Square, which includes the lighting of the town's Christmas tree, and then we head over to Court House Grounds, on the east side of the Square, to secure big cups of delicious hot chocolate for everyone. We usually snag some candy canes, too.
Then we head down the Main Street hill to Ellis Park and enter Winterland. When you pull up to the front gate and present your coupon, the employees there will give you a radio station to tune into so that Christmas music fills your vehicle as you peruse around the park.
We drive around the loop inside Ellis Park, sipping our hot chocolate and munching on our candy canes, enjoying the incredible Winterland Christmas light display. 
Then we do it again. And again. And again and again and again. Usually until both of my daughters are sacked out in the back seat.
Winterland is open daily from Nov. 28 through Dec. 30, with the exception of Christmas Day. It's open from 6 to 9 p.m. on Sundays through Thursdays and from 6 to 10 p.m. on Fridays and Saturdays. Once you enter, you can take as many laps as you want during the same visit.
On Fridays, Saturdays and Sundays, be sure to stop in at the Train Station, just past the entrance to Winterland, to see Santa Claus. The kids can share their Christmas wishes with him, you can take photos, and if your kids are pets, Santa will pose with them for pictures, too.
There is also going to be a fun contest this year in Winterland, so stay tuned to the event's Facebook page for more details as they're announced.
If you enjoy running or walking, don't miss out on the Winterland 1-Mile Walk/Run at 5 p.m. on Saturday, Dec. 6. It's just $5 a head to participate, and you'll be able to enjoy the light show on foot without getting run over by any vehicles.
Bring a canned good to the walk/run and get a special prize. Awards will also be given out to the most festive outfits during this event, so get your jolly on!
Make Winterland part of your holiday tradition this year and every year!
Winterland Light Show
Nov. 28 through Dec. 30 (closed on Christmas Day).
Sundays through Thursdays:  6 to 9 p.m.
Fridays and Saturdays:  6 to 10 p.m.
$8 per vehicle; only $5 with a coupon.
Unlimited same-visit trips around the loop after admission.
Santa Claus in the Train Station on Fridays, Saturdays and Sundays.
Winterland 1-Mile Walk/Run on Saturday, Dec. 6 at 5 p.m.