Artists pull inspiration from their environment and current events, and you can see that firsthand when you visit the second annual Works of Faith Art Show at
Artistic Designs Gallery
in Brownsburg.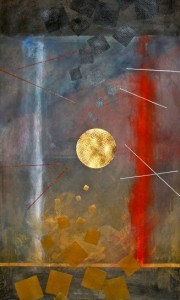 As the economy recovers, people everywhere are feeling more optimistic and hopeful — meaning artists and art supporters alike are finding their way back to art. Laura Tesdahl, owner of
Artistic Designs Gallery
, noted that in last year's Works of Faith Art Show, the featured pieces were inspirational and healing in nature. This year? You'll see a turn from uncertainty and darker times into a more expressive, contemporary, light style in the artists' work. Four Indiana artists are featured in this year's show, and all pieces are inspired by faith. Lettering Artist Margaret Soucy-Lowry combines her expressive handling of watercolor, gouache, pastel and ink with poetry.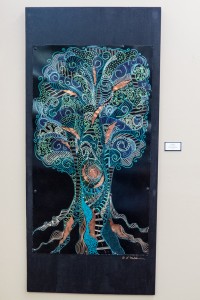 Lynne Medsker's newest works in metal transform the ordinary into creative passages for the viewer to explore. Emerging artist Cynthia Cook's work in collage and fiber shows the influence that both Medsker and Soucy-Lowry have had on her as an artist. And Mark Kelso's "Ascension", depicting a dove in flight, perfectly represents this year's more hopeful spirit. You can even meet the artists themselves at the closing reception from 5:30-8:30 p.m., March 15.  Call (317) 852-0252 or e-mail contact@artisticdesignsgallery.net if you would like to attend the reception.
Artistic Designs Gallery, Works of Faith Art Show
Running now through March 15, 2014
124 E. Northfield Drive, Suite K, Brownsburg, IN 46112
Visit their website for gallery hours.