Shopping is popular here in Hendricks County, Indiana. And with so many options, we realize visitors may find it hard to choose where to go.
So, we teamed up with Yelp again. Following the popularity of their list of top-ranked Hendricks County restaurants, we felt it was time to see what their users thought about top shopping spots in our county.
This is an all-time list of the best shopping spots in Hendricks County according to Yelp. Yelp identified businesses in the shopping category, then ranked those spots using a number of factors including the total volume and ratings of reviews. 
Here we go...
Where: 10834 E. U.S. Highway 36, Ste. J, Avon, IN
What: They offer trendy and fashionable, name-brand clothing, shoes, handbags, jewelry and other accessories. Low prices are at least 50-70% off retail. Every shopper can find something they like no matter their budget, size, age or style. Inventory changes daily and includes many mall brands. 
When: Open 10 a.m.- 6 p.m. Monday-Saturday; closed Sundays
Yelp Insight: Love this store!! Love the online auctions! I am definitely a repeat customer and will keep buying! Prices are good and customer service is great! - Robin L., Avon, IN
Where: 5789 E. U.S. Highway 40, Plainfield, IN
What: This large consignment mall houses 200 dealer spaces providing a huge selection of antiques, collectibles, vintage items and repurposed/refurbished items. No matter what you are searching for, you will find it here.
When: Open 10 a.m.-5 p.m. everyday
Yelp Insight: This place is so much fun to visit- regardless if you are a serious collector of something (trust me they have it here) or if you are just a wanderer-you will find something. - Laura H., Pittsboro, IN
Where: 3480 N. Ind. 267, Brownsburg, IN
What: Much more than just your traditional garden center, Frazee offers a full-service nursery, gardening and landscaping supplies, unique gifts (including a section featuring local artisan creations) and home decor. With more than 27,000 square feet of greenhouse space at their growing center, they produce fresh and vibrant locally grown annuals, perennials, baskets and more. Special workshops and events also are scheduled throughout the year.
When: Open 9 a.m.-6 p.m. Monday-Friday, 9 a.m.-5 p.m. Saturday and noon-4 p.m. Sunday
Yelp Insight: This place is adorable!! Great selection of plants and decorative pots, planters, outdoor decor, etc.! I was not expecting the variety of gifts and trinkets that were thoughtfully selected inside either. - Courtney F., Plainfield, IN
Where: 721 N. Green St., Brownsburg, IN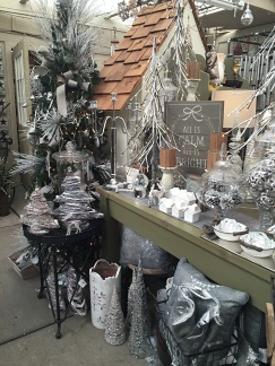 What: Another garden center that doesn't fit the traditional mold. Fulfill all your garden needs and discover ample shopping opportunities for home and seasonal decor. Great gift ideas can be found inside their showroom.
When: Open 10 a.m.-6 p.m. Monday-Saturday and 10 a.m.-5 p.m. Sunday
Yelp Insight: This is my fiancee's happy place. We decided to purchase our vegetable and herbs from Country Harmony this year instead of one of those big box stores. We expected to pay a little more, but that wasn't the case. The transplants were all great sizes and healthy. - Mike G., Indianapolis, IN
Where: 1012 E. Main St., Brownsburg, IN
What: This upscale, resale consignment shop boasts more than 125 stores under one roof! Find antiques, collectibles, handmade items, repurposed vintage pieces and much more. A huge furniture room offers a wonderful selection of pieces. 
When: Open 10 a.m.-7 p.m. Monday-Friday, 9 a.m.-7 p.m. Saturday and noon-6 p.m. Sunday
Yelp Insight: If you like to shop at resale stores, this is your place! They have several booths to shop from. You can easily spend two or more hours just looking at stuff. It's very well organized and you can find some pretty amazing deals. - Michelle B., Carmel, IN
Where: 680 E. 56th St., F, Brownsburg, IN
What: Established in 1983, Queen Anne's has earned the reputation as a high-quality and dependable, full-service florist. They can create the perfect floral arrangement for any occasion such as weddings, holidays, birthdays, proms, etc., or you can just shop for unique gifts.
 When: Open 8:30 a.m.-5 p.m. Monday-Friday, 9 a.m.-1:30 p.m. Saturday and closed Sunday
Yelp Insight: Kathy worked with me to design a bridal bouquet, bridesmaid bouquet, boutonniere and two corsages for my wedding. I had a general idea of what I wanted, and some pictures, and from there Kathy made something magical. - Laura S., Brownsburg, IN 
Where: 2499 Perry Crossing Way, Plainfield, IN
What: This outdoor lifestyle mall underwent major renovations a few years ago and now provides a warmer, more inviting shopping experience. You can satisfy virtually any shopping or entertainment need here with 30 national brand stores, a state-of-the-art, 18-screen AMC movie theater and several restaurants. 
When: Open 10 a.m.-9 p.m. Monday-Saturday and noon-6 p.m. Sunday
Yelp Insight: This mall has really seen a tremendous facelift! We are seeing new, trendy stores and good restaurants (thank you, Cunningham Restaurant Group!). - Kylie S., Indianapolis, IN