Webster's Dictionary defines the word "unique" as being the only one. Let's be honest, in today's world it is rather hard to be unique in anything. But if you're like me, there are times when I want something just a little different than the norm. Most often, this happens when I want to buy someone  in my life a gift that they haven't seen somewhere before. This can be challenging at times in the world of giant, national retailers that seem to all carry similar merchandise.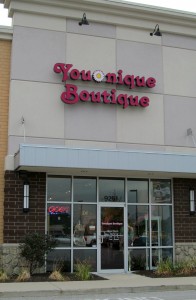 But don't fear, because 
Hendricks County
 is now home to a cute boutique with a flare for the unique, the
Younique Boutique
, 9261 E. U.S. 36 in Avon(in the strip mall that includes Monicals Pizza). That's right no more driving to the northern part of the city to find that cute gift, unique dress or essential oil. My first experience with the Younique Boutique came when my sister exclaimed she had found this great new place to purchase essential oils. My sister at nearly 22 is a self-proclaimed hippster. She's in the know on all things trendy and shall I say unique! She was told about this awesome Avon boutique by a college friend. So me, the not so hippster sister decided why not go take a look myself!
Upon entering this tiny shop you are instantly engaged in this amazing scent that the store has. The scent you ask? None other than the very essential oil my sister had raved over. The store carries the Ambre Essential Oil line and one step in this store will make you want to run to the counter and buy your very own bottle. The stuff is just plain delicious! I decided to do some browsing. Now this store is a relatively small space but it is full of tiny little treasures throughout. The staff and owners have done a wondrful job of not only choosing great merchandise but in setting the store beautifully.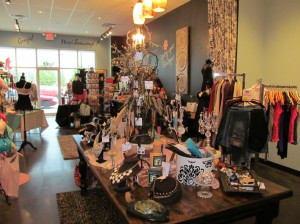 It seemed that every time I turned around there was a different display with some more beautiful items that would make great gifts for people I knew. There was some great jewelry pieces, cute dresses (on sale I might add), they had some great fall pieces in stock, items to decorate your home and even custom bedding orders. This store had a bit of it all! My favorite part of the store though was the baby section! I must say I'm generally really not into all the fru fru when it comes to kids.
But this store's baby section had some absolutely perfect shower, new baby or even first birthday gifts! It made me wish I had known of this store when my daughter was an infant. Check it out...cute right? I'm not a hippster so I know I am not at liberty to define what is cool or trendy, but I can tell you one thing: Younique Boutique is different, and in a world of things that are pretty much the same, that is cool! Go in and check it out, even if it's just for a good smell!