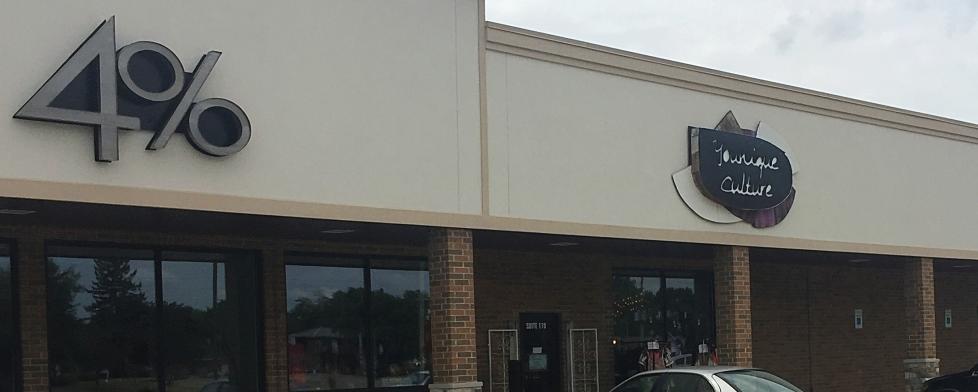 I've always been impressed by the courage and determination of small business owners. But when one family produces several, successful small businesses, I find it extraordinary.
Three stores inside one Plainfield strip mall at 2481 E. Main St. have done just that. Yes, incredibly, Younique Culture, Kids Go Round and the newly opened 4% salon are all owned by members of the same family! 
Try to stay with me here: Kids Go Round is owned by Tanya and Chianne - a mother and daughter team.Tanya's daughter, Mackenzie, owns the fabulous Younique Culture and her daughter-in-law, Lillian, recently opened her second salon location, 4%.
From the decor to the product, each is intentionally and meticulously planned. Collectively though, you'll find kids clothes, maternity clothes, boutique fashion for women and men, an incredible variety of accessories and all the beauty and pampering services you could hope for.
I love the way they all support each other and how each have found their niche in the business world. These women are passionate, hard-working and determined to grow their businesses here in Hendricks County.
Here's a little bit about each of them. . .
Younique Culture
This is boutique shopping at it's finest. The merchandise, displays and the store itself are beautiful, making it so much fun to shop. Mackenzie's sense of style and design are evident in each piece she chooses and in every display she creates. Her friendly, helpful staff make it easy to find the right size and perfect look. 
You'll find dresses, leggings, tunics, jeans, jewelry, shoes and accessories -- so many, so cute -- for the ladies. I always want everything. 
But it's not all for woman. She carries jeans, T-shirts, flannels and accessories such as socks, hats, watches and more for the guys, too.
Younique also sells bath and beauty products for both men and women including beard oil and products from Indiana-based The Rugged Company and my favorite, Ambre blends for the ladies.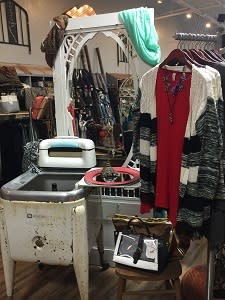 Mackenzie is a big supporter of local companies, so you'll find a wealth of great merchandise from various Indiana-based businesses, which I find so cool and refreshing. 
Younique Culture also offers a limited selection of children's clothing and a curvy section, so there is something unique for everyone.
You can also shop online here, but this merchandise is seldom carried in the store at 2481 E. Main St., Suite. 170. You also can follow Younique Culture on Instagram  and Facebook. Store hours are 11 a.m. to 7 p.m., Monday-Saturday and noon to 5 p.m. on Sunday. For questions and store information, call (317) 675-0062.
Kids Go Round
Let's face it, kids are expensive. Clothes, shoes, accessories, toys and gear can add up quickly. Luckily, Kids Go Round -- a resale store and boutique -- can help you save a bundle on your little bundles.
Kids Go Round provides two ways for you to save or even make some money, without losing style as they both buy and sell a huge variety of gently used kids clothes, maternity clothes and all other children's merchandise.
You can bring in clothing and gear your kids have outgrown or no longer use, and Kids Go Round associates will look over the items and call back when they have "an offer" ready for the items they want to buy.
Shopping at Kids Go Round could easily become overwhelming, but they have done an amazing job of staging their large space perfectly. The store is well organized and easily accessible with adorable displays throughout.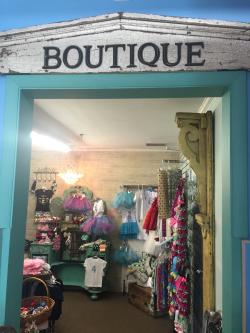 I was kicking myself as I walked through the store and saw things that I never thought to sell or shop for at Kids Go Round. Name brand athletic socks...kicking myself. All those random things you endlessly purchase -- goggles, cleats, hair bows, dance leotards and ties...kicking myself. Before you buy these items at full price, stop in. Chances are they'll have it.
Obviously, they have an abundance of clothes. They buy and sell sizes newborn to 18 youth, as well as maternity clothing. Every piece of clothing I pulled off a rack was in great or like-new condition at a fraction of the cost.
They've also added a boutique section, where you'll find the most adorable brand new items. They also have tons of baby gear including swings, walkers, activity mats, toys and furniture.
A friend of mine was recently looking for a particular piece of baby gear and when she didn't find what she was looking for, Tanya took her phone number and called when they had one available. Now that's customer service.
Store hours are 11 a.m. to 7 p.m., Monday-Saturday and noon to 5 p.m. on Sunday. You can see what items Kids Go Round is currently accepting on Facebook or by calling (317) 837-7070.
4% Hair and Makeup Salon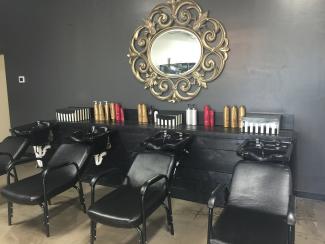 This salon is new, but it's owner and stylist, Lillian, is not new to both the demands and benefits of owning her own business. Her successful Carmel location, About Mei, allowed her to combine her passion for art and business. As an Avon High School alum, joining her mother-in-law and sisters-in-law in Hendricks County felt like home.  
When deciding on a name for her new location in Plainfield, Lillian was struck by this staggering and disappointing statistic: only 4% of women consider themselves beautiful. So, she decided that this salon would set out to grow that number and help men and women feel better about themselves.
At 4%, all the best pampering and beauty services -- styles, cuts, color and makeup are available. Whether you're looking for the freshest trends, unique styles or classic looks, 4% can help you feel beautiful. 
This premiere salon is appointment based. You can call (317) 319-7934 or stop by the salon to get more information and make an appointment.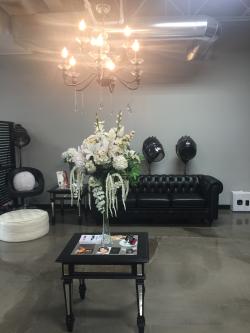 Lillian is artistic and elegant, so it isn't surprising that her salon and the looks that she and her stylists provide, are equally so. They even are offering new clients a complimentary cut with their color service and a complimentary eyebrow arch with full makeup applications.
As if this family and their businesses weren't cool enough, you'll also hear the music of Lillian's husband, Austin (also Tanya's son and Mackenzie and Chianne's brother), and his Americana band The Hangdog Hearts playing in each. You can even purchase CDs at any of the businesses.
I'm just so glad this family took the opportunity to follow their dreams by opening small businesses in Hendricks County.