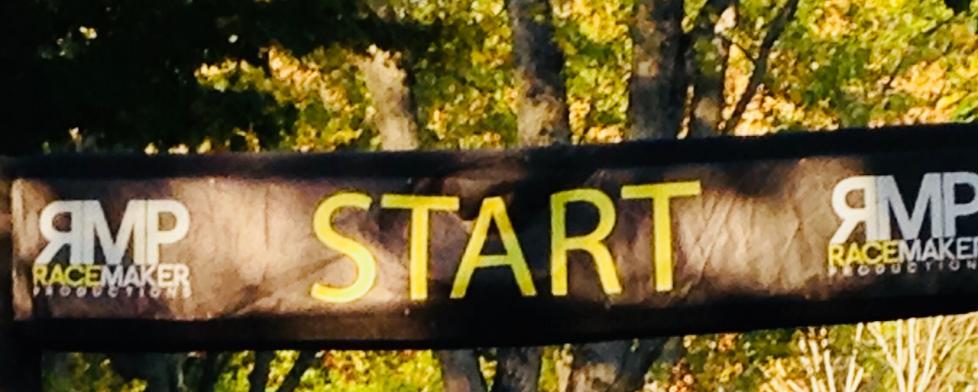 The fall season remains my favorite time of the year to run/walk outdoors. I'm sure most runners/walkers would agree that viewing fall foliage combined with cooler temperatures make this time of year perfect for run/walk events.
Many local events in Hendricks County, Indiana, are scheduled from September-November and occur at different venues across the county. The courses consist of various terrains, such as paved trails, county roads, grassy trails and even a runway. 
Yes, you read correctly, you have the opportunity to run/walk along a runway at the Indianapolis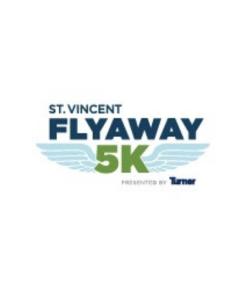 International Airport! In fact, that's were I will begin with this list of upcoming run/walk events.
St. Vincent Flyaway 5K
The St. Vincent Flyaway 5K begins at 9 a.m. Saturday, Sept. 15 at the Indianapolis International Airport. The start/finish line is located on the ramp at the Republic Airways Hangar. This new and unique event raises funds for patients and families affected by cancer. 
Bring the whole family to enjoy this event! Children 12 and under can participate in a separate 5K from the adult 5K. A $5 spectator donation is required for those over 4 years old. This airport experience pass includes a cockpit tour and photo opportunities with other airport equipment. Click here to register and view more specific information. 
Not only can you donate to an important cause but also be among the first ever to run/walk alongside a runway at the Indianapolis International Airport!
The rest of the upcoming run/walk events take place at various locations throughout Hendricks County. Many of the events coincide with family-friendly festivals and activities! This is the perfect opportunity to explore and enjoy the county during our beautiful fall months. 
When: Saturday, Sept. 15 at 9 a.m.
Where: Republic Airways Hangar on S. Hoffman Rd. (Follow Instructions at this link)
North Salem Old Fashion Days 10K Run/5K Run/5K Walk
Start your Labor Day with an enjoyable run/walk! This is the 33rd year for this popular event. The course consists of lightly traveled country roads with moderate to difficult hills. Afterward, join in the North Salem Old Fashion Days festivities from 10 a.m. to 4 p.m. Register here. 
When: Monday, Sept. 3 at 8 a.m.
Where: 98 W. Pearl St., North Salem (corner of Pearl St and Broadway).
Fair On The Square Half Marathon and 5K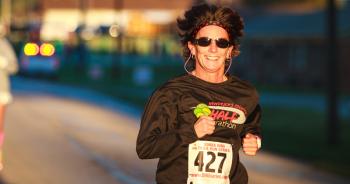 Formally known as Hendricks County Half Marathon and 5K, this event is a favorite among local residents as well as visitors.
Although the name has changed, the course has not. It begins on the historic Hendricks County Courthouse Square and meanders through rural areas. As a reward for your participation, fair food and a free Quaff On! beer will be provided at the finish line. 
After the event, be sure to check out the Fair on the Square consisting of shopping, live entertainment, local foods and much more. 
Click here to register. Check for updates on the Hendricks County Half Marathon Facebook page. 
When: Saturday, Sept. 8 at 8:30 a.m. (Half Marathon) and 8:45 a.m. (5K)
Where: 1 Courthouse Square, Danville.
PowerUp 5K
Enjoy a fall evening at The Shops at Perry Crossing! Upon finishing this fast course, join in the family-friendly after-party hosted by Bru Burger Bar. Participants 21+ receive a free beer. Proceeds from this event benefit the United Way of Central Indiana. Register here. 
When: Thursday, Sept. 13 at 6:30 p.m. (5K) and 6:35 p.m. (1.5 Mile Fun Run/Walk)
Where: Bru Burger, 2499 Perry Crossing Way, #170, Plainfield.
Running For Recovery 5K and 1.5 Mile Walk
Enjoy the beautiful trails within the Plainfield trail system and also donate to a wonderful local cause. The Hendricks County Substance Abuse Task Force receives 100 percent of the proceeds from this event. Register here. 
When: Saturday, Sept. 29 at 6:30 p.m. (5K) and 6:35 p.m. (1.5 mile)
Where: Richard A. Carlucci Recreation and Aquatic Center, 651 Vestal Road, Plainfield.
5K Pumpkin Run/Walk
All proceeds for this event go toward the construction of the new Playground at Northwest Community Park! The 5K course is family-friendly. However, strollers are not recommended as the terrain consists of grass and mulch trails. Children under 13 are free, but not timed. Sign up here.
Venture back later that evening from 4-8 p.m. for the Fall Festival. Festivities include live music, food, games, a pumpkin patch and inflatables! 
When: Saturday, Oct. 6 at 9 a.m.
Where: Northwest Community Park, 7950 N. County Road 650 East, Brownsburg.
Fall Colors Run/Walk
This 5K/1 mile run/walk event is certainly one of my favorites. The course runs through the very scenic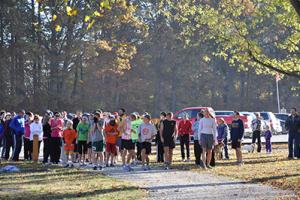 trails of McCloud Nature Park. Breathtaking fall foliage surrounds you as you make your way through the park. Proceeds support the Parks Foundation of Hendricks County.
After the event, check out the family-friendly Fall Colors Festival that lasts from 10 a.m.-3:30 p.m. It's the perfect way to a fall morning! 
For registration and more information, click here. 
When: Saturday, Oct. 20 at 9 a.m
Where: McCloud Nature Park, 8518 Hughes Road, North Salem.
Gobble Gallop 5K
On Thanksgiving, everyone tends to consume many delicious extra calories. Participating in this popular, family-friendly event provides the perfect way to feel less guilty about it.
The course consists of neighborhoods near the Hendricks Regional Health YMCA in Avon and the trail surrounding it. Join fellow runners/walkers Thanksgiving morning in supporting the YMCA's Annual Campaign! Register here.
When: Thursday, Nov. 22 at 8 a.m. (5K) and 9 a.m. (Kids Fun Run)
Where: Hendricks Regional Health YMCA, 301 Satori Parkway, Avon.
Be sure to sign up soon for these can't miss run/walk events! Enjoy the exercise, fall beauty and community festivities!