Many of us entered this fall wondering how COVID would affect our Halloween plans. Have no fear; Hendricks County still has many options for holiday family fun during one of the most beautiful and spooky seasons of the year!
Get your candy buckets, craft your costume and plan to enjoy this Halloween to its fullest right here in Hendricks County!
Trick or Treating
Yes, you heard correctly! T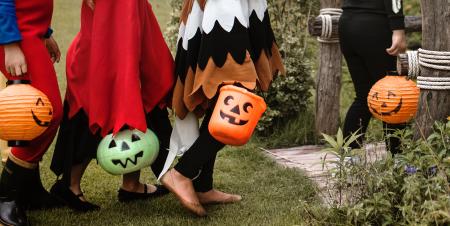 rick-or-treating is on for Hendricks County!  However there are some things to keep in mind, according to the Hendricks County Health Department. 
In order to trick-or-treat safely follow these guidelines: 
Trick or Treat only with people in your own home
​Stay home if you feel sick
Wear face coverings or masks
Practice social distancing
Do not ring doorbells of homes with their lights off
Use hand sanitizer frequently.
Local trick or treating hours on Oct. 31 include:
Avon - 6 to 9 p.m.
Brownsburg - 6 to 9 p.m.
Danville - 6 to 8:30 p.m.
Plainfield - 5:30 to 8:30 p.m.
Annual Ghosts & Goblins
Avon Washington Township Park will host their annual Ghosts and Goblins event from 3 to 6 p.m. on Oct. 24,  but it will look a little different this year.
They changed the format to a drive-through trick or treat! Enter the park from South County Road 550 East (west of the main entrance off Rockville Road) and follow Broyles Road into the park.
You'll be guided to drive through the park to collect treats. You can find details and a map here.
Participants are still encouraged to not only dress up but to decorate their cars! This is still important as the costume contest will still take place online!
Take a picture of your amazing costumes and post online with #2020gandgcostume. There will be winners for multiple age groups. Candy will be passed out safely by volunteers wearing masks. 
Monster Mash Trunk or Treat Drive-Thru
After you dash through Ghosts & Goblins, you might as well hightail it over to Danville for the the Monster Mash Trunk or Treat Drive-Thru that same night (Oct. 24) from 5 to 7 p.m. at Gary Eakin Park, 600 E County Road 50 North.
Hosted by Danville Parks & Friends, this safe and free event is yet another way to celebrate Halloween while adherering to COVID-19 guidelines! Costumes and donations are encouraged!
You're not going to believe this, but this event also takes place on Oct. 24 at 5 p.m. (with a rain date of Oct. 25). Maybe you could even hit all three towns!
This trail & treat event will take place at Williams Park and will function as safe trick or treating around the park! Since you'll probably be exhausted from driving all over Hendricks County, plan to stay for an outdoor showing of the movie, Casper. 
Halloween fun on the farm is the best kind of fun! Plan to visit Beasley's Orchard on Oct. 24 (from 9 a.m. to 6 p.m.) or Oct. 25 (from noon to 6 p.m.). Get decked out in your best and most creative costume, and bring the family out for everything Hendricks County's beloved orchard has to offer.
There will be a costume contest, pumpkin carving contest, an 8-acre corn maze, hayrides to the U-Pick pumpkin patch, apple cannons, food vendors and much more!
This is the perfect weekend to snag pumpkins so they're carved fresh for Halloween!  You can purchase tickets here. 
Sat-Terror-Day Fall Festival
If you're sitting around the day of Halloween just waiting for those trick-or-treat hours to kick in, you might as well plan to head on over to Plainfield for their Sat-TERROR-Day Fall Festival!
It will take place on Halloween, Oct. 31, from 10 a.m. to 1 p.m. at Talon Stream Park, 651 Vestal Road just north of Splash Island! This event is free and will consist of Trunk or Treat fun and photo ops for the family! Come dressed up (of course). 
Other Trunk or Treat events in Hendricks County: 
There are several local places also offering their own trunk or treat events:
Pittsboro United Methodist Church - Oct.19 from 6 to 8 p.m.
Kingsway Christian Church, Avon - Oct. 24 from 4 to 6 p.m.
West Bridge Church, Danville - Oct. 25, from 4 to 6 p.m.
Plainfield-Guilford Township Public Library - Oct. 26 all day
Messiah Lutheran Church, Brownsburg - Oct. 29 from 6:30 to 8:30 p.m.
Strides to Success, Plainfield - Oct. 30 from 5 to 8 p.m.
Plainfield Fraternal Order of Eagles - Oct. 31 from noon to 4 p.m.
Avon Christian Church - Oct. 31 from 1 to 3 p.m.
Central Saturday Trucks and Treats, Plainfield - Oct. 31 from 11 a.m. to 2 p.m. at Walmart Market in Plainfield
There you have it! Halloween will not be stopped in Hendricks County! Have fun and be safe!