On Saturday, Oct. 26, you're going to want to limber up, check the back seat, and never forget the double tap because
Hendricks County
is turning into Zombieland.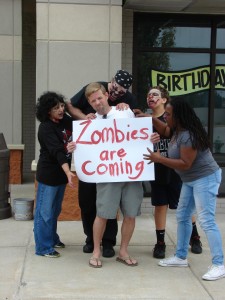 That's right, zombies are taking over
Avon, Ind.
this Saturday. The inaugural 
Avon Zombie Walk
begins its quest to collect braaaaaaaiiiins -- er, I mean, food -- for the Hendricks County Food Pantry Coalition with a new event designed to get everyone into the Halloween spirit, unleash our inner zombie, set a new world record, and most importantly, do good for the community. Would you believe me if I told you that the braaaaaaaiiiins behind this event belong to an 11-year-old? Indeed, sixth-grader Jon Barker is a lifelong zombie fan and vividly remembers the helplessness that he and his family felt when his father was diagnosed with colon cancer in 2010. Friends rallied around the Barker family and supported them in many ways -- including providing food -- during their difficult time, so Jon wants to pay it forward to those who need a hand but who may not have anyone there to help them. (In case you're wondering, Jon tells me that his dad is doing quite well now.)
So what does it cost to participate in the Avon Zombie Walk? Just a minimum donation of 10 non-perishable food items, which will be given to the Hendricks County Food Pantry Coalition. Need some ideas on what to donate? Here's
what they could use
. Individuals and businesses have
rallied behind Jon
, offering
discounts
,
prizes
and
help
for the Avon Zombie Walk which starts shuffling at 2 p.m. on Saturday at, appropriately,
Monster Mini Golf in Avon
. Before we start talking about what's going to happen at the Avon Zombie Walk, what on earth 
is 
a zombie walk? Let's hear from the expert himself, Jon Barker. [youtube]http://youtu.be/Ec9XS8t00Lk[/youtube] Participants in the Avon Zombie Walk will convene at Monster Mini Golf at 2 p.m. for a pre-walk showing of the George A. Romero and John Russo classic, "Night of the Living Dead" -- Jon's favorite movie. Imagine watching a zombie classic in a room full of zombies. Spoooooooky! From 2:30 to 3:30 p.m., seven local bakeries will compete for the RIP (Really Ingenious Pastry) Trophy in the
Zombie Cake Competition
to be judged by Ronda Valentine of
Sweet Cakes by Ronda
. After the competition, the cakes will be auctioned off, with the proceeds going to the Hendricks County Food Pantry Coalition. If you're hosting a Halloween party and looking for an awesome dessert, here's your chance! At 4 p.m., a rehearsal will take place for the
"Thrill the World"
dance -- a tribute to Michael Jackson and his famous song, "Thriller." After the rehearsal, at 5 p.m. sharp, zombies/dancers in Avon will join zombies/dancers from cities all over the world in an attempt to set the world record for the largest simultaneous dance! Zombies will then shamble on over to
Party City
in Avon at 5:30 p.m. for walker registration, food collection and last-minute makeup. Party City has donated makeup, and Jon has arranged for a makeup artist to be there to help achieve just the right amount of blood and decay.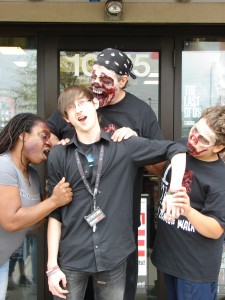 Then the zombies start dragging themselves down Rockville Road from Party City to
Half Price Books
. Along the way, they'll shuffle in front of
Game Stop
, which has declared Saturday to be Zombie Day, donated several prizes to be raffled off, and will have
Gen Con
game demos and board and dice games for zombies to try. Hungry zombies can also stop in at several restaurants that have offered
discounts to the undead
. (No word on whether or not braaaaaaaiiiins are being offered on any menus.) The
raffles will begin
at 6:15 p.m., and the best-dressed zombie will be awarded the prestigious, custom-made
Zeddie Award
. Who determines the best-dressed zombie? Hendricks County Coroner Joe Newman, of course! Whether you're a zombie or a spectator, Hendricks County is the place to be on Saturday. Bring your non-perishable food items to Party City and help an 11-year-old turn his vision of helping others into a reality. And who knows, there may be a Twinkie in it for you at some point. Or braaaaaaaiiiins...