Some culinary creations are almost too pretty to eat. That is definitely the case for the edible works of art made by Presley Pullan of Brie & Bartlett and Casey Ward of Sweet Minis Cakes & Bakes.
But after venturing into their shop in Brownsburg, Indiana, I don't think anyone will be able to resist sinking their teeth into something that is both sweet and savory.
Sweet & Savory Partnership
These two savvy female business owners recently opened a joint brick-and-mortar establishment at 824 E. Main St. in Brownsburg.
They each operate their own business, with Pullan focusing on the savory side and Ward whipping up sweet treats. Yet they provide all their culinary creations in their one-stop shop. The two businesses also share an intimate seating area for customers who want to linger over lunch or dessert. 
Both ladies have a strong desire to delight their customers' taste buds, offering feasts for the eyes as well as the stomach.
Having met both of these creative and gifted culinary entrepreneurs and tasted their handiwork, I'd say this is a partnership made in sweet and savory heaven!
Brie & Bartlett
What started as a desire to raise funds for a local animal rescue turned into a thriving business. In February 2021, Pullan decided to create charcuterie boxes for a Valentine's fundraiser to support a local animal rescue. With a little help from social media, she raised enough to save an entire feral colony of cats in just two hours. 
She knew she was onto something and believed this could become a viable business venture. She continued to hone her skills with inspiration from YouTube, TikTok and Instagram, and then assembled an impressive grazing board for her husband's family in England.
Fueled by the praise she was receiving and with a bit of trepidation, she took the leap and initially opened her shop in a suite behind Best Friends Coffee & Bagels. Business has been good as word got out and in less than a year's time, Brie & Bartlett was ready to expand to a more visible location and a joint venture with Sweet Minis.
Fine Grazing and Charcuterie   
Pullan caters to parties of one up to several hundred with varying sizes of beautifully arranged charcuterie boxes and grazing boards. She utilizes a variety of quality meats, cheeses, fruits, nuts, pickles, olives, preserves and crackers (plus a little something from Sweet Minis) to create her portable feasts and elaborate displays. 
Each grazing box can be uniquely crafted as Pullan will assemble them based on customer preference and current availability of items. Customers can also select from pre-made lunch boxes in Mediterranean, Keto or traditional varieties.
If you are looking to feed a small gathering, the Friday is Forever Box serves 3-6 or the popular 7Ate9 Box (as you may have guessed) feeds 7-9 people. If you want a great deal, opt for the $50 Friday Box (can only be ordered on Fridays). In an effort to prevent food waste, Pullan creates the $50 Friday Box using portions of cheese and other items that are still perfectly good but just are not usable on her full grazing boards.
When you are looking for an elegant food display that is sure to impress guests, you need to order a Brie & Bartlett grazing board or a full-grazing table. Pullan works with her customers to accommodate dietary preferences as well as themes and color palettes to create a one-of-a-kind, elegant setup.
The presentation goes a step above the grazing boxes, with an array of specialty meats, cheeses and other edible delights displayed on beautiful wooden boards in a variety of sizes. Just pay a small rental fee for the board as well as a refundable deposit, then don't forget to return the board after your gathering.
The 36-inch board feeds up to 65 people and is a feast for both the mouth and the eyes. Boards can be shrink-wrapped for pick up, or Pullan will deliver and set them up at your home or venue for a small fee.
Planning a wedding, bridal shower, family reunion or any other special occasion? Have Brie & Bartlett come to your venue and set up an impressive grazing table that will have your guests talking about the food spread long after they have gobbled up every delicious morsel.
And don't forget about dessert! That's where Ward has you covered!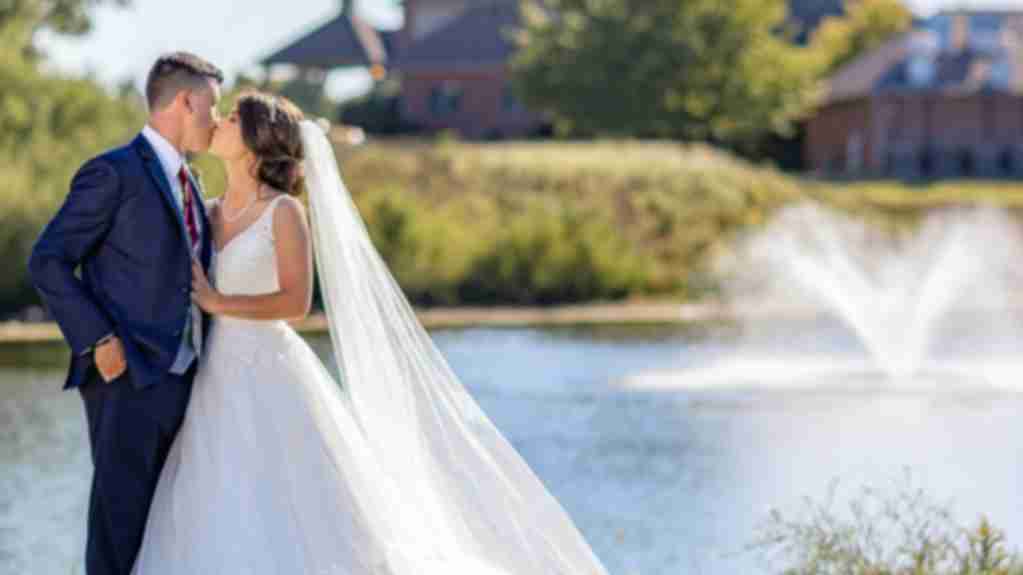 Free Wedding Guide!
Get your insider guide to all things Weddings in Hendricks County by ordering your FREE Wedding Guide.
Sweet Minis Cakes & Bakes

Casey Ward is the owner of Sweet Minis Cakes & Bakes, and she lives in the Brownsburg area. She graduated from Ivy Tech's Pastry Arts program this year but previously spent over two decades working in Human Resources. While her previous job often caused stress, she found stress relief in watching baking shows on TV and then took up baking as a hobby.
Ward loves being able to express herself through her baking, which ultimately helped turn her hobby into a sweet small business.
Believe it or not, during this time in her life she also cut sugar out of her diet for a year while on a weight-loss journey. As she gradually re-introduced sugar back into her diet she gravitated toward mini desserts.
I love the concept of small desserts! I can treat myself and my sweet tooth…and hold the side of guilt that often comes with overindulging.
Petite Treats
Wards Brownsburg boutique bakery specializes in small desserts in a wide assortment of fun flavors, all with a dash of whimsy. Though many of Casey's creations are petite in stature, they are big on flavor!
The offerings and flavor palates are constantly changing, so every time you venture into the shop you can discover a new way to indulge your sweet tooth.
Why not try some mini dessert shooters with enticing flavors such as peanut butter and jelly, thin mint, lemon raspberry and salted caramel apple? If you are indecisive like me, grab a mini cupcake flight and sample your way through several fabulous flavors.
At Sweet Minis, you can also pick up cobbler, cake and cheesecake-in-a-jar, mini smash cakes, drizzled popcorn, macarons, seasonal specialties and much more. Just try not to drool on the display case!
Trust me, everything tastes just as good as it looks. After trying Casey's macarons, I can attest that they rival any of those I've sampled on my travels in Paris!
Of course, if you need a full-size cake or specialty dessert to feed a large group, Ward is happy to accommodate with custom orders that are sure to delight. She will even ship her delicious creations.
Dining Space
You can always take your charcuterie box or mini desserts to go. But you can also nibble away in their cozy and inviting dining space.
Treat yourself to a grazing box for one on your lunch break or grab a few friends and gab in the intimate seating area while you munch on petite sweets.
It is the perfect setting to gather with a few friends, get cozy with your significant other or simply enjoy some solitude while you feast on a made-to-order charcuterie box or indulge in a perfectly portioned dessert.
You can even reserve this space for a private party or small gathering, where both the atmosphere and the food will be sure to impress.
The shop is typically open during mid-day from Tuesday through Thursday, with extended hours on Fridays (but check their Facebook pages with links below for current hours). 
Store Details

Address: 824 E. Main St.
Brownsburg, IN 46112
Brie & Bartlett
Phone: (317) 513-1049
Email: orders@brieandbartlett.com
Website
Check their Facebook page for updated hours and more photos of their elaborate charcuterie boxes and grazing boards.
Sweet Minis Cakes & Bakes
Phone: (317) 618-7460
Email: sweetminisindy@gmail.com
Website
Visit their Facebook page for more mouthwatering photos and to learn the flavors of today's sweet treats.