There's nothing better than cookies and homemade goodness, and you can find both in the same place in Hendricks County, Indiana, when you visit Momma Shell's Cookies in Plainfield.
Somehow, Momma Shell's Cookies remained under my radar for two years until I became acquainted with her baking magic through the Indiana Lyons. Owner Rachelle Huether, better known as Momma Shell, sponsors the local minor league basketball team and even created a custom cookie for them.
The homemade sugar cookies in the team's colors -- purple and teal -- are absolutely delicious! Through a naming contest, one Indiana Lyons fan suggested Lyons Paws which struck Momma Shell as perfect. So the official cookie of the Indiana Lyons is now Momma Shell's Lyons Paws.
Perusing her website to learn more about her business, something caught my eye, and I knew that I needed to meet Momma Shell.
Bilateral Occipital Neuralgia 
What caught my eye was a link on the main landing page of the website to a Facebook group that Momma Shell created and administers for people with bilateral occipital neuralgia. Bilateral occipi-- what now?
I had to do some Googling, but I learned that bilateral occipital neuralgia is a condition in which a person's nerves in their scalp are injured or perpetually inflamed. This results in chronic searing pain in the form of headaches and extreme skin sensitivity, making everyday life miserable and turning mundane tasks like brushing one's hair into torture.
The simple act of crying is an exercise in torment because of the pain receptors' hypersensitivity to the tears.
And that newfound knowledge answered a question I had when I noticed on Momma Shell's Cookies Facebook page that she shaves her head. As I learned from talking to her, she'd rather deal with the excruciating pain of shaving her head every few weeks than the excruciating pain of brushing her hair several times a day.
Momma Shell also described to me what an agonizing existence it is to have occipital neuralgia and everything she has gone through since she was diagnosed. The worst part of it all is that she went to bed one night as a perfectly healthy woman, wife and mother and woke up one morning with occipital neuralgia. Doctors still don't know how that happened.
You'd think suddenly having such a constantly painful condition would grind a person into submission, wouldn't you?
Not Momma Shell.
Spirituality 
As she was telling me about her experiences with occipital neuralgia, I couldn't imagine how she could possibly deal with it all.
So I was more than a little surprised when she said, "God gave me this condition, and He can take it away, but He hasn't yet, so there's a reason for it." 
I found that to be a remarkably insightful and uplifting way of looking at things.
Her deep faith drives her to follow her passion for baking as her own boss, allowing her the flexibility she needs for her health, as well as a way to interact and share her story with others.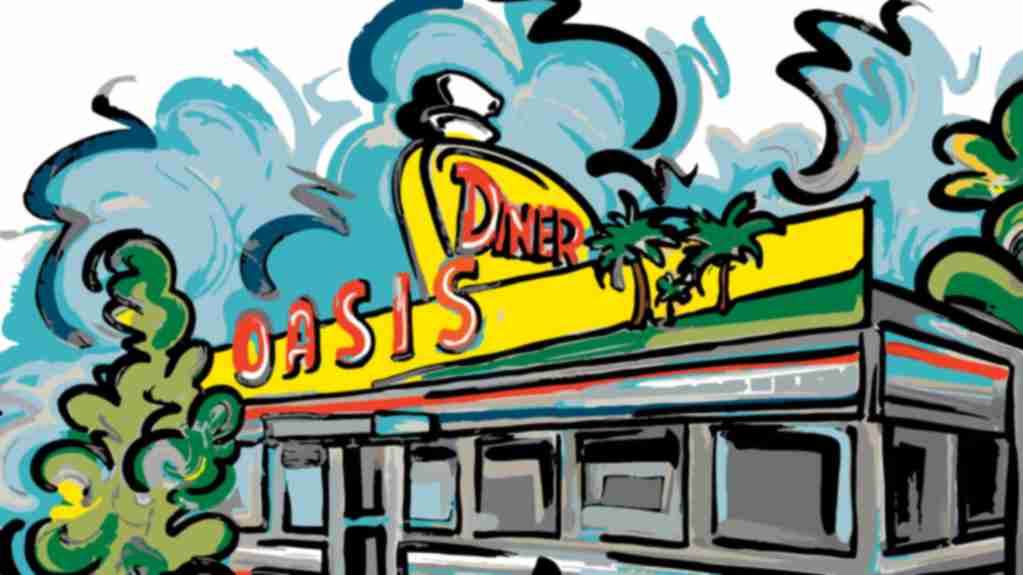 Free Visitor Guide!
Get your insider guide to all things Hendricks County by ordering a FREE Visitor Guide. Download or order a print copy today!
Cookies 
When Momma Shell told me she opened her business in April 2020, I was floored, since that was during the height of the pandemic. I asked her why on earth she would open a small business during that time.
She felt the calling to do it after previous employment ended due to the pandemic, and she started her business as a delivery service. She was able to deliver homemade goodness to people who were starved for something normal during those chaotic times, avoiding contact with her customers and, as such, infection.
Her current business still offers delivery services, but she also has a brick-and-mortar storefront at 303 E. Main St. in Plainfield, sharing space with the Frigid Frog next to Central Elementary School. She bakes her cookies right there daily, so customers are getting the freshest treats possible.
Momma Shell bakes four or five varieties of cookies every day -- the ever-popular ones, like chocolate chip, sugar cookies -- plus another four or five different varieties of cookies, depending on the season, what specials she's running and what she's moved to bake on any given day. The best way to keep up with the options of the day is to follow her Facebook page. 
These aren't small, thin one-or-two-bite cookies she's making, either. Oh no. These are large, thick gourmet cookies, some with generous amounts of frosting on top. And they all have unique names with stories behind them, so be sure to ask Momma Shell about them!
Custom Orders, Discounts and Gift Certificates 
Through her website or by contacting her directly, Momma Shell offers custom orders for cookies, mini loaves of delectable breads, cookie dough and even a giant cookie cake, perfect for birthdays and other celebrations.
She needs about a business day's worth of lead time to create your custom order that can be delivered or retrieved at her store. Most items can also be shipped.
On top of that, she offers a 15 percent discount to all military, teachers and first responders including nurses. 
Would you like to introduce someone else to Momma Shell's Cookies? She offers gift certificates to allow your friends and family the opportunity to enjoy the homemade goodness themselves and find their favorite treats.
Enjoy the Goodness
Whether in person, online, or by email or phone -- at the store, delivered or shipped -- make a point to enjoy the goodness of Momma Shell's Cookies! You'll be glad you did.
Momma Shell's Cookies
(317) 563-1688
Open noon to 8 p.m., Tuesdays through Saturdays