I grew up in Hendricks County, so I've been to a handful of salons over the years for various services. I've gotten my hair cut, colored and styled. I've had my face waxed. I even got my hair done professionally for prom almost 20 years ago (my date then is my husband now so I must have nailed the hair).
We have a variety of salons and spas here in Hendricks County, and many of them offer so much more than hair services by including facial treatments, massages, manicures and pedicures. While the list below is by no means an exhaustive list, I asked around and checked Yelp for some of the best salons and spas our county has to offer.
If you're looking for just an hour of being pampered, need a quick pedicure, want to spoil a loved one or you're already making your Christmas list (hello, gift cards!), this list is a great place to help you start adding some self-care into your schedule!
Happy pampering!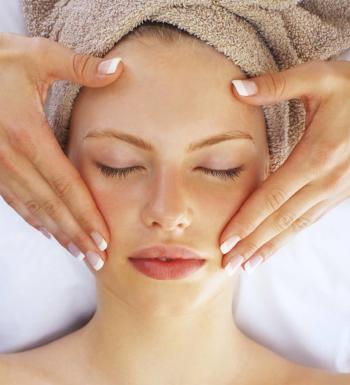 Cass & Company Salon, Avon
I first went to Cass & Co., located at 7374 Business Center Drive, right after high school because my best friend was a stylist there. Since day one, this place has been warm and skilled at not only nailing my style but helping me understand how to style my own hair.
I've always been offered refreshments while I'm waiting, and I always look forward to their scalp massage during my shampoo. Stylists there regularly have opportunities for advanced education on the latest styles and techniques.
They have grown over the years to add many more services than just hair. In addition to cuts, styles and color (as well as children's and barber's cuts!), Cass & Company offers texture treatments and Aveda treatments (including lash lifts, dermaplaning, and facials). You can also get extensions, face and body waxing and tinting, makeup services, a wide range of massages (including prenatal) and some additional menu extras, such as hot stone treatment, exfoliating scrubs or deep tissue upgrade.
You really can relax here in so many ways.
Mystique Salon & Day Spa, Avon
Nestled in the heart of Avon, east of Ronald Reagan Parkway (10644 E. U.S. Hwy 36) on the second floor of the big blue Victorian house across from Menards, Mystique Salon & Day Spa offers services from the hair on your head to the tips of your toes, literally. Their services include hand and foot treatments. They offer a wide range of manicure and pedicure packages, all the way from express treatments to those including massages.
Mystique's skin care services include a variety of facials, dermaplaning and peels with multiple add-ons available, all of which claim to reverse signs of aging and in general improve your skin tone, texture and circulation.
But if you really want to feel like royalty, get a body treatment, such as a detoxifying seaweed wrap! Need a wax? They will wax virtually any part of your body (Half of your arms and legs is even an option! Who knew?). They also provide massage therapy.
Then, put the finishing touches on your relaxing day by getting your hair and makeup done. To help you decide (or to allow you to try multiple services), check out the spa packages on their website.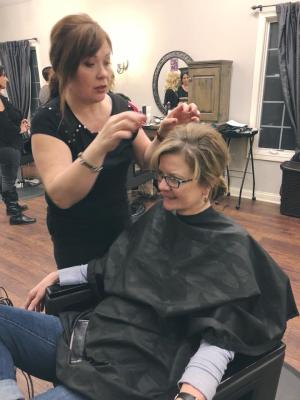 EM Studio Salon, Brownsburg
Located on North Green Street in the same strip mall as Boulder Creek Dining Company, EM Studio Salon is bright and spacious with tons of natural light. The experience and environment are just as important here as quality services, and it shows.
The menu is extensive but simple, covering haircuts/colors/styles, makeup applications, simple hand or scalp massages, eyelash services and texturizing and extension services. You can even schedule a consultation if you'd like to see what services would be best for you.
The best part is they have a small boutique in their salon! That way, when you are about to leave feeling so fresh and new with your revamped hair, you can add a few pieces to your closet (or your house) to complement your new look.
The Look Salon & Style, Plainfield
This full-service salon offers hair, nail and skincare services. Located on Main Street right next to Iguana's Mexican Restaurant, The Look Salon & Style offers all hair services including children, bang trims and special occasion/up-do stylings.
Their hair color/cut menu is lengthy (want your hair toned? Color Protected? Glossy? Balayage? Not sure what that is but from what I gather, it's the very latest trend in hair styles!). Get any kind of manicure or pedicure you want, or go the skincare route by scheduling a facial or peel. Waxing is also available. They also offer bridal services for your special day!
Salon D'va, Avon
If you want to simply look like a diva, come get your hair and makeup done professionally at Salon D'va, located in the same former home as Mystique at 10644 E. U.S. Hwy 36. Hair styling costs range from $17 to $130 based on the level of the stylist and on your specific needs. Straighten your hair, curl it, bleach it, color it, correct it, reconstruct it, condition it or clarify it. 
And if you're like me and aren't 100% sure what each of those mean, call the salon to ask which one is right for your hair. Bridal services and blowouts are also offered.
Pure Concepts Salon, Plainfield
The Plainfield location of Pure Concepts Salon (there's also one in Carmel) is on U.S. 40 just east of Gilley's Antique & Decorator Mall.
Pure Concepts boasts a full-service Aveda Concept Salon, and while its services are simple, they pack a punch by offering several extras you don't often see at every hair salon.
All hair services include a consultation, shampoo and condition, stress-relieving scalp massage, neck and shoulder massage, makeup touch up and hand treatment. Visit their website for a $20 code for all new guests!
Whether you want to spice up your every day look, turn heads on date night or plan a relaxing day (or weekend) of self-care for you and your friends, you really can find anything you need to relax in Hendricks County.
Check out these top-notch salons and spas. There's something for every style and budget. No one ever regretted spoiling themselves. So, book an appointment now.