Out-of-town visitors and Hendricks County, Indiana, residents flock to Plainfield Parks and Recreation's Splash Island Family Waterpark during the summer months.
But did you know that while the outdoor area is perfect for the blazing days of summer, Plainfield boasts an indoor version of the popular water park that is open year-round and is a great activity for young and old alike? 
An Incredible Indoor Destination 
The Indoor Splash Island is located inside the Richard A.Carlucci Recreation & Aquatic Center at 651 Vestal Road in Plainfield.
The entire facility, that includes the indoor waterpark, opened in 2004, but it looks brand new as it is impeccably maintained.
In addition to the water fun inside, visitors also can enjoy basketball courts, exercise areas, an indoor play area for young kids and a walking track just to name a few of the components that are spread out across 20 acres.
Many locals have memberships, but visitors can purchase day passes to experience and enjoy the many indoor activities at the facility.
The Indoor Waterpark
An ideal stop on a winter day is the indoor aquatic space.
Perfect for active families, the indoor waterpark provides clean, spacious changing areas, that welcome guests into the aquatic area. 
As you venture into the swimming area, you are welcomed by 87-89 degrees, the perfect temperature that reminds you of a beautiful, summer day.
Sometimes pool water can be chilly, which isn't ideal for little ones or really anyone. That's never a problem at this indoor facility with water temperature hovering at a comfortable 85 degrees.
A Dream Space for Little Ones 
Splash Island welcomes guests with a zero-depth entry pool.
This makes it easy for all families with little ones to enjoy the water together.
The kiddie water area also features an age-appropriate water slide, hoses to playfully spray one another and fountains to splash around in.
It basically is a mini-version of the experience many families enjoy at the outdoor Splash Island during the summer months.
The Fun Continues 
The  indoor swim space isn't just for little ones though as my family, which includes my 14-year-old son and 9-year-old daughter, can stay entertained for hours.
My whole family enjoys floating along in the walking river, often called a lazy river. The kids like to time each other to see who is fastest.
My daughter encourages us all to venture into the vortex of rapidly circling water, and my son gravitates to the basketball goal for a splash-filled game of ball.   
Older swimmers and adults can enjoy the indoor aquatic area, too! There's a special area designated for lap swimming, and one of the most popular fitness classes at the recreation facility is water walking, held in the pool on weekday mornings.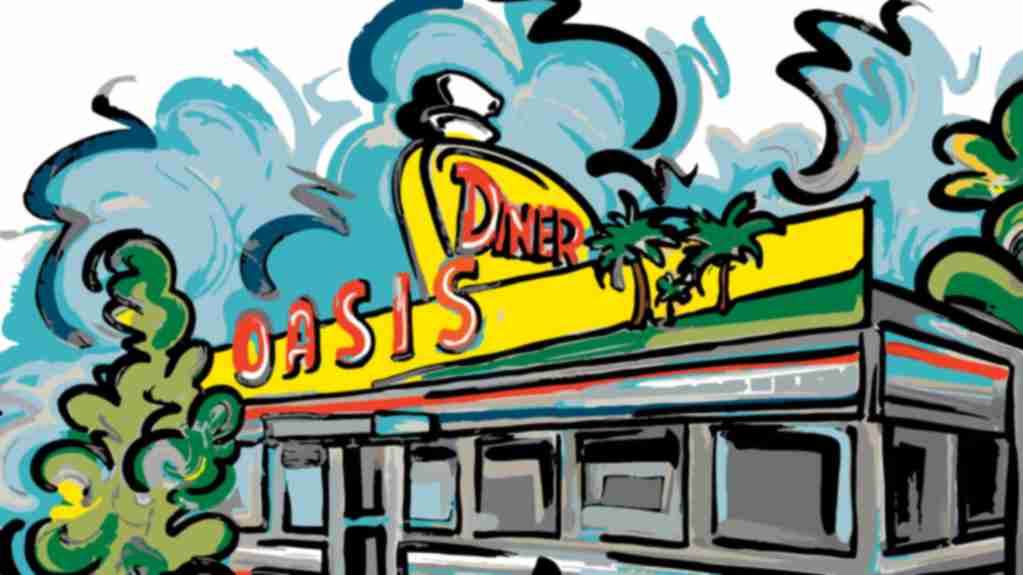 Free Visitor Guide!
Get your insider guide to all things Hendricks County by ordering a FREE Visitor Guide. Download or order a print copy today!
Safety First 
As a parent, I felt safe seeing the multiple lifeguards on duty and the first aid station close by. 
Need a life vest, pool noodle or other pool supplies?
You'll find them all on the pool deck waiting for you! Swim goggles are welcome, as long as they don't include a nosepiece. 
Inflatable objects, like rafts, are not allowed in the pool, so just leave those items at home. 
Also, children under 8 are expected to be within arm's length of an adult at all times.
Birthday Parties, Lessons 
Indoor Splash Island hosts birthday parties at an affordable rate that includes an exclusive room by reservation.
During the two-hour party block, you can bring in food and drinks to celebrate with the exception of glass items.
In addition to hosting parties, the indoor aquatic space offers swim lessons for all ages and skill levels.
Group swim lessons are offered for three to five students in each group, based on skill level. Lessons are 45 minutes twice a week for four weeks per session.
Sessions are offered at a discounted rate for members of the recreation facility. In addition to group lessons, they offer private lessons for two, one-on-one sessions and parent-tot classes. 
All-Inclusive Pass 
I have been going to the indoor Splash Island with my kids for years, and I was surprised to learn that when purchasing a pass to the indoor aquatic facility, you also have access for the day to the rest of the Richard A. Carlucci Recreation and Aquatic Center. 
The day pass includes access to workout equipment, fitness classes, sports courts, ping pong tables and the child-care facility.
The child-care facility has limited hours in the morning and evening, and trust me, with as fun as the space looks, you'll have a hard time convincing your child to leave.
If you think you might become a regular visitor, Plainfield Parks also offers memberships at different price points based on factors I will explain below.
Two Things to Know Before You Go
1. Check the schedule
The facility does have times blocked out for open swim, and other times when the pool is open only for classes or lap swim. Typically, the indoor aquatic area is open for recreational swimming Friday evenings, Saturday afternoons and evenings and Sunday afternoons and evenings.
Extended hours are available during school breaks. The additional hours follow the Plainfield Community School Corporation schedule. 
2. Check the pricing
Plainfield residents get discounted admission, as do those with a facility membership. Membership discounts are available for Hendricks Regional Health employees and military/veterans. 
If you can't wait for summer to take a swim, I highly recommend heading to Plainfield's Splash Island Indoor Aquatic Center!