A friend of my family has an adult son in a wheelchair and recently mentioned how traveling can be difficult when you don't know the accessible places in a new town.  
What restaurants have wider aisles and seating availability? Where can we go in the area and know we won't be struggling to participate?
The American Disabilities Act (ADA) was signed into federal law in 1990 by President George H.W. Bush, and over the years, businesses and public areas have been required to offer the same rights and opportunities for all people.
I reached out to our friends and a few other groups to ask where in Hendricks County, Indiana, do you see someone going above and beyond and these locations have been offered up as great, accessible places for all.
Outdoor Recreation 
Murphy Aquatic Park
Perhaps the newest addition to Hendricks County and features an ADA-accessible water playground. There is a wave pool, water slides, 48 water spray features and a super-splasher.
Also on the property, is an inclusive playground with accessible swings, slides and more. And they even offer water wheelchairs for their guests. Murphy Aquatic Park is located at 753 S. County Road 625 East, Avon. Click here for more information. 
W.S. Gibbs Memorial Park
Also fairly new, the park opened in 2021. The 70-acre park offers an ADA-accessible fishing dock to a stocked pond with bass, redear sunfish, bluegill and channel catfish. In addition, the Bluegill Pavilion and Firefly Pavilion feature concrete walkways from the paved parking lot to the picnic tables with a grill.
W.S. Gibbs is located at 4521 Gibbs Road, Avon. Visit the park website for additional info. 
Brownsburg Parks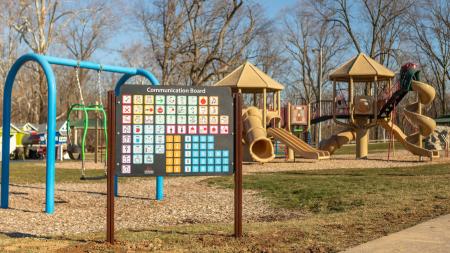 The Brownsburg Parks and Recreation department has recently received nonverbal communication boards at the playgrounds at Arbuckle Acres, Stephens and Williams parks to help create inclusive play areas. The boards include common words, numbers and symbols to assist in communication with friends and caregivers.
The Brownsburg Parks and Recreation Department lists park amenities here. 
Miracle Field
The field is a synthetic handicap-accessible baseball field located at the Al and Jan Barker Sports Complex in Plainfield. The Plainfield Optimist Miracle Movers is a program offering basketball, swimming, soccer, softball and dance throughout the year, and they use the athletic fields at the sports complex for many of their programs.
If a scheduled practice or a game is not happening, families can utilize the special baseball diamond to include everyone in the game. Miracle Field is located at 451 S. Vestal Road, Plainfield. Learn more at their website. 
Restaurants 
Mama Bird Bakery
The new bakery in Plainfield offers breakfast pastries, muffins, macarons, cookies, brownies and more. But perhaps what sets them apart is their commitment to creating an environment where everyone is welcome.
The two female owners have worked with children and adults with special needs and chose inclusion from furnishings to employees in their new restaurant.
Mama Bird Bakery is located at 234 E. Main St., Plainfield. Visit Mama Bird's website here. 
Bru Burger in Plainfield and Brownsburg
Both locations received a top rating from one mom. The space between tables is wide and chairs can be moved aside to pull up directly to the table.
Bru Burger is known for their love of the burger, whether you're looking for a classic or want to try something new like the "Melt Your Face" with habanero hot sauce, habanero jack, jalapeno and habanero whole grain mustard.
Visit here for locations and menu. 
Oasis Diner
The historic Plainfield diner not only offers our favorite comfort foods like the breaded tenderloin sandwich and classic diner breakfasts, but they also offer a ramp entrance to the inside of the restaurant and outdoor seating in the warmer months.
Learn more about Oasis' popular menu here. 
Indoor Activities 
Toy Buzz & Fizz
This Plainfield store is a fun and unique shop offering everything from collectible action figures to old-fashioned bottled sodas. Owner, Bob Taylor recently received an award from the Town of Plainfield for his active efforts toward inclusion and he said it's their LEGO play area and transformer collection that tend to interest his customers with special needs.
Not only is the shop accessible, the staff are always willing to accommodate when possible. Toy Buzz & Fizz is located at 119 N. Vine St., Plainfield. 
Hendricks County 4-H Fairgrounds & Conference Complex
Events at the fairgrounds can be indoor or outdoor, but what strikes me is the variety of events happening on the 110-acre property in Danville. Whether you want to catch the National Powwow or 4-H Fair in July or the cat show and adoption event this fall and everything in between, there's something for everyone and it's accessible to everyone due to a paved path connecting each building, ramps and other features.
From 10 a.m. to 4 p.m. July 19, the fairgrounds will host Disability Inclusion Day in the conference center. The 4-H fairgrounds is located at 1900 E. Main St., Danville. Visit here for more information.