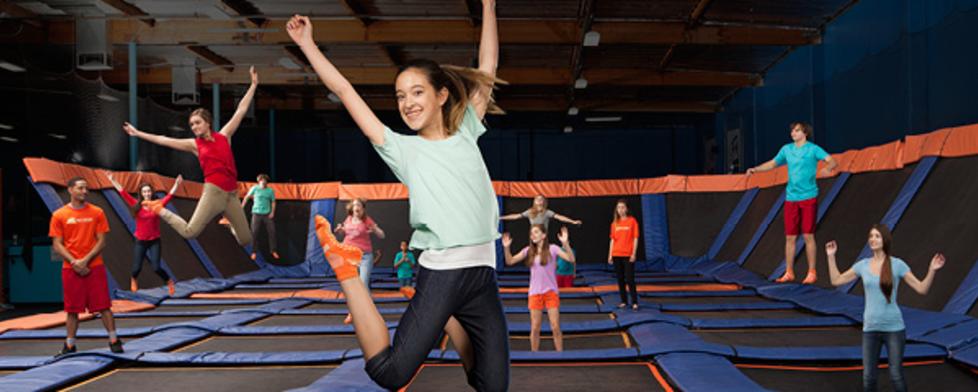 Looking for a fun activity that every member of the family will enjoy at an affordable price where you can literally bounce off the walls?
One of the places that's very popular with our two boys and their friends is the Sky Zone Indoor Trampoline Park in Plainfield. 
Located at 851 S. Columbia Road, Sky Zone is easy to find, and it's just off I-70 near Ronald Reagan Parkway. Billed as the "world's first indoor trampoline park," Sky Zone is one of those places that's not only fun but really good for you.
Whether you're a 9-year-old with seemingly endless levels of energy, or you're like me and you'd like to enjoy a different kind of workout, Sky Zone is a great option.

But, before you go, here are a few insider tips from my experiences that you'll want to know before heading to Sky Zone:
Plan ahead: While they welcome walk-ins, they recommend you visit their website to reserve a jump time and to sign the online waiver. If you're an adult or legal guardian, you'll need to complete the waiver for kids younger than 18.
When to visit: You must first keep in mind that the facility is closed on Mondays. The best times to avoid crowds is within the first few hours of opening on weekdays. Of course, weekends and week nights when kids are out of school tend to be busiest, making reservations even more important. Sky Zone usually has extended weekday hours during Spring Break. Click here for more details.
The sky's the limit: Sky Zone features a variety of activities ranging from bouncing and flipping around its courts and play areas to dunking a basketball on their SkySlam Courts, as well as playing in their Ultimate Dodge Ball games or working out as part of their SkyRobics exercise program and fitness classes. They also recently added a warped wall and sky ladder that your kids will love.
Give me a break: After all that running and jumping, you will be famished and parched, and Sky Zone has plenty of places to take a breather, a snack bar that offers a nice selection of food - including pizza - and lots of drinks.
Sky Socks: If you want to jump, you must have a pair of Sky Socks. They cost $2 a pair and are yours to keep and bring back with you when you return.
Party time: If the idea of having a bunch of kids jump around your house isn't what you have in mind, Sky Zone is ideal for groups of 15 or more, birthday parties and other celebrations. We celebrated our son's birthday and not only did the boys have a great time, we were able to do everything -- including all of the food and drinks -- at Sky Zone. It was affordable and spared us from having to clean up the mess.
Good for you: Sky Zone provides a low-impact workout, combining calisthenics, core exercises and strength building. I found it's also a great way to relieve stress.
Affordable fun: A 60-minute jump pass costs $14 a person, $18 gets you 90 minutes; and a 2-hour pass is $21. They often run promotions and discounts You can check out their website for the latest as well as group pricing and party offers.
Extracurriculars: Sky Zone offers special programs including a Toddler Time that's just $8 per session. The facility also hosts a Glow jump on Friday and Saturday nights and Sensory Friendly times. Again, planning ahead is key as those passes often sell out quickly.
Dodge Ball: There are almost always dodge ball games taking place at Sky Zone, and what I've always liked is you'll see kids of all sizes -- and adults -- having fun. It's pretty well managed; that's not to say that sometimes you'll get hit hard, but overall it's safe and, again, an excellent way to burn off some energy.
So, there you have it. Having visited there several times, I still find it fun to feel the weightlessness that comes from jumping all around. It's a great activity that won't break the budget and something that's unique and different in a way that will have you bouncing back in for more.