If you have a large family or group of friends in search of a tranquil getaway in Hendricks County, Natural Valley Ranch boasts the perfect accommodations.  Whether you are planning a family reunion, need a girls' getaway or have out-of-town guests coming in for a wedding or other event, both the Cabin and the Cottage at Natural Valley Ranch provide comfort and amenities galore.  
Natural Valley Ranch is a sprawling 78-acre, family-owned horse farm known for its majestic horses and trail rides. While many come to the Ranch for just an afternoon of outdoor fun, those who spend the night in one of the spacious homes on the property are in for a real treat. 
When booking a stay at either the Cabin or the Cottage, your crew gets the best of both worlds. The Ranch is situated in a beautiful and serene wooded area of Hendricks County, yet it is just minutes from shopping, dining and any creature comfort you may need.
The Cabin and the Cottage are distinctly different, yet both provide plenty of space for large groups looking for cozy accommodations where they can make lasting memories. 
The Cabin
This is no ordinary cabin in the woods and the words "roughing it" definitely do not apply! 
At 5,200-square-feet, the Cabin features six bedrooms and five and a half baths overlooking a beautiful pond.
The size alone makes it a perfect location for multiple families to stay together if you're coming to Central Indiana for some type of gathering or large event.
Constructed with massive White Pine logs, the Cabin offers both a cozy and luxurious atmosphere with amazing views no matter what season you find yourself in Hendricks County.
Bedrooms
The Cabin includes three stories with bedrooms on each level, and each bedroom has its own unique style and charm. There are a couple of master bedrooms boasting king-size beds and adjoining bathrooms. 
The kids in your crew will flock to the bunk room on the lower level. Sleeper sofas offer additional sleeping options and ensure the Cabin can accommodate up to 20 guests comfortably. 
At the Cabin, you will find plenty of opportunities for family togetherness as well as lots of nooks and crannies offering private time and plenty of R & R!
Bathrooms
There will be no fighting over bathrooms with 5 ½ options to choose from. Each one includes high-end touches, yet still offers that cozy cabin feel. 
Don't worry, there are no outhouses in sight, just modern-day bathroom amenities at this deluxe Cabin!
With both shower and tub options, everyone in your group can have their bathing needs met.
The main level master bath even includes a gorgeous shower that is wheelchair accessible.
Amenities Galore
The Cabin includes a spacious main-level living room, dining area and a fully equipped kitchen. With huge windows overlooking the property's pond, guests get plenty of natural light from the main floor or the cozy sitting area on the upper level.
Head down to the basement to enjoy a game of pool or gather your crew for movie time in yet another cozy living room.
For those wanting to stay plugged in during their vacation in the woods, the Cabin includes free Wi-Fi and numerous TVs throughout. 
Out Back
Both the main level and basement walkouts provide opportunities to lounge outside and take in the beautiful surroundings.
Drink your morning coffee as you sit in a rocking chair, fire up the BBQ for a family feast or enjoy a glass of wine as the sun goes down and you settle into vacation mode.
You can also venture down to the pond and sit along the water or get out on the lake with one of the available canoes or the paddleboat.
The stunning views both inside and out make Natural Valley Ranch's Cabin an ideal getaway spot.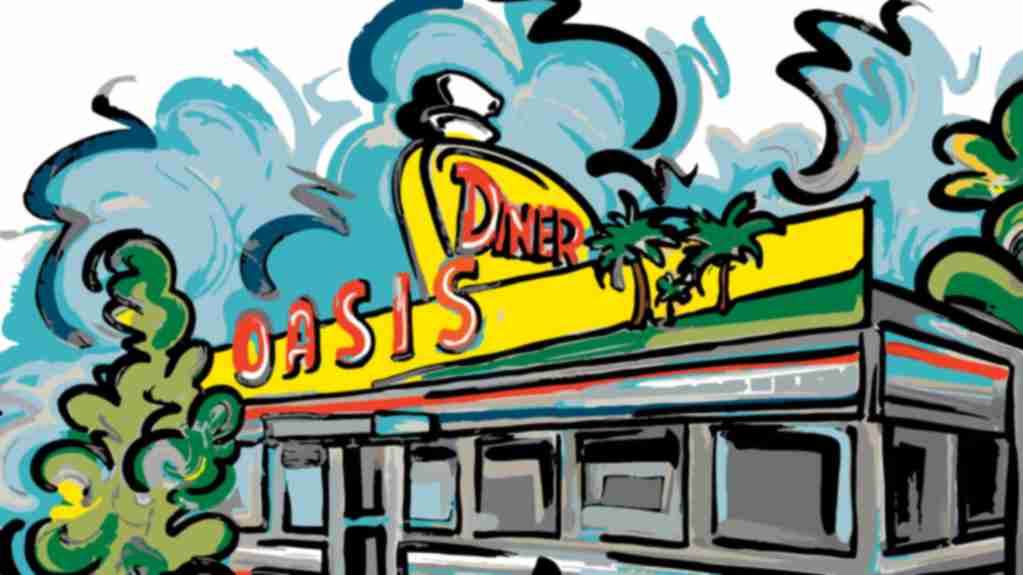 Free Visitor Guide!
Get your insider guide to all things Hendricks County by ordering a FREE Visitor Guide. Download or order a print copy today!
The Cottage
Another great option for an overnight stay at Natural Valley Ranch is the Cottage.
Located on the same Natural Valley Ranch property, but with its own separate driveway, this hideaway is definitely secluded from the rest of the property.
This gorgeous country farmhouse boasts 4 bedrooms and 4 ½ bathrooms and can accommodate up to 16 guests.
With more than 3,000 square feet, there is plenty of space for your clan to spread out and enjoy some time away from the hustle and bustle of everyday life.
Built for Relaxation
If I was staying at the Cottage, you would likely find me lounging on the swing on the sprawling porch with a glass of wine in one hand and a good book in the other.
Or you may not be able to find me at all, as I'd be relaxing on the cozy private deck off the main floor master bedroom or soaking in the inviting jetted tub.
If you have children or teens in your party, they will likely gravitate to the Cottage's basement. There you will find a large screen TV and several comfy couches along with a poker table and several pieces of exercise equipment.
Gather Round
The Cottage also offers plenty of spots on the main level to gather your whole crew together. Lounge in the living room with the large stone fireplace for a fun game night. Or head out back for an outdoor picnic on the patio and a friendly game of basketball.
Whether you spend time with extended family or dear old friends at the Cottage, its likely that you will all end up gathering in the kitchen at some point. Take advantage of the beautiful farmhouse kitchen as you whip up a feast. 
There's plenty of room to gather everyone around the two large dining tables as your loved ones fill their bellies and give thanks for a memorable getaway.
The Great Outdoors
While enjoying your stay at either the Cabin or the Cottage, you'll also have the opportunity to experience the beauty of Natural Valley Ranch and everything it has to offer. 
Saddle up for a trail ride atop one of the beautiful horses. Hike along the nearby trails, including the popular B&O Trail. Visit the goats, pigs and bunnies in the small petting zoo and the free-range chickens roaming about.
Be sure to say hi to the ranch's famed pig, Hank, who can be found in the barn or roaming the grounds.
In warm weather, you can get out on the small lake in a canoe or paddleboat. If your stay coincides with an Indiana snowfall, be sure to bring your sleds so you can take advantage of the hills on the property. 
There is never a bad time for an overnight stay at Natural Valley Ranch, but these two sought-after accommodations do fill up, so schedule your next getaway today!
For more information and to book your stay at the Cabin or the Cottage, contact owner Marie Damler at (317) 509-3577. 
You can also learn more about these properties on VRBO: The Cabin or The Cottage.